I have been giving this quite a bit of thought and having just had the NHRA dragsters go down the fastest track in the world, near here at Sears Point, sorry "Infinion Raceway" here in San Francisco, I thought about their cockpit design and the needs of high speed versus imovable or "flying" object.
Here is an example:
So this got me thinking. Basically it is the same principle that every other motorsport vehicle uses and that is one of a roll cage to protect the driver. The unique difference with single seater, is the need for the driver to get in and out. Also as many have pointed out, a canopy not only changes the whole image of the sport but it will require some serous time and investment to get to a satisfactory level.
My proposal is therefore this.
Create as part of the Chassis a Roll bar that goes through the existing roll over hoop structure. There is then a similar one at the front of the cockpit ahead of the steering wheel in line with the mirrors. Two support "head protection" bars are then slid over each bar front and back and held in place with retaining bolts, fitted by mechanics on the grid. Marshalls and the driver can release the bolts via a manual quick release button or pin, to push/pull the bars off sideways after an accident.
This way, the driver retains an open cockpit for ventilation. Gets the much needed head protection for large objects like wheels or major components like springs,with the foreign object more likely to bounce off of, or at the very least have speed reduced significantly whereby new helmets, hopefully with frontal titanium plates for the forehead and chin guard, can deal with anything that makes it past the bars, if at all.
The dragsters have used this set-up for years, for cars regularly blasting down a track at 300 miles an hour and often as we have seen, many crashing at high speed. (let's not forget Rich Hammonds nightmare smash in the Jetcar).
So I think F1 has to seriously consider some form of Roll-bar protection that protects the head from glancing blows of foreign objects.
I am by no means a design guru or CAD CAM specialist, so forgive the rough design below, but it shows the principle in effect.
Just my own personal thoughts and what I thought could be the easiest and fastest implementation for greater head safety.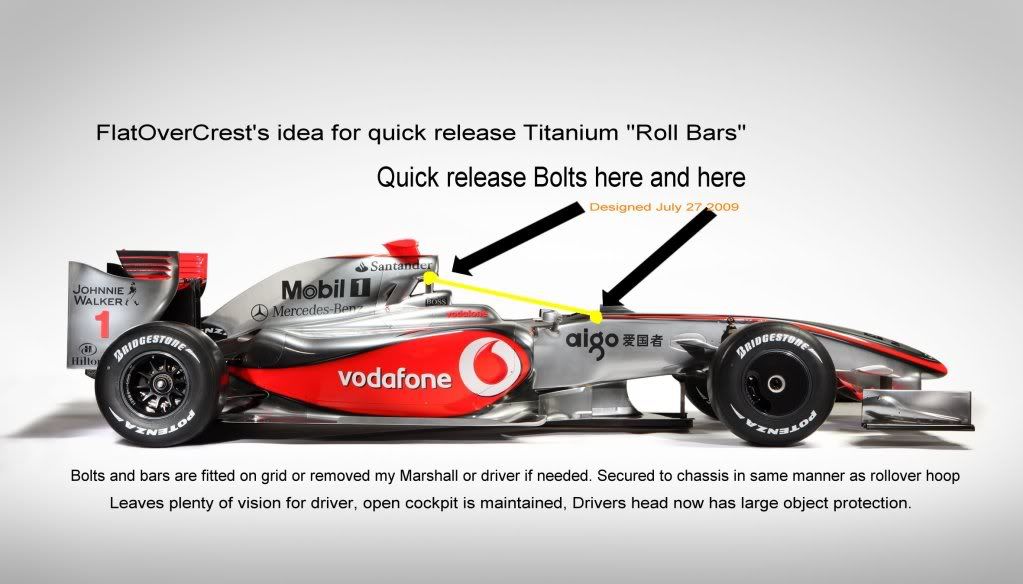 And the top view to give an idea of where the side bars mount. (Typo above in image should be "by Marshalls"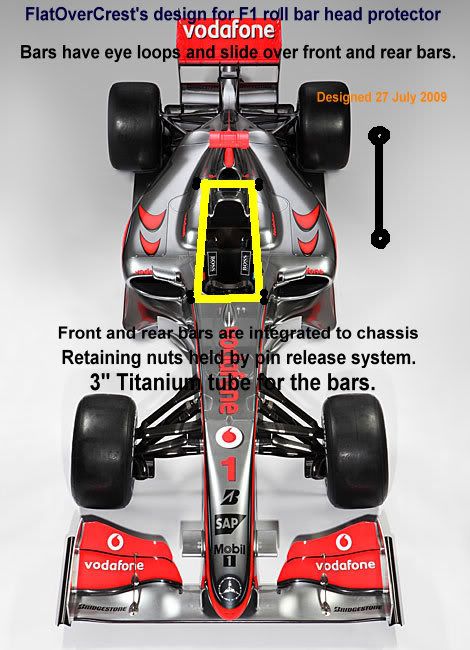 I would hope we see something like this in the not too distant future!
Edited by FlatOverCrest, 27 July 2009 - 21:59.