I'm just starting to learn about Coopers. Their wheels particularly interest me. I have a ton of newbie questions, and I hope you'll humor me:
(I've ordered the Doug Nye book on Cooper, but it hasn't arrived yet and anyhow I don't know if it will include such minutia as this...)
1) When Cooper started having wheels of their own design cast (~1949), the wheels had integral brake drums. Was that a new innovation that's attributable to Cooper?
2) With Cooper's integrated brake drum wheels, surely the friction surface must have been iron, right?
3) According to www.500race.org, the Cooper proprietary wheels of 1949 were made from aluminum alloy. On another page, the same site says that in 1950 Cooper started offering magnesium alloy (Elektron?) wheels. Did Cooper keep offering aluminum too, as an option?
4) When manufacturer's referred to "light alloy", did that term specifically mean aluminum alloy, or magnesium alloy, or either metal?
5) What was the real point of the integral brake drum anyhow? Stiffness? Lightness? Better heat dissipation than regular brake drums?
6) This wheel is installed on the ex-Tippy Lipe Cooper-Porsche (which was built on a Mark VII chassis, circa 1953). Am I correct to think that this is some sort of aftermarket wheel, and not an actual Cooper wheel?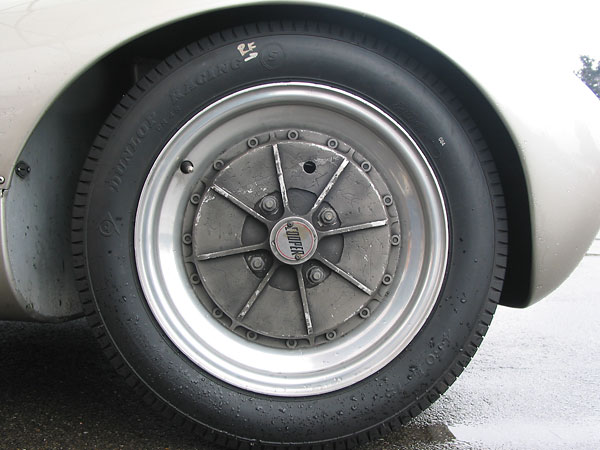 7) This wheel is currently installed on a Cooper T43 MkII (Climax FPF) Formula 2 car, circa late 1956. I'm thinking this is a real Cooper wheel, but that it's a newer design than the car. Didn't the T43 originally come with integral-brake-drum wheels?
8) When did Cooper start offering 8-spoke mags?
9) Did Cooper "invent" the Minilite style?
Thanks in advance. This is the most amazing message board!!!