. He had illegal TC found on his car, was winning races with excellent pit stops and was found to have an illegally altered fuel rig, claimed the title after ramming his opponent and spent quite a bit of time shitting on hill publically to get to his head.

Now you can argue this was right or wrong till the cows come home but you can't dispute that it happened and it made him a controversial figure.
He did not have illegal TC, get your facts right on the subject otherwise you look technically ignorant.
3 cars were called up to have their black boxes looked at after Journalists attending a Ferrari test session believed they heard TC on the Ferrari - thats important to remember,
Journalists heard the TC
- the TC was confirmed then and there by the test driver Larini. So the Journalists started a scandal about it (surprise, surprise) that the FIA had to deal with so they called out 3 teams Ferrari, McLaren and Benetton.
Benetton's software was found to have the capability of
launch control
,
not TC
but there was no way they could prove that it had been used and there is no evidence at any race start that it had - in fact at the San Marino GP Schumacher was blown off at the start twice by the Ferrari behind him. Schumacher got a good start at the Pacific GP, so what, every driver gets good and bad starts but overall for 1994 Schumacher had no better starts average than any other driver/car.
Now back to the Journos - how is it that a bunch of Journo's can distinguish TC at the Ferrari test session but 100's of mechanics and engineers in the pits and a thousand Journo's all around the track day after day didn't hear TC from any car?
TC is totally and uniquely audible to all
,
you can't hide it
especially the still crude versions back then.
Oh but one guy did, one certain A Senna believed that the Benneton had TC and told the world - one person, one meglomaniac who couldn't bare to believe that there may actually be a driver who could match him so it must be the car even though all the 100's of mechanics, engineers and Journo's couldn't/didn't hear TC, yeah right

Further to the point, and you wouldn't know since you clearly have never raced a car, guess what you hear the most when you are behind another car even in a closed sedan - the car in front as the exhausts are pointed right at your face, there is no way a driver behind could not hear if a car directly in front of him had TC, absolutely impossible to miss and lots of drivers were behind the Benettons in 1994 but what protests were ever put forward, none.
Here is something called evidence, you may not have heard of it before but it's something people use to substantiate their claims. In this picture of the second start at the San Morino GP 2 things are very clear (if you have 2 eyes rather than one), the yellow arrows showing Schumacher's first previous start leaving 2 massive black tyre marks on the road from wheelspin and the blue arrows showing the second start with his tyres wheelspinning with smoke coming off of them and he is quite sideways - 2 bad starts with wheelspin and being overtaken by Alesi in the Ferrari behind both times, exactly what Launch Control and TC are designed to prevent.
EVIDENCE
...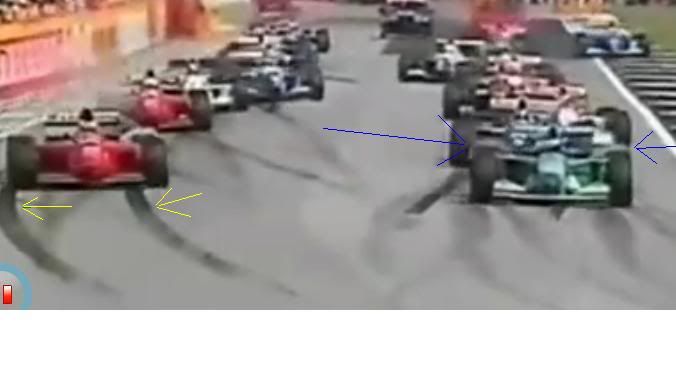 Now where is your evidence that in 1994 Benneton cars had Traction Control??
Edited by cheapracer, 10 October 2010 - 04:03.