If anybody know me at all, they will know my favorite car of all time is the Mark Donohue Sunoco Porsche 917/30 from the 1973 Can Am season. I saw this car race on my first trip to Riverside International Raceway in 1973, after moving out from Indiana (not too far from the Indianapolis Motor Speedway). It didn't really impress me all that much at the time (my hormones were focused on my first girl friend while we were there), but later as I got back into model car building (after a random visit to Marque Products after seeing them mentioned in Road & Track), Mark's career and cars became the focus of my collecting, and especially the 917/30.
I had got an extra 1/32 Carrera Sunoco 917/30 for it's chassis, and had this extra body shell to "play" with. Since the first thing I noticed of all of the Carrera 917/30's were the horrendous helmets used on these cars (and most of the other Carrera open sports cars). They looked more like a stormtrooper helmet from Star Wars rather than a proper open-faced Bell Star helmet from the early 1970's. This gave me motivation to completely change the helmet (I bought new 1/32 driver's figures and reshaped the helmets before cutting off the heads), reworked the interior, and general modified and corrected everything I found "off' on the car (well, body shell). I had wanted to try a new idea I'd never seen anyone attempt before by replicating a driver's face in the helmet photographically, rather than trying to paint it by hand. I was very happy with my first attempt, and it is really eerie having "Mark" peer back at you from his helmet. I made a visor for it that would open and close, created new artwork and had custom decals printed to replicate the helmet Mark wore at Riverside, and did a lot of other things on the car to make it look right in my eye , hopefully you might agree (refer to Photo #1 below for a comparison to the stock Carrera body). This is what I enjoy most about modelling, trying out new ideas, and pushing myself to make every model better than the last (after close to 50 years now of off-and-on model building, hopefully I'm doing something right by now....LOL). I welcome any comments and suggestions you might have.
Best Regards,
Doug Switz
Here's the original interior and my version of it. I can't understand how Carrera could make an up-side-down steering wheel, but they did. It probably wouldn't a big thing to most people, but I had to fix it by flipping it over, and fabricating a new top section for it. This photo also show Mark's suit in a correct color, with seatbelts added. I also like the way the new "face" looks in this photo, starring you right in the eye. Cool IMHO.
'
I also didn't like the way the legs on the original interiors made them look like they were attaching almost to the driver's shoulders, so I repainted things to hopefully give a better visual illusion.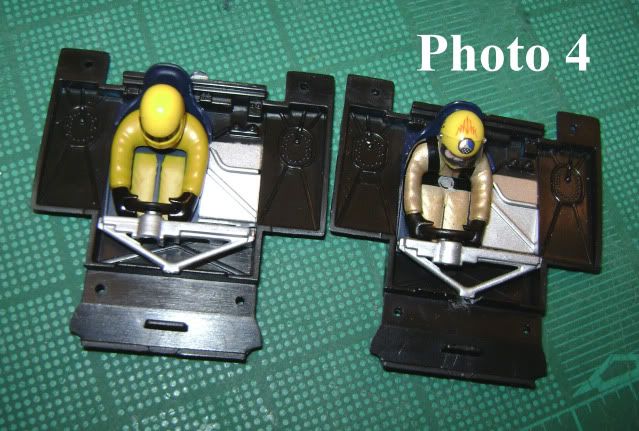 Edited by Cam2InfoNeeded, 22 January 2012 - 00:22.