What Wikipedia sees
What the F1 crowd sees
What the Nascar crowd sees
What Danica sees
What Ambrose sees
In short:
Nascar+Road Course+End of the Season Aproaching=
Every two times in the year us Europeans get a little closer (but only a little) to Nascar. Yep, those famous bricks are racing on a… road course, or whatever they call it in America.
So instead of this:
We get this:
And this:
Other diferences to rival "touring car" series is that a caution will happen soon or later to hamper the usual road ringer getaway.
So, let us sit back and enjoy some 90 lap marathon of proper racing on a tilke free track, let us forget the latest "improvements", the firings, the takeovers, the returns, the bribes and enjoy some mindless racing action outside it's natural habitat.
Well…, not quite, yanks still get the usual ads, which will double up in case of a caution and since cautions on a race track road course take a little bit longer, the torment will be longer.
Yes, yes, Boris is here
And so is the son of Multiple F1 Champion Nelson Piquet Souto Maior
https://www.youtube....h?v=PNcOdgg4j1c
Im sure everyone will get the kick out of it
No trucks to keep us warm on Friday (no, they havent been sent to another track either), so it's stricktly all car based action packed tightly on both days of the weekend. Which means NO FOX!
(Actually, that's only true if you watch the races, FOX is still airing practices.)
But lets face it, this is Marcos race, he has to win! He must win! I mean… even Almirola has won a race this year!
Perhaps Marcos should confuse his adversaries with lingo like he did some years ago…
https://www.youtube....h?v=3c4X6huJHKA
If trackside tricks don't work, he can always work out something on the track.
https://www.youtube....h?v=9VxEj17VK44
Personally, I think he should put on his Captain Caveman look
Seems to do wonders with them ladies
https://www.youtube....h?v=SGd8ZzZ56AU
Lets see… we have the sardines, the cat,the overabuse of image links and odd youtubes, mad wording, the Nelson Sr. reference, the kick, Marcos, Jeff, hm… ah! Of course!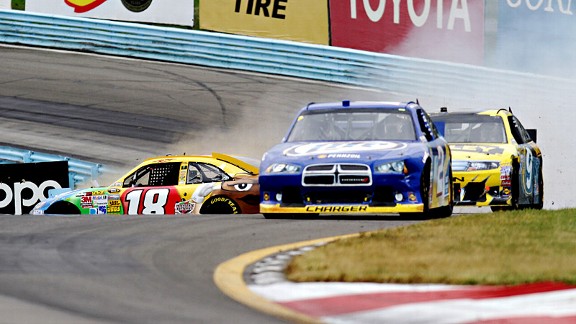 That should do it! Post almost ready, lets head down to schedule
Friday
Lots of Practice maybe to be televised, sure be be shown on later news broadcasts if anyone important screws up.
Saturday
Who cares about qualifying? Lets race some Busch Beer cars!
14:15 - Zippo 200 at The Glen , airs on ABC and MotorsTV (yay for add free TV)
Sunday
13:00 - Cheez-It 355 at The Glen, airs on ESPN
Edited by Red17, 08 August 2014 - 21:42.