As I am armed with a huge stack of 1990 Motoring News newspapers and I am off work as I got stomach cramps. So I thought I would keep myself occupied to do some browsing for information about one of F1's worst and slowest cars, the LIFE Racing team.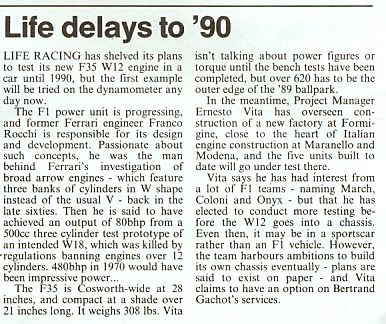 Motoring News 5th January 1989.
[quote]It was reported that Gary Brabham will attempt to prequalify Life Racing's F1 contender throughout 1990, after cementing a deal to drive for Ernesto Vita's fledging team in the F1 championship.[/quote]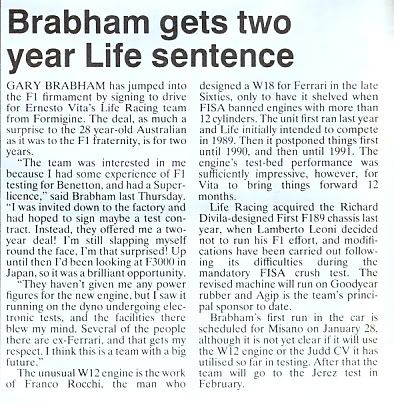 Motoring News 24th January 1990.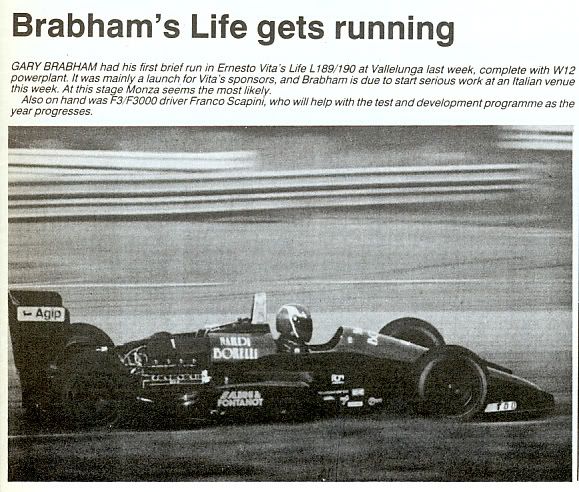 Motoring News 21st February 1990.
(from Autosprint 19/1990, page 63)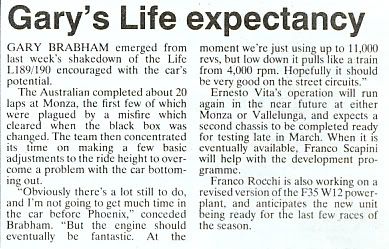 Motoring News 28th February 1990.
Prequalifying at Phoenix
(from Autosprint 11/1990, page 21)
His fastest lap was 2m 07.147s
Prequalifying at Interlagos
[quote]David Brabham sat patiently all through Thursday waiting for Vita's car to come to Life. When finally do so in afternoon managed a few sorely lap in L190. Didn't repeat that feat in prequalifying, Life expiring after only a quarter of a lap with a broken con-rod.
Did not run (at all!)[/quote]
Motoring News 26th March 1990.

Motoring News 4th April 1990.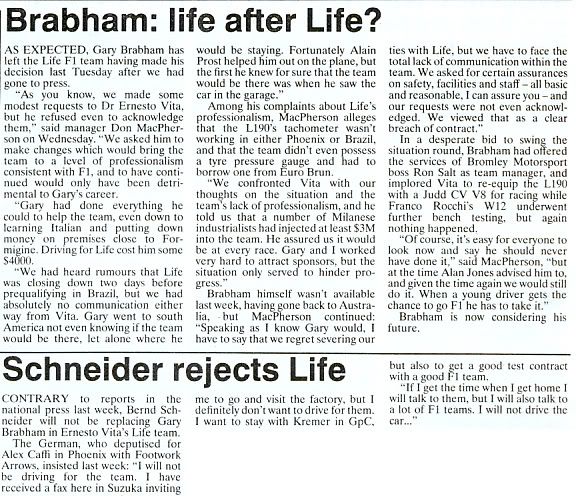 Motoring News 11th April 1990.

Motoring News 25th April 1990.
Seriously, this is becoming a joke and Motoring News even reprinted last week's article for the 2nd May 1990 edition!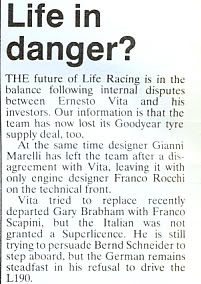 Motoring News 2nd May 1990.

Motoring News 10th May 1990.
Prequalifying at Imola
[quote]His fastest lap was 7m 16.212s.[/quote]
They want to put in a Barber Saab Pro Series driver in the Life car?!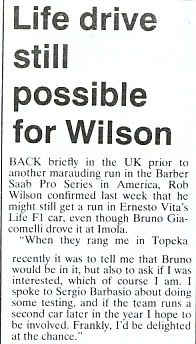 Motoring News 23rd May 1990.
Prequalifying at Monaco
[quote]Bruno Giacomelli struggled as ever with the Life, which surprised many by appearing at all and then surprised them even more by completing 10 smoky laps before expiring. It was within two seconds ofr the Coloni and 14 of Bernard's Lola, and iot was evident that when the white markers on its fresh Goodyears wore away, the evil creation was still going no faster. Bruno had the right idea when a Japanese photographer spotted him bolting on the rear wing on Thursday and asked cheerfully "You wanna buy it?" The photographer was smart enough to decline.
His fastest lap was 1m 47.187s[/quote]
Motoring News 31st May 1990.
(from Autosprint 22/1990, page 53)

Motoring News 6th June 1990.
Prequalifying at Montreal
His fastest lap was 1m 50.253s[/quote]
[quote]Life team manager Sergio Barbasio confirmed in Mexico that he team has succeeded in purchasing Lotus' old Judd CV V8s and that the L189B will be equipped with them from Hockenheim onwards. "At the moment our design people are working on adapting the chassis to take the engine, which is 10mm higher than our W12," he said.[/quote]
Prequalifying at Mexico City
[quote]Bruno Giacomelli did but a lap in the Life before stopping with...an engine problem. His fastest lap was 4m 04.475s[/quote]
Motoring News 27th June 1990.
Motoring News to review on the F1 teams' form: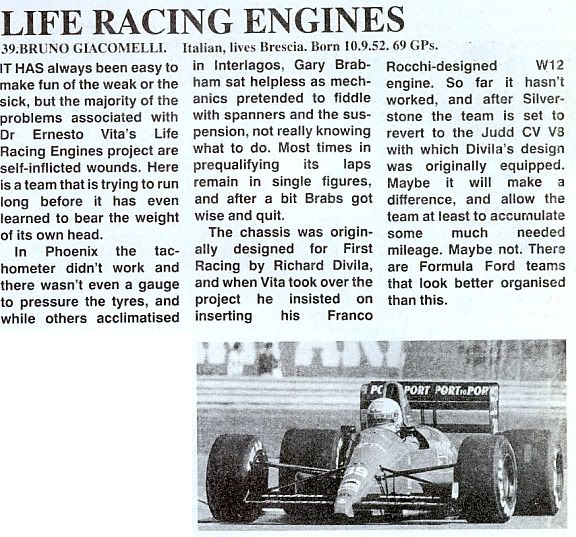 Prequalifying at Paul Ricard
[quote]...and the Life didn't even manage to get out due to yet another engine problem. Did not run (at all!)[/quote]
Motoring News 11th July 1990.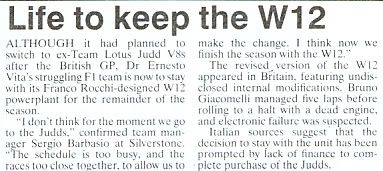 Prequalifying at Silverstone
[quote]At the back, as usual, the cheerful Bruno Giacomelli burped the Life round for sporadic laps before rolling to a halt on the circuit when the electronics packed up. Poor man is now sentenced to continue with the W12 as the team won't be switching to Judds after all.
His fastest lap is 1m 25.947s[/quote]
Motoring News 18th July 1990.
Apparantly, they didn't have their own pit facilities. They worked on the grass with very few tools but Giacomelli was still smiling though!
Prequalifying at Hockenheim
[quote]Finally, Bruno Giacomelli did his usual rearguard job in the Life. "The engine was perfect, but it doesn't yet have reliability we need," he said. "The real thing was that the team wanted to change the dampers, and we ran out of time. The trouble is, we don't have the material or the time to test; we have one car and few engines. The engine is reasonable, given its lack of development. It may sound strange, but it's true."
"Why the damper change? "I don't really know," he admitted. His fastest lap is 2m 10.786s[/quote]
Motoring News 1st August 1990.
Prequalifying at Hungaroring
[quote]Nothing to report! His fastest lap is 1m 41.431s[/quote]
Motoring News 15th August 1990
Prequalifying at Spa
[quote]As usual Bruno Giacomelli brought up the rear in the Life, which refused to start until the closing stages becauses its compressed air bottle is somehow frozen! "We did our usual five laps. Nothing impressive!" smiled Bruno, who had walked home, after a wire vibrated loose, and stopped the engine on his slowing down lap. His fastest lap was 2m 19.445s[/quote]
Motoring News 30th August 1990.
[quote]Life's deal to re-equip its L189B chassis with Judd engines is on the go again. The team is hoping to have a moncoque to accept a CV V8 ready in time for the Portuguese GP. "It will be very hard work, but I am hopeful," said Bruno Giacomelli in Monza.[/quote]
Prequalifying at Monza
[quote]The Life, as usual, managed few laps (two on this occasion). "And only one of them is timed! grinned Giacomelli. "Then we broke the engine, and this time it was a good bang!" His fastest lap is 1m 55.244s[/quote]
Motoring News 12th September 1990.
Prequalifying at Estoril
[quote]Even that was better than the Life though (it was referring to the Coloni car) The team had duly plugged in a Judd CV in place of Franco Rocchi's under developed W12 powerplant, but electrical problems prevented Bruno Giacomelli even from leaving the pit lane...
Did not run.[/quote]
Motoring News 26th September 1990.
Prequalifying at Jerez
[quote]...while this time the Judd-engined Life made two laps before grinding to its routine halt.
His fastest lap was 1m 42 699s[/quote]
Motoring News 3rd October 1990.
[quote]
Gary Brabham
, the middle of Sir Jack's three boys, did what any other struggling driver would have done at the beginning of the year and accepted with some alacrity Ernesto Vita's offer of the drive in his unique Life L190. Of course we all know now that it was a disaster of unmitigated proportion, but at the time nobody was to know just how bad it would be. THat didn't take long, however, by Imola Gary had vacanted the cockpit, thoroughly disillusioned by the total inability of the Italian to run a worthwhile effort[/quote]
[quote]
Bruno Giacomelli
was drafted in to replace Gary B at Life, and while that might have seemed a curious decision on the chubby Italian's part, his rumoured $30,000 a race put it into better perspective. A case of take the money and walk. He cheerfully accepted that his weekend's work would always be over at nine o'clock on Friday mornings. His record of 12 successive non prequalifications was bettered only by Claudio Langes who starred with the perfect tally of 14 (out of 14 entered) by the Eurobrun camp.[/quote]
[quote]Last, and certainly least, comes
Life
, a misnomer if ever there was one. Ernesto Vita took over the F1 assets of First Racing abortive attempt to graduate from F3000, adding his own W12 engine designed by former Ferrari engineer Franco Rocchi.
Things never turned got off the ground, and turned from awful to unmentionable when Gianno Marilli quit early in ther year. The L190 was abysmally unreliable, rarely completed more than five laps per meeting (its record was eight!) and never looked remotely like prequalifying. THe engine was troublesome and lacked mileage, the project lacked money, and the whole thing became pathetic. In Phoenix Life didn't even have a tyre pressure gauge! By Silverstone Vita was scheduled to replace with W12 with Judd CVs, but we were told there wouild be a delay when the team penned an installation.
But surelym as a First, the car had been purchased with Judds? The truth that there was no money to buy the British power units, and even when there was, by Estoril, an electrical problem prevented the car firing up!
Vita continued to make optimistic noises and has even talked of a return in 1991, but like the Life itself, few take such boast seriously. F1's creditability can do well without such circuis acts.[/quote]
To sign off this thread of the struggling Life team. Here is a nice scan of Bruno Giacomelli in the Life.
http://img.photobuck...191290_MN_v.jpg
Motoring News 19th December 1990.
Credits to Honza (from aerogi's forum) and gdecarli for the colour photos/scans of the Life car.
Roughly about five years ago, Bruno Giacomelli admitted that the Life L190 car was the worst car he ever driven. It gave out 360bhp, compared to the 800bhp from the McLaren Hondas! The car's top speed was about 100km/h slower than McLaren. he'd never been so frightened in a car like this!
Also Life Racing Engines still owes him a lot of money. "Maybe I should have taken an engine or perhaps the entire car with me when the team went bankrupt."
So does anyone have any stories or even photos of this struggling Italian team? Enjoy the read!