UPDATE! We can now reveal an image of the actual book, with its slip-case.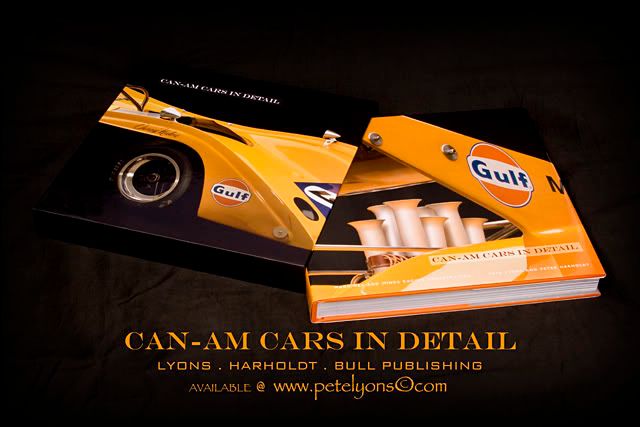 I hope I'll be forgiven for letting my fellow Can-Am fans know of this upcoming book.
Due in August (2010) from David Bull Publishing, "Can-Am Cars in Detail" will be a loving, lavish look at 22 cars as they are today. Most are genuine survivors of the old wars, with a handful of continuation or reproduction vehicles as we deemed necessary.
Included are all 3 surviving Can-Am Chaparrals, several McLarens and Lolas, 3 Porsche Panzers, the first and last Shadows ("Tiny Tire" and DN4), Amon's magnificent Ferrari—though it's only a 5-liter now, plus of course Posey's de Dion Caldwell, a Genie, a McKee and yes, everybody's favorite, Andretti's infamous lavender Honker!
Photos show various important, interesting or simply visually appealing aspects of these wonderful machines, in both exterior and underbody views.
Printed to very high quality coffee table standards, the book will measure 11 x 11 inches and contain 244 pages with 159 images. Price will be set at US$99.95 for the standard edition. At a higher pricepoint, there will be a very limited run of a Publisher's Edition containing more material, plus autographs of significant Can-Am figures.
I wrote the text—a work of joy, I must say—while the superb museum photographer (and club racer) Peter Harholdt crafted the images. Peter spent much of 2009 and early 2010 traveling the U.S. in his pickup towing a trailer, which he built himself, that unfolds into a field studio embracing his subjects. All I had to do was spend endless delightful hours on the phone talking to friends, old and new, about their treasures.
A few more pictures and more information can be found on my website, www.petelyons.com, through which I'll be offering copies for sale, and also my Facebook page,
http://www.facebook....115159568494822
. I've also added some material to Facebook's "Can-Am History" group.
I'll be happy to answer questions I didn't above; fire away.
— Pete
Edited by Pete Lyons, 02 August 2010 - 06:30.