Without double checking I think you must be referring to the stillborn ERA Special hill-climb car which Raymond Mays had his chaps build, very foolishly using chain drive within forward-facing swinging chain chests which doubled as rear suspension locating members. I was told that when tested it took off from a standing start with first one side's chain winding-up the suspension to force the relevant road wheel down, so theoretically enhancing its traction, but then the other side's chain, then back to the first dependent upon grip achieved, so that the car 'waddled furiously' with its rear wheels in effect tramping furiously, and alternately.

It was a complete failure.

When the BRMR Trustees heard that the car had occupied BRM machine shop time, and - worse - was fitted with some of the hyper-expensive experimental Lockheed air strut suspension units intended for the (much heavier) V16 they wanted RM's guts for garters. The car's fate has always been shrouded in some mystery but I believe on balance that it was quietly broken up and forgotten...

Typical of RM, he seems to have invited the press to visit Bourne and to photograph and publicise this personal project without any prior reference to his paymasters within the British Motor Racing Research Trust.

When they reacted explosively, first questioning the provenance of some of the components used, then hearing that BRM machine-shop time had been taken up by sprint car work, the Brown Windsor soup hit the fan.

RM would have been completely bewildered by such a reaction. An only child, very much indulged ever since childhood, confident of his own self-image as a national celebrity - the aftermath of this sprint car episode had far reaching impact not only upon his self-esteem but very much moreso upon the way in which he was regarded by the BRM project's Trustees and industrialist backers. When our discussions touched upon the subject he very quickly dismissed it or digressed onto something else - e.g. "Oh Doug I must say that's a very nice shirt you are wearing, where did you buy it?" - "Errrr - my wife gets them from Marks & Sparks..."

"Oh!"

DCN
bradbury west (Roger Lund) sent me a screenshot of the Raymond Mays Sprint Special he saved from Facebook sometime ago. It was a bit messy and damaged, but he offered
to get the shot printed as a photograph, and re-scanned it for me. I had opted to try cleaning it up.
Well thanks to and on behalf of Roger I am allowed to present you all...The Raymond Mays Sprint Special.......more or less the forefather of BRM
Just wanted to add this cutaway in here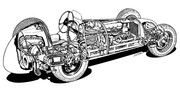 macoran
editted to add credit
Edited by StanBarrett2, 08 December 2017 - 12:29.