Here: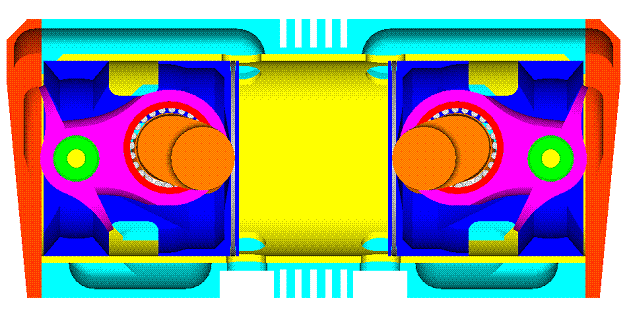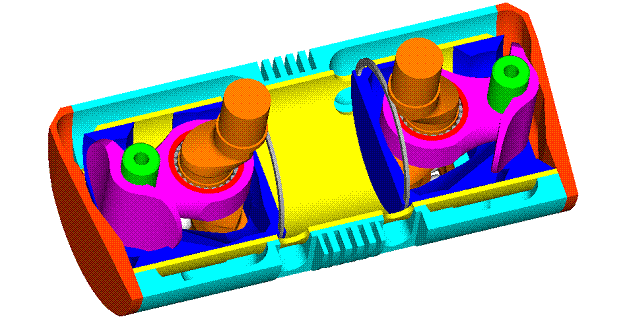 is a 2-stroke opposed-piston spark-ignition cross-uniflow perfectly-rid-of-vibrations high-revving free-breathing-with-additional-time-for-the-combustion compact and lightweight engine.
It fits to micro-engine applications (RC engines etc) and to normal size special applications.
During the compression stroke the vacuum inside the scavenging pumps (at the two sides of the engine) causes the flow of mixture from the crankcase.
During the expansion stroke, the opening at the bottom of the piston is closed by the tilting valve (the crankcase is sealed from the scavenging pump).
The mixture in the two scavenging pumps is compressed waiting the piston to allow the communication of the scavenging pump with the combustion chamber.
The thrust loads are taken at the wrist-pin end of each piston wherein the cylinder and the piston are substantially cooler (more reliable operation with lower lube consumption).
With the "combustion" side of the piston being rid of thrust loads, and with the wrist pin not hiding the backside of the piston crown, the pistons and the cylinder run cooler and more reliable. The only duty that remains for the "combustion" side of the pistons to fulfil is to seal the combustion chamber.
For more:
pattakon tilting valve
Can you see any advantages of the reed-valves and of the rotary-valves over the tilting-valves?
Thanks
Manolis Pattakos