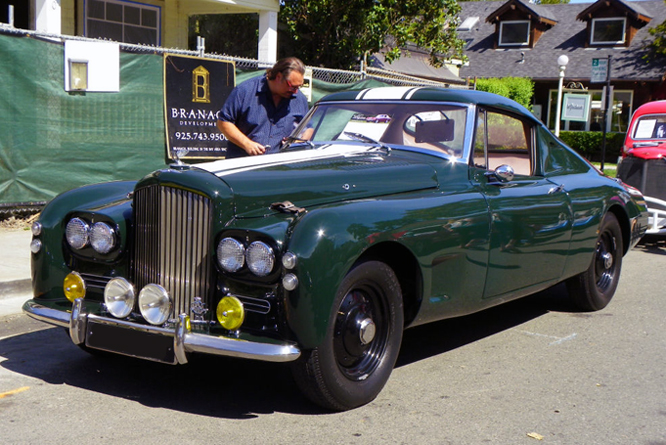 Photo by Jay Wollenweber reproduced with permission.
A couple of years ago a friend sent me some pix of the Bentley above seen at Danville, I have found out that it is a 1954 Bentley R-Type chassis #B77ZX with a body by Robert Peel for Robert (Bob) Gooda.
Much reproduced blurb on the net published by Bonhams in 2009 says that the car was used in competion by Brian Dumps and that this vehicle is "featured" in the Bentley book, Fifty Years of the Marque by Johnnie Greene, unfortunately all copies of which on Amazon are in the USA.
Wondering if anyone can shed any more light on when Robert Peel fitted the body as I am guessing this might not have been done in 1954, also can anyone tell me anything about Robert (Bob) Gooda and or Brian Dumps who do not feature on my default list of owners/drivers at RacingSportsCars.com ?
Finally does anyone know what off road event the car appears to be competing on, seen in this Bonhams link ?
Relevant answers maybe credited and used in a forthcoming blog, thanking you in anticipation of your responses.