For race sims I mean - I tried it....it's not that easy...

I started a project to build a replica Porsche 908 - a real vehicle - and modelled it in Solidworks. My friend was a very skilled fibreglass laminator, he built racing boats so he was going to make the body for me, and I thought the tubular chassis shouldn't be too big a problem as I used to build custom bike frames. A spaceframe is just like a bike frame, except bigger ?

What I really wanted to build was a 917 ( I saw the movie 'Le Mans' one too many times ) but I couldn't figure out a way to mold the windscreen, so 908 Spyder it was.
I bought an MoT failure Lexus with a good V-8 engine as the powerplant, but then we emigrated to Spain, killing the project.
This is the Solidworks model :-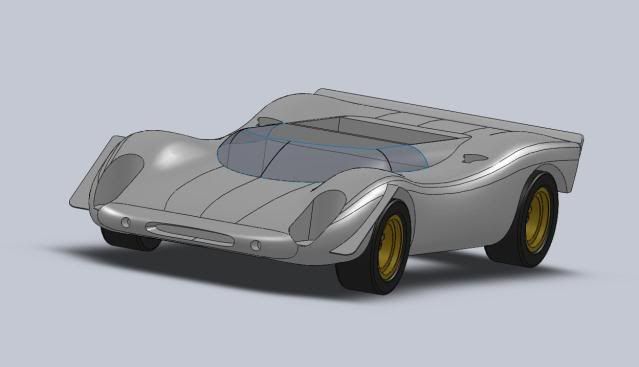 Then I showed it to the HistorX guys and they asked me to model the 908 for their rFactor mod.
That was a real eye opener. Solidworks will only allow you to construct a shape which can exist in the real world rather than on a computer screen and it's not good at surfaces anyway. At least not the kind which form the body of a 908..

I had to use 3D Max, which lets you do what the hell you want because it's not engineering CAD, it's just for video games and stuff. So I thought it would be easy. Big mistake. It wasn't the modelling ( which was kind of alien to me at first, because it's got no engineering basis ) but the challenge of producing a model which wouldn't have so many polygons\vertices that it would fry any video card trying to reproduce it.

Eventually I got to this :-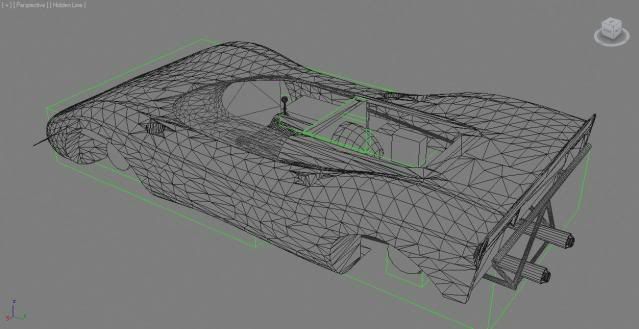 It drove me bananas getting there because all the time you have to be reducing the polygon count without making the poor 908 look like it was built from triangles and flat planes. And then, even worse, you have to texture it so that it can have a 'skin' wrapped around it with the livery.
Real life again got in the way, so it was never finished. Then a hard disk crash lost all the files, which I would have turned over to the team for them to finish...

So I take my hat off to 3D modellers for race sims , that stuff is not as easy as it might look...
Edited by Siddley, 29 March 2014 - 00:15.