This is one of those backroads of history which I believe are worth recording ... because sooner or later, someone will want to know!
The TTMC was very active in the 1930s - I've often come across mentions of their events in the press of the time - but like a number of other clubs it disappeared without trace during WW2. Browsing the online Totnes Times today, I came across this 1966 article on their 'Peep at the Past' page: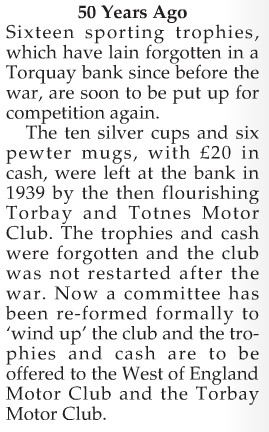 I believe two of its leading members were a couple of Totnesians called Evans and Cutler - see Tony Rudd's It Was Fun, where they are recalled as staunch ERA supporters. What Tony perhaps didn't know was that the two gents in question later ran one of the best-known garages in Totnes, which started in 1946 as a Standard dealership, later expanding to five premises and a full BL franchise. Later still a Ford main dealer, and although the name lives on they are currently selling only used vehicles (IIRC the original company went broke in the early 2000s).
http://vitessesteve....and-cutler.html
http://www.evansandcutler.co.uk/
(Tip of the hat to Ken Prout, a volunteer at Totnes Museum, who digs through old copies of the paper to find this stuff!)