Yesterday I was contacted by a retired BBC colleague. He said that he has a photo album of around 100 B&W pictures from 1968-1971 from when he and another couple of BBC guys would go to hillclimbs at Prescott and Shelsley. His friend who took the pictures passed away in 1973 (he must have been pretty young), but would I like the album? Unfortunately the negatives went missing years ago (probably around the time his friend died) thrown away. So these prints are the only survivors. He has sent me a scan of one pic and it's an ex-F1 McLaren at Prescott in about 1970. He has told me that all of the pictures have info written on the back of each of them, so that will be handy, unfortunately, no dates though. Rather looking forward to receiving them!
Allen Brown, I'm sure you'll be all over this pic!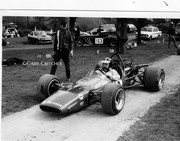 Click on the pic for a larger image.