Lads, I can now officially announce that my Lotus 72 documentary is finished and is available to buy, all info is now here; www.lotus72dvd.com
The whole thing runs across 2 discs, we shot new interviews with Emerson Fittipaldi, Peter Warr, John Miles and a plethora of Team Lotus personnel.
The first disc contains the main documentary, the second houses LOTS of little 'extras' (over two hours worth) including things like John Miles explaining 'anti-dive' and 'anti-squat', Lotus truckie Vic McCarthy tells us about the two Lotus transporter accidents in 1972 (along with some of his personal photos), Beaky Sims and Herbie Blash tell us what they had to do to get the car through post-race scrutineering at the 1970 British Grand Prix plus Ronnie's best friend Dave Brodie gives us over 20 minutes of his memories of Ronnie and lots more. All of the library material, stills and movie film, is previously unseen, indeed, some of it eminates from members of this very forum!
The price is £19.99 plus postage, I will post worldwide.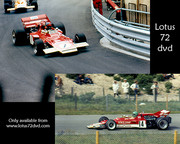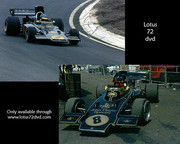 Edited by Gary C, 18 August 2019 - 19:28.