Welcome to the Autosport Forum 100% Unofficial Formula E Inspired Street Circuit Design Competition!

Many of you are probably familiar with the Forum's annual unofficial F1 livery competitions held during the off season - a chance for those frustrated by uninspiring liveries to show the race teams how it should be done (or indeed just to have a bit of fun).

Popular demand on the FE threads means that now is your chance to do the same for Formula E street circuits! The series is famed for its exclusive use of temporary city/street venues, a feature met by as much criticism as it has praise through its short history to date. Shamelessly built off the back of this major talking point, this competition wants your ideas for a street/temporary race circuit within the limits of any city on this here planet. Maybe you're FE's next circuit design team hire or maybe you've just always wanted a track that goes outside your front door (however improbable that may be), everyone is welcome!

All you really need to take part is a mapping tool or graphics package of your choice. I have tended to use Google Earth for this, though a screenshot of the city area modified in Paint to show a route would also work very well.

The Rules
1. The length of your circuit should somewhere in the region of 1.5 to 3.0 miles (2.5-5 km) in length
2. The layout should be original - it should not be too similar to any circuit currently or previously in use
3. The circuit should be temporary and within the official city limits of your chosen location (make of that what you will)
4. Entries should at least specify a route, the direction and start-line/pit-lane locations. Further details (grandstands, etc.) are welcome but not necessary.
5. Entries should take the form of a single, aerial-view image of your circuit (see below)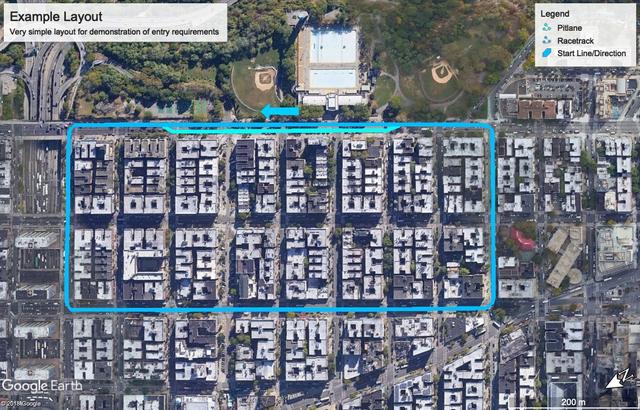 Winner has the everlasting honour of being called the inaugural winner of the Unofficial Formula E Street Circuit Design Competition! Not much else I'm afraid, other than also probably organising the second edition…

Timetable
- Competition opens 24th August 2019
- Entries close on the 6th October 2019, 23:59 UTC
- Voting will then commence until the 13th October, after which the winner will be crowned.

The main objective is to have a bit of fun before the new season gets going, so… happy mapping!