Round 17 of 21

2019年日本グランプリ

11+13 October 2019
Spoon, 130R, Degner - Few tracks have as many challenging and historical corners as the track located in the Kansai Region of Japan. And few have written as many stories over the decades. Despite the titles being all but decided chances are that another chapter will be added in the upcoming weekend...

Track?

Record Lap from 2017
2018 pole lap in changable conditions
2018 Race Highlights
Favourites?
Not only because of their upgrades in Suzuka it's expected that Mercedes will be much closer than in Sochi over one lap, perhaps even the favourites. Lots will depend on how Ferrari will deal with the bigger radius corners, the generally much bigger variety of the track and also the bigger tyre degradation in the race. If they survive the first two sectors with little loss it should be enough to seal pole in the flat out final sector. Leclerc should have advantages between the two Ferrari drivers, since Vettel tends to struggle more on high speed corner tracks. Red Bull is turning up with new fuel and the track should suit the traits of the RB15 more than the last races, but there were times in this season where the confidence was higher in Milton Keynes....
As usual it's tough to make predictions about the midfield fight, but considering that the working range of the tyres should move up in Suzuka Haas may drop back again at the end of the midfield. Renault is expecting a difficult weekend which may preliminary decide the fight for P4. Williams will have a new front wing, but this will likely not change anything on their status as the backmarker team.
Schedule?
As early as this thread is up many folks will have to wake up quite early this time to watch the race too. But as everyone knows races at that time of the day are the best ones!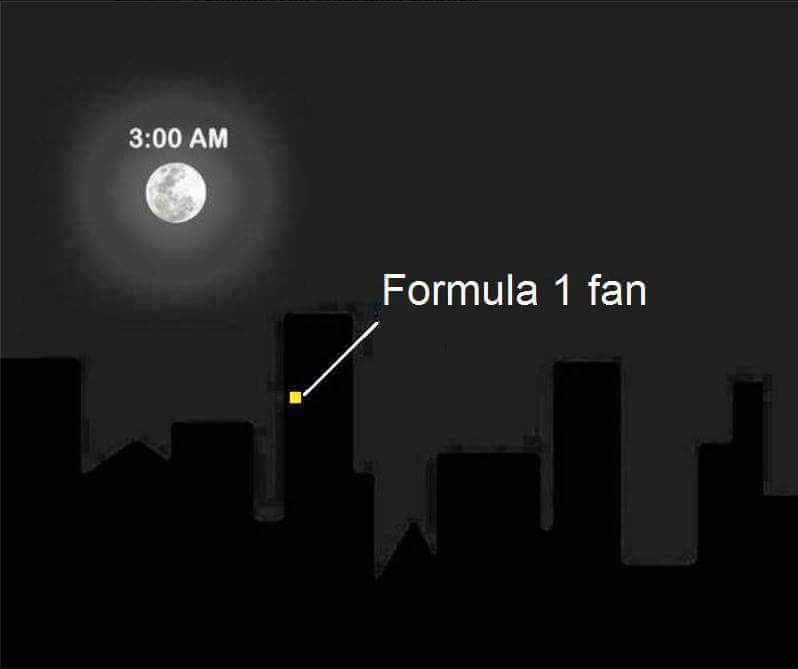 JST     CEST    BST     ET
FRIDAY - 11 OCTOBER
FP1           10:00   03:00   02:00   21:00 (-1)    
FP2           14:00   07:00   06:00   01:00

SATURDAY - 12 OCTOBER
cancelled

SUNDAY - 13 OCTOBER
Qualifying    10:00   03:00   02:00   21:00 (-1)
Race          14:10   07:10   06:10   01:10

Tyres?
Slightly harder than last year, where we had the slightly softer Super Soft. Lewis Hamilton won starting on today's C3 tyres and pitting on Lap 24 on the C2 equivalent. Gasly stayed on even softer tyres out until Lap 29. The longest Stint was performed by Sainz & Verstappen on the C3 tyres with 32 laps, and Raikkonen on the C2 tyre with 36 laps. Even if Suzuka is more critical on the tyres than other tracks this should be a easy 1 stopper.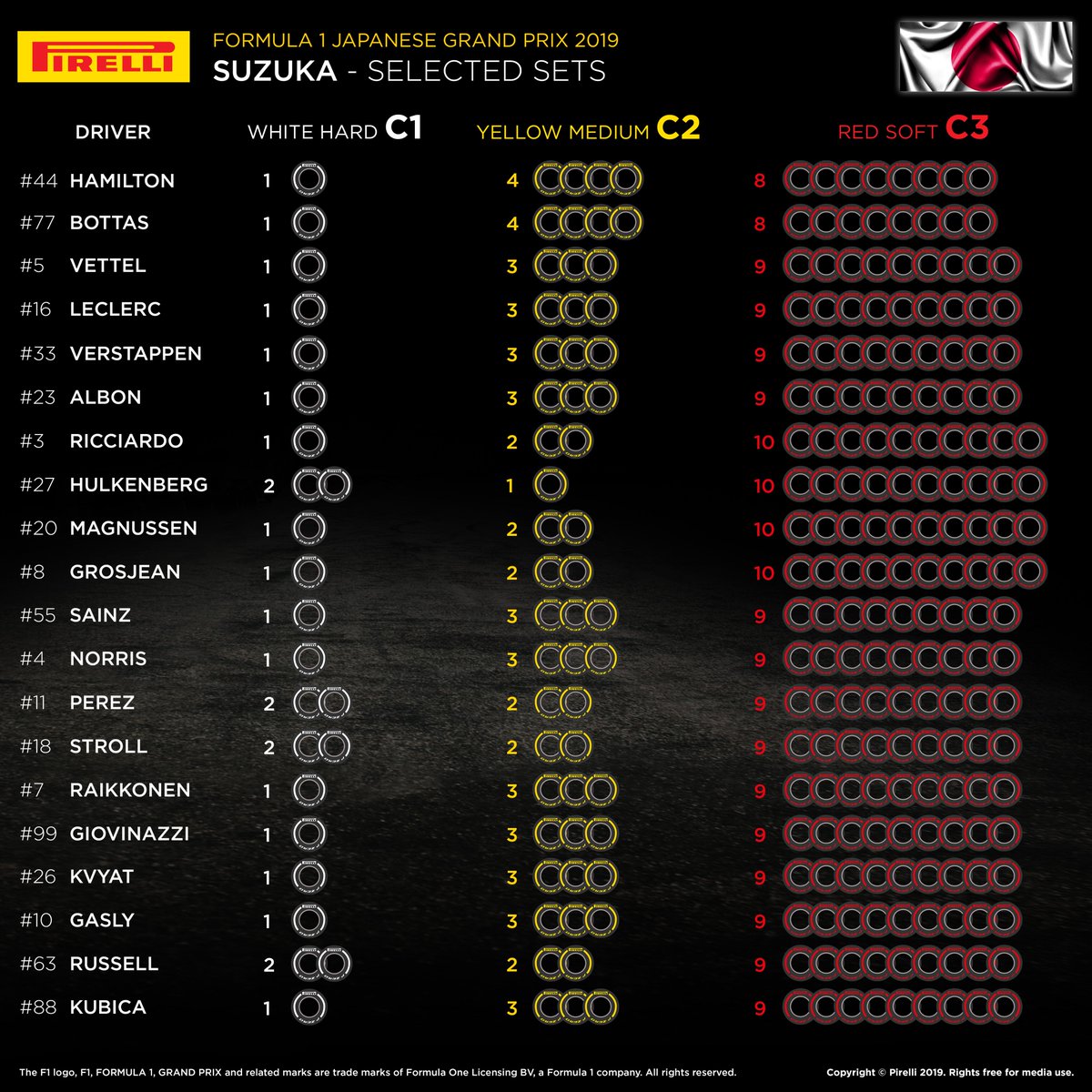 Weather?
Naturally the weather forecast so early is very uncertain. However, a typhoon is supposed to build during the upcoming days, whether it will move towards the track during the weekend is at the time of this post very uncertain, though.
Update
Steffen Dietz
@sdietzf1
·
5 Std.
Update:
#Hagibis
will most likely pass
#Suzuka
about 150 km to the southeast on Saturday afternoon JST as a strong typhoon, equivalent hurricane category 3. Torrential rain and gusts above 100 kph are expected. There is no chance for any track activities!
Friday will be fine with partly cloudy skies and a rising risk of isolated and light showers during the day.
On Sunday #Hagibis has already passed. Bright skies and dry conditions are expected. However, winds will still be gusty with up to 70 kph in the morning and 50 kph in the afternoon. = Conditions during race will be fine.
Title?
No place has seen more (driver) title deciders than the Japanese Grand Prix, 2019 wont be another one, but Mercedes can still seal both titles this weekend, even if Lewis Hamilton's official coronation will probably happen during the America tour again.
To already win the WCC in Suzuka Mercedes needs to outscore Ferrari by 14 points. In the last 10 races Mercedes has only achieved three times against Ferrari a result sufficient for this (Le Castellet, Silverstone, Sochi). A 1-2 would seal the title in any case. Ferrari can prevent it with a win in any case. More (somewhat realistic) scenarios right below
Mercedes can also virtually win the WDC already, meaning that everyone except of the Merc drivers could be mathematically out of the Championship Fight after this race. For that Lewis Hamilton is not allowed to lose more than 3 points to Leclerc (happened 4 times this year, thrice after the Summer Break), 6 points to Verstappen (happened twice) and 24 points to Vettel (never happened).
History?
Quite fitting to the recent issues at Ferrari Suzuka was the stage for the probably most legendary
team mate fallout
and the sequel the year after.
For one of the most legendary Quali Battles
And one of the greatest victories
But also some tragic moments
And unfortunately Suzuka also had its very dark chapters...
Graeme
@graeme_lowdon
·
18 Std.
Five years have passed since that horrendous day in Suzuka 2014. My thoughts are with Jules, his family, his friends, fellow drivers, our team mates and his many many fans. He will always be remembered, never forgotten
#JB17
Coming back to the present: Will Honda win their long-awaited home race? Who will prevail at Ferrari this time? Will Mercedes score a record-equaling sixth consecutive constructor title? And will it rain?