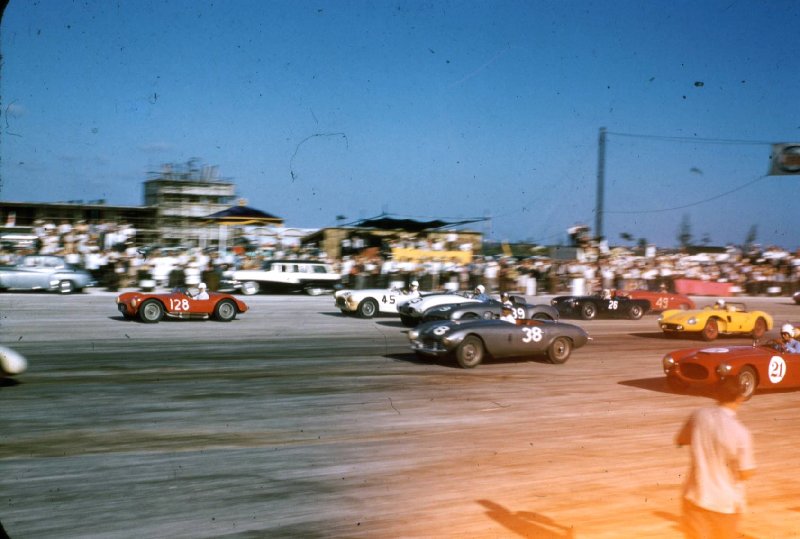 Sometimes we get lucky with historical material. Last week Willem Oosthoek received a CD containing many color images of fifties sports car racing in the Southeast, although without any IDs about places or dates. The CD was sent by Harry C. Reynolds, author of a book on Formula III cars. Harry received it from a friend, who received it from Carl Brown. Brown mentioned in letter that he received the photos "from a friend whose father [handlebar mustache] used to race back then.".Since the CD contains many images of Tampa race drivers Duncan Forlong and Joe Sheppard, it is likely the the Forlong family was the original source of the photos. Duncan always featured a handlebar mustache. So.... off to the races again:
Start of the December 1956 Nassau Governor's Trophy for the smaller classes, showing:
#128 Manuel de Teffe in a Maserati A6 GCS
#38 Marion Lowe in a Frazer-Nash TF
#21 Allen Markelson in [according to the results] an Arnolt-Bristol Bolide; obviously not
#93 Wacky Arnolt in an Arnolt-Bristol Bolide
#45 Duncan Forlong in an AC Bristol
#39 Jim Lowe in a Frazer-Nash LM II
#26 Carl Haas in another mystery car, listed as a Porsche 550RS; but is it?
#34 Bob Publicker in a Yellow 625 LM in the race results it is claimed the car is a 500 TR
All research: Willem Oosthoek
ID help Bill Wiswedel
Edited by Jerry Entin, 03 March 2020 - 22:00.