4/1/20 EDIT: NOTE THE FOLLOWING CHANGES SINCE THIS OP WAS POSTED:
1. THE TIME HAS CHANGED TO 2:30 PM U.S. ET.
2. THIS WILL AIR ON U.S. TELEVISION ON NBCSN.
3. UNLIKE LAST WEEK'S STREAMING OPTIONS, THIS WEEK STREAMING IS VIA THE NBC SPORTS APP AND NBCSPORTS.COM.
Prologue

MIRANDA
Oh, wonder!
How many goodly creatures are there here!
How beauteous mankind is! O brave new world,
That has such people in it!

PROSPERO
'Tis new to thee.

Shakespeare, The Tempest, Act 5, Scene 1

Yea, verily, 'tis new to us all!

A brave new world that looks remarkably like our own, yet lacks, so far, the presence of a five-time IndyCar champion, but where a journeyman driver left everyone in the weeds in Round One's event at virtual Watkins Glen, and where a man who otherwise has not been in a race car since Pocono 2018 will challenge for victory this weekend at virtual Alabama.


The Event

The INDYCAR iRacing Challenge, a virtual racing event featuring a full field of NTT INDYCAR SERIES drivers, continues this weekend with Saturday's race at Barber Motorsports Park beginning at 2:30 p.m. U.S. ET.
The event, which last week was streamed through INDYCAR.com while INDYCAR's YouTube and Facebook platforms as well as iRacing's Twitch served as additional outlets for viewing, is this week available on television on NBCSN and streaming live on NBCSports.com and the NBC Sports App.
Time conversions for European and Asian viewing left to others wise enough to graduate with something other than a liberal arts degree.
The Place

Probably your living room, although any area where you may maintain proper social distancing and with a feed to one of the above will suffice. As the Governor of Alabama has, to date, refused to acknowledge that any particular action is necessary in the face of an international pandemic, going to Barber itself is not advised.

If you could, or can in the future, by all means go. (I've been four times for IndyCar, twice for vintage racing events, and once for Grand-Am.) Instead of knocking down every tree to create a facility, then hoping to plant enough flora in the aftermath to eventually create a park, Barber was carved out of existing forest, which means there's actual shade--indeed, the favored method of viewing a race is to park a chair in the woods and enjoy the view. Barber is often said to have a park-like setting, and it's true--it's easily one of the most beautiful racetracks in the United States. (Cf. NOLA, COTA)

Personal photos.




Turns 1-2, with pit out to the right.




Part of the viewing area from along the south backstretch. Most of the track action can be viewed from here, particularly the Turn 5-6 passing area labeled "Charlotte's Web."









Track Maps





Also, there's actual topography. Elevation changes are part of the challenge at Barber, which has earned the label, "The Alabama Roller Coaster." (Not to be confused with other Alabama sporting traditions frequently featuring a perceived need to "Roll")



And the 14-15-16 complex is basically blind. Courage!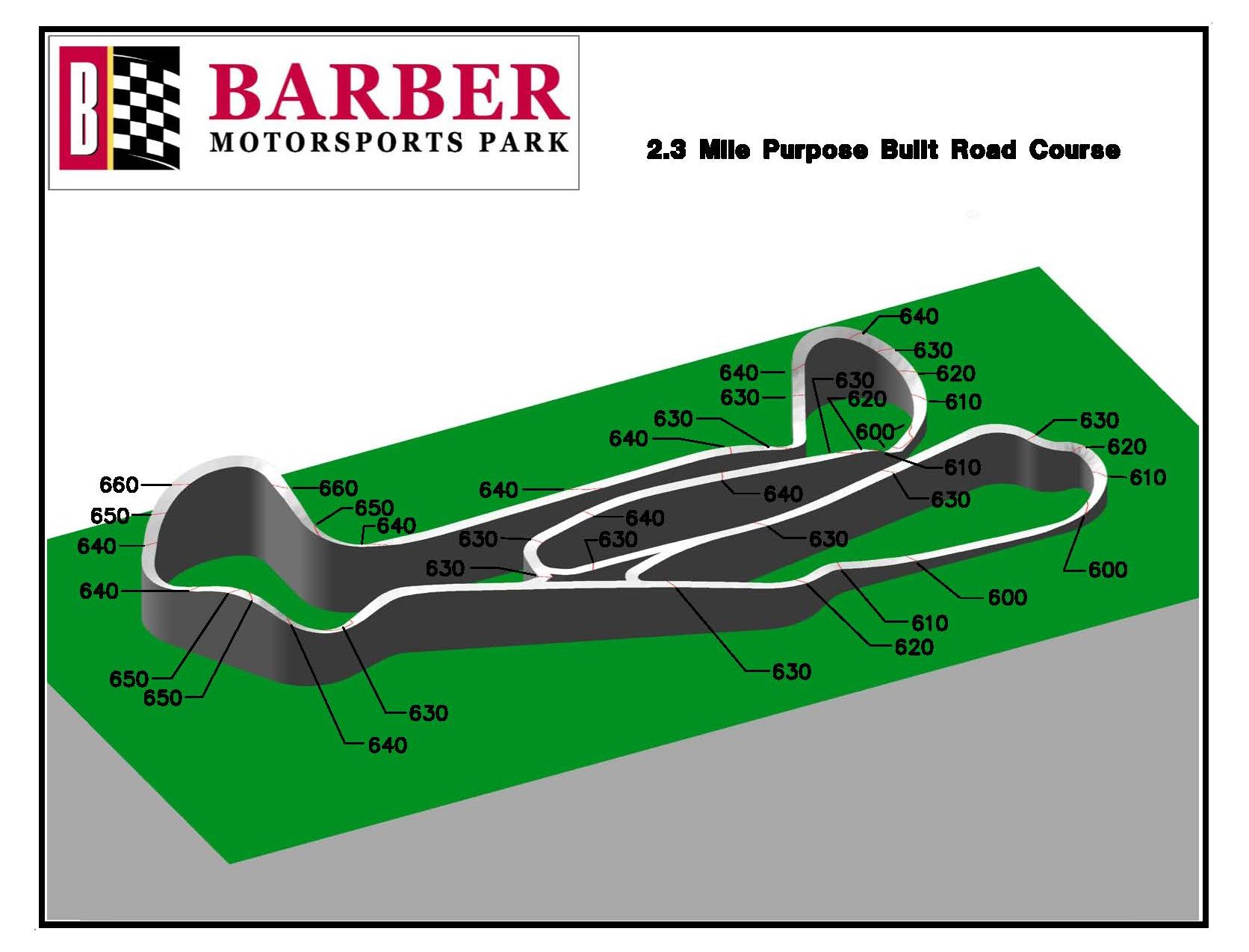 The Field

DIXIE'S BACK!
Also Jack Harvey and Ed Carpenter. Presumably, James Hinchcliffe will make it this time.
Still no Sato . . .
More than two dozen INDYCAR drivers are expected to compete in this weekend's INDYCAR iRacing Challenge, including five-time series champion Scott Dixon, two-time and reigning series champion Josef Newgarden, and 2019 Indianapolis 500 winner Simon Pagenaud. Last Saturday, 2013 Indy Lights champion Sage Karam won the inaugural INDYCAR iRacing Challenge American Red Cross Grand Prix at the virtual Watkins Glen International.
NBC Sports' lead INDYCAR broadcast team of Leigh Diffey (play-by-play), Paul Tracy (analyst), and Townsend Bell (analyst) will call the action.
https://racerdigital...r-entrylist.pdf
Jimmy Johnson returns, and, assuming all the technicalities can be worked out, expect the return of Robert Wickens!
https://www.indycar....Wickens-iRacing
The Spotter's Guide

https://www.indycar....potterguide.pdf
The Threatened Promised Verse


Dairy Heir*
With apologies to Samuel Taylor Coleridge

Or, on the threshold of a dream. A Fragment


Near Birmingham, a dairy heir
A stately auto-drome decreed:
Carved out of hillsides o' so fair
A verdant park for those who dare
To test the bounds of speed.
Eight hundred acres of fertile ground
Soon paved, and sculpture girdled round;
To reverence speed, and its splendid thrills,
While he kept many a shade-bearing tree;
From old growth forests ancient as the hills,
Enfolding sunny spots of greenery.

But oh! that mass of asphalt which slanted
Down the green hill amongst velocity's lovers!
A savage place! By Hermes haunted
As e'er beside an anxious crowd enchanted
By engines wailing 'neath their molded covers!
And from this vale, cycles and sports cars seething,
As if this earth in fast thick pants were breathing,
A thought arose, from the emboldened heir:
Swift IndyCar might make it there!
Though positioned deep in NASCAR land,
Open-wheelers couldst soon command
Amid these pine-laden hills at once and ever
A following worthy of this grand endeavor.
Two and a-third miles meandering with a mazy motion
Through wood and dale Dallaras bold soon ran,
Ninety laps to gauge the measure of a man,
To plumb the limits of Nike's devotion;

That sunny drome! Those matchless machines!
And all who follow should look with awe,
And all should cry, Huzzah! Huzzah!
The victor stands with triumphant mien!
Weave a circle round him thrice,
And place the laurel upon his head
For he on honey-dew hath fed,
And drunk the milk of Paradise.



* Yes, I am aware than the pun is the lowest form of wit. And?




The Oddities

. . . and sculpture girdled round; Barber abounds in sculpture and other forms of public art--part of the fun of walking the track is noting the odd sense of humor of the proprietor.




One of the track gates. Originally built for motorcycles, Barber boasts a museum containing over 1000 displays chronicling the entire history of bikes, and, scratching another itch, a decent collection of Lotus racing cars.


THEM! THEM!


Leaving the main paths, or engaging in off-course excursions, is not advised.





Long before Progressive Insurance's ad wizards dreamed of Motaur . . .





Long since sold and transferred to another location, from 2010, Barber's famed Lady in the Lake. (er, pond)





In retrospect, the maiden fair bears a passing resemblance to our Karen . . .



And, if you've made it this far, a quiz. The Sisyphean struggle portrayed here represents:

A. IndyCar's quest for a third engine manufacturer.

B. Man's impotence in the face of all-conquering Nature.

C. Helio's quest for an IndyCar championship.

D. All of the above.

E. None of the above.



Fantasy

And finally, don't forget to update your entries. I, for one, shall not disparage Sage Karam again!



Edited by red stick, 04 April 2020 - 12:02.