Bruce Polain has sent me a copy of a new book entitled as above...
After doing an autobiography, Bruce conspired with (or is it convinced?) his old friend Sam Johnson that it was time to detail the exploits of the JWF business and the cars they built. And they have completed this in a relatively short amount of time.
Here's what the book looks like: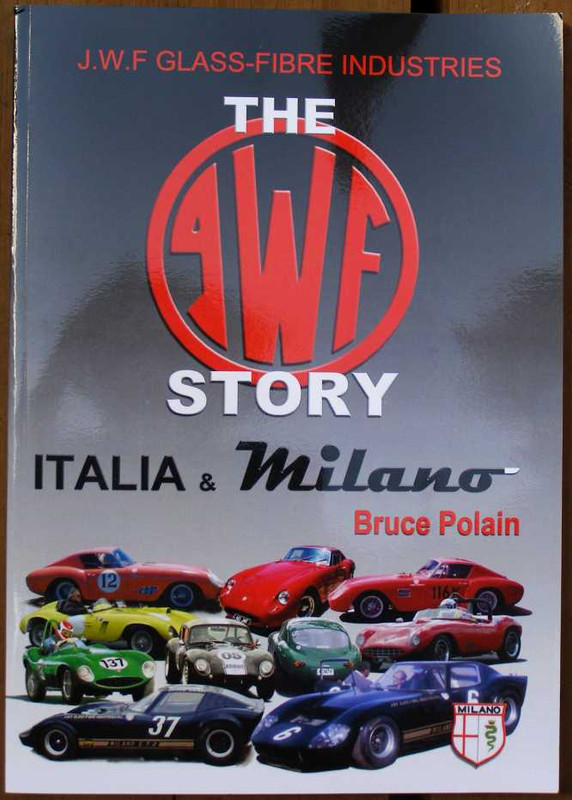 Front Cover. Brian Caldersmith's nice artwork adorns the front, giving a simple yet descriptive introduction to the book.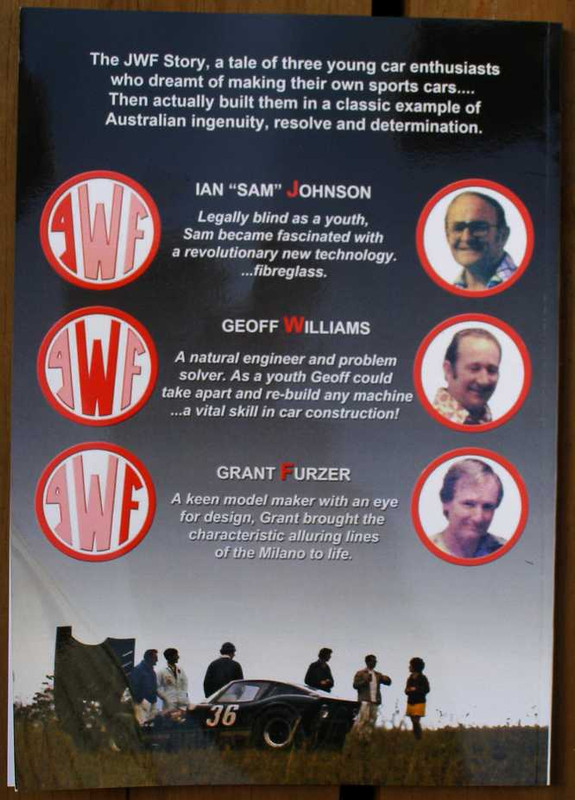 Back Cover. Again from Brian Caldersmith's desk and explaining how the team came together to start the business on a background of what looks like a remote corner of the Oran Park paddock area.
The format of the book is to tell the history of some of the individual cars built. 'Some' because it would be impossible to track down the whole lot of them, over 300 having been built either as bodies or kits, with just a few complete cars. Many of the owners along the way have told their own story, which is interesting too.
Largely it's about the Milanos, the most numerous of the cars. And mostly it's about the Milanos which raced, with a heavy leaning towards the many which raced with Holden engines. But it doesn't begin or end there, as originally many bodies were sold to fit on Austin 7 chassis, extended versions were sold to fit on MG TC chassis and then others had other ideas about how to put them together.
This page, for instance, is all on Milano GTs with 179 Holden engines: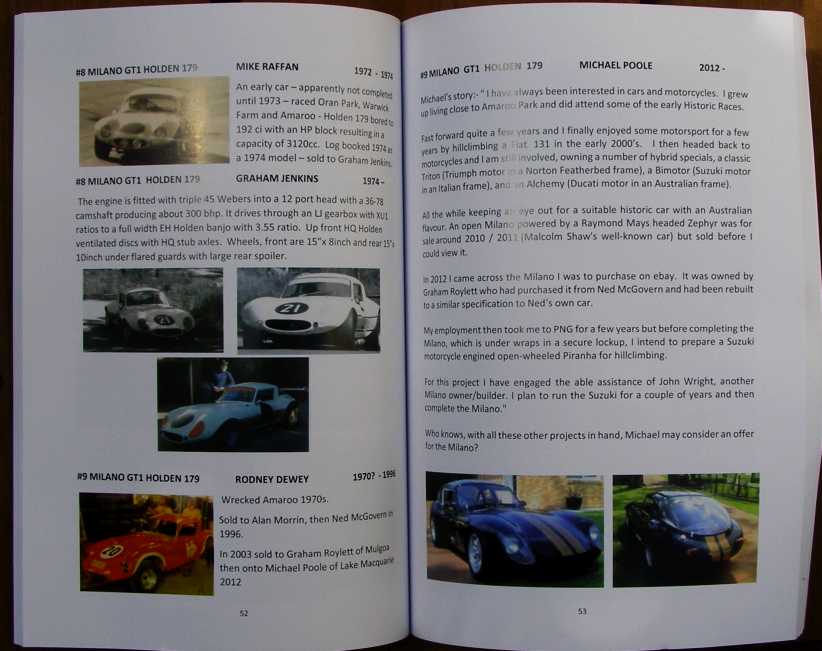 Milano GTs with 179s. Both of the cars on this spread feature engines with better than 250bhp, they'd be exciting to drive on any circuit.
And this one is a bit more eclectic: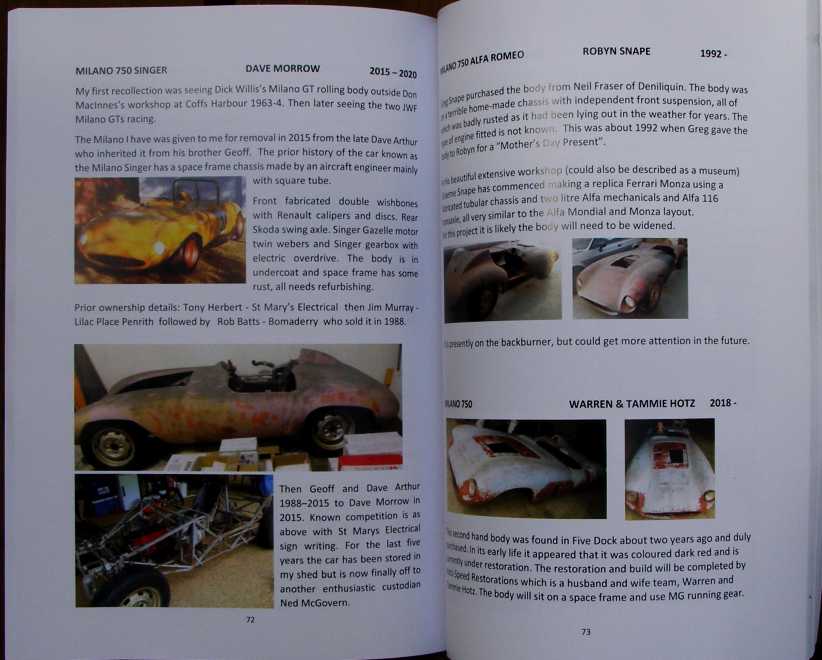 Variety. One car built on a bespoke spaceframe designed by an aircraft engineer with a Singer engine unlikely to produce half of the Holdens' output and driving it through a Skoda swing-axle rear end, another which is a project to get an Alfa 2-litre one day and a third which will see an MG engine installed in its spaceframe chassis.
Once you get past the preponderance of Holden-engined cars there is a fascinating array of individuality, all told with a background of long silent spells when many of the cars were kept in sheds and left incomplete - or awaited restorations. A Jowett Jupiter chassis sits under an Italia coupe body that was made six inches shorter than was needed, this clearly being a mistake made by the original buyer who therefore never finished the car.
Of course, space is devoted to the 'works' cars, the Milano GTs raced by Bruce Leer and Sam Johnson in the mid-sixties. Then to the team of GT2s they raced with such success in the early seventies. These cars left an impact on many a racegoer.
Particular attention is paid to the several cars which have migrated to the UK. Three Milano GTs with 'red' Holden motors, an Itala body on an Austin Healey 100 chassis and an early Milano open body on an MG J2 chassis with a 1500cc XPAG engine.
So the Milanos and Italias found homes for many different specifications of chassis and mechanical components. Some Nota chassis were supplied early on to suit them while the ultimate Milanos, the GT2s, had nice spaceframe chassis with fibreglass inner panels bonded to the tubes which made them very rigid cars. Engines from Austin 7s to supercharged Ford Zephyr - not to mention a couple of V8s - were to be found in addition to the multitude of Holdens.
The book proves that there must still be a lot of Milanos (in particular) lying around in sheds somewhere. Just waiting to have lives like many of those dredged out of such places and finding a place in Bruce's book.
The JWF Story tells of a Special Builders' paradise where the difficult part of building your Special, the body, was taken care of for you. In those much more laid-back days many of these bodies saw service on the road, replacing heavy original steel bodies and giving young owners of old cars a more modern-looking and sporty car with which they could attract young ladies. Not that young ladies didn't own them either, as the book details two such cars daily driven about by young ladies.
And to start the real discussion, I'll add that Dick Willis - who owned and raced one in the mid-sixties - contributed a lot of detail and history to provide a bit of a 'backbone' on which Bruce and Sam could build to make their book more complete. He can tell us a great deal more, I'm sure.
Contact for copies: jwfhistory@gmail.com