I'm concerned about the growing amount of sportswashing that Formula 1 participates in.
Let's start by saying that I'm neither an (F1) historian, nor an expert in international relations. I'm just a fan who has been reading too much lately. So much that it's difficult to write this post, because there's so much to write about, and when you get into a topic like this you end up with 30 tabs open, the latest one making you even unhappier than the last.
What is sportwashing?
"the hosting of a sporting event, or owning of a team as a means for a country to improve its reputation, particularly if it has a poor record on human rights."
In other words, host an international event and hope that people thereby forget the terrible things you do.
While this now perhaps a bigger topic than ever before due to F1's decision to become politically involved with #WeRaceAsOne, sportswashing and F1 is a combo way before hashtags existed.
In fact, who knows when this first took place, but in a way finding that out isn't really relevant now. Let's move forward to the current situation.
Saudi Arabian Grand Prix
Wurz, Grosjean, Hulkenberg, Hill, and Coulthard visited Qiddiya
, Saudi Arabia earlier this year. Important to note that Wurz is specifically involved in this as he's trying to launch his circuit design business off the ground, and Saudi Arabia is apparently the best place to do so. He brought some of his buddies along for the extra promotion, while discussing plans for a GP in Qiddiya in 2023.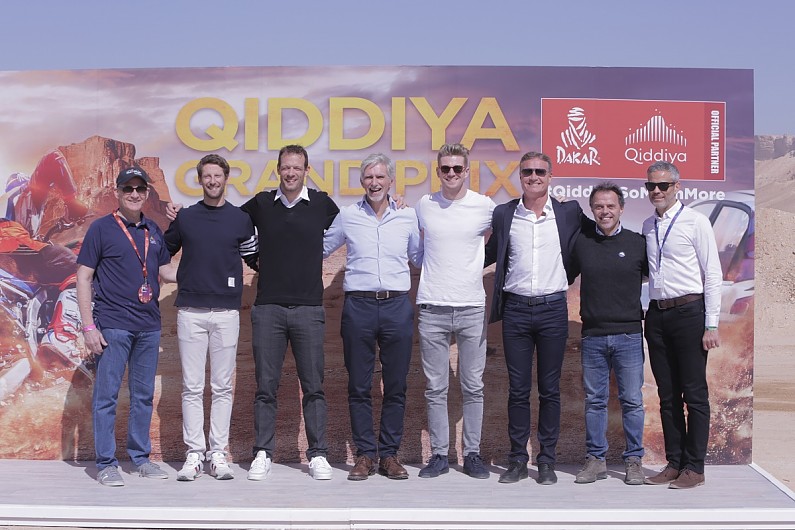 But it seems Saudi Arabia couldn't wait that long. Yesterday it became official: Formula 1's 2021 calendar contains a race in a different location, a street circuit in Jeddah.
And many people aren't happy about that. Reason being is that Saudi Arabia is known for their atrocious human rights record (see Amnesty, Human Rights Watch), and recently the killing of a Saudi-critical journalist in an consulate in Istanbul.
How can we stop this?
Fans can complain all they want on this forum (me for example) or on Twitter and other social media, but that's of course not going to do anything. Unless you stop watching and supporting the sport, your complaints don't matter one bit. And even if you do stop, that won't matter either, because boycotts have never made a serious impact on anything. There's nothing you can do.
The media
Surely the media has some power to bring this to light? Well no, not really. They're in a tough spot as well, because this topic is so politically sensitive that they often don't dare to ask critical questions about these subjects as they might risk consequences, such as losing their press pass, or getting murdered in a consulate.
However, before the Emilia Romagna GP Laurence Edmondson from ESPN did ask the Red Bull, Ferrari, and Mercedes drivers and team representatives what they thought about the Saudi GP and sportswashing. The answers were:
Red Bull
Horner: "When we sign up for a World Championship we don't dictate where that calendar goes, but we sign up for racing every race. We trust the commercial rights holder, also the governing body to have done the necessary research and to make those decisions that are right for the interest of the sport. We're not a political organization, sport should never seek to be political, therefore we trust in them to make those right decisions and wherever they choose to have races, in signing up for that championship, we will be attending an doing our best to perform as well as we can at those races."
Verstappen: "Nothing to add."
Albon: "…"
Ferrari
Vettel: "To be honest I've only found out recently so I've heard the previous years there was a plan to build a circuit, now for next year there's a plan to race in Saudi Arabia on a street circuit. In all fairness I can't really say anything because I don't know enough. We've slightly brushed it this morning in terms of the question you've asked but I prefer to not say anything because by now I don't have enough knowledge to comment"
Leclerc: "I don't know either to be honest. Formula 1 will take the decision, and that's it"
Binotto: "I think sport, whatever it is, it's always positive. I think sport is a positive message, always, and sport may bring positivity. I think that's the way we should see it. I think we should simply understand that we can be a vector of positivity and that's important"
Mercedes
Hamilton: "I don't really know enough about that to particularly comment. I'd like to know more about it, I honestly don't know enough about the human rights issue that's happening in Saudi Arabia. I have some friends that go there that tell me that it's a stunning place. But I think it's important before I really comment that I know exactly what the issue is. I do think Nelson Mandela many years ago said that sport has the power to change the world for the better. I think we've already seen the positive shift that we as a sport this year have committed to and started to push in direction of supporting human rights and equality and inclusivity. I think it's a showing, as a lot of other sports have showed, that it's a powerful platform to initiate change. The current fact is we go to all these countries and I personally don't know, whilst it's a great event, we don't leave a long lasting effect on those places. The question is can we. Can we be a part of bringing attention to certain issues and pushing for change."
Bottas: "I also don't have really quite enough details and facts about the exact situation there, but I also believe like what Lewis said, that as long as you know the sport F1 if we can make a positive impact on things then you know why not. I think that's the main thing you know we need to be having a positive impact on places we go."
Wolff: "I would just follow what Valtteri and Lewis said, I think sport should unite, sport should help to get us to a better place. I think we've seen that us racing globally there was a positive discussion around Formula 1 and I've been in Riyadh for Formula E, I think it was a year ago. And I was impressed by the change that I've seen. As a visitor you never know how things are going but what I've seen personally and that's the only comment I can make because I saw it, it was a great event with no segregation, women and men in the same place, enjoying the sporting event. We need to start somewhere and what I've seen is that it started somewhere and I believe we should do whatever we can to make the world a better place."
All these answers were of course very predictable. Red Bull employs the tactic of burying their head in the sand, keeping it corporate and shoving the responsibility to Liberty, while telling their drivers to refrain from commenting on it. Mercedes and Binotto go for the optimism-route: "sport may bring positivity", "pushing for change", "positive impact where we go", and "make the world a better place". Yuck.
It's difficult to believe that all these drivers truly know nothing about Saudi Arabia. The silence from Max and Albon also speaks volumes. The other drivers all claim they don't know enough about it, as if this deal was gonna fall out of the sky. I wonder what they'll answer if you ask them again next time, after they've read the amnesty reports. Surely then they will all open up. Anyway, well rehearsed PR and pleasing the corporates. Binnoto was even dictating in which order he and his drivers were answering this question, it looked well rehearsed and that's telling to how sensitive this topic is and how freely they are allowed to talk about it.
Specifically Hamilton's comment "I have some friends that go there that tell me that it's a stunning place" is an interesting one. First of all, that's exactly what's wrong with this whole situation. Western people, especially those in the entertainment or sport industries, will never experience anything remotely relevant to knowing how a country like Saudi Arabia actually is for the their citizens, for people they oppress and discriminate. Never mind the war crimes they commit. Of course these countries will do everything they can to make Western people tell their friends what a stunning place it is. The music and sporting events they host are engineered with that goal in mind.
Frankly everything Saudi Arabia stands for is polar opposite of everything Hamilton preaches and it doesn't add up whatsoever that he could possibly support this. It puts him in a very difficult position to say the least.
What would be a better way for F1 to deal with this?
So there's plenty of loud voices denouncing the decision from F1 to race there. There's just as many loud voices claiming that this is nothing new, and that if people aren't happy, why were they fine with F1 racing in other countries with negative human rights records? Both voices have a point. The question then is what could F1 do about it (if they'd want to, and I know that's a whole other topic). But realistically, how could F1 consistently and fairly determine which countries are good and which ones aren't.
The-Race released a pretty good article
about how F1 should tackle this. Mark Hughes proposes:
"The obvious way around this lack of expertise or authority in the subject matter would be for the FIA to include in its statutes a commitment not to have rounds of any of its championships in regimes with an officially-recognised human rights index below/above a certain number or below a certain position in one of the several human rights league tables. The Global Economy rankings, for example, list the 176 countries of the world by human rights records between 2007 and 2019. There are many of these third-party indexes and the league tables each produce show a broadly similar ranking. There is currently a campaign to have the UN itself publish its own such table as a definitive one. But the broad principle of aligning the FIA statutes with a third-party human rights indexing system could preclude F1 from having to be some sort of moral barometer. It would be a simple yes/no once the terms have been defined. In this way also, the sport would not appear to be openly hostile to regimes seeking to host F1 but which didn't meet the FIA's requirement on human rights performance."
This makes sense, although they then still has to decide where the line is drawn. Additionally, whilst a good idea, in a way it already seems to be too late given the situation F1 has already found itself in.
In an attempt to analyze the situation, and using the Global Economy rankings mentioned by The-Race as an example, I looked at all the countries that hosted Grand Prix since 1994 (I just kept going backwards until it started to become stale) and will likely host in 2021. I counted 29 countries in this timeframe, and the 8 countries that stick out are China (2004), Bahrain (2004), Turkey (2005), UAE (2009), Russia (2014), Azerbaijan (2016), Vietnam (2020), and Saudi Arabia (2021). These 8 are also 8 of the last 13 countries that have been (re-)added to the F1 calendar. The other 5 being Singapore (2008), South Korea (2010), India (2011), Mexico (2015), and The Netherlands (2020).
These 8 stand-out countries all have a 'Human Rights and Rule of Law'-index score above 7.5: China (8.8), Bahrain (8.6), Turkey (8.1), UAE (7.6), Russia (9.1), Azerbaijan (8.3), Vietnam (7.8), and Saudi Arabia (9.3). They are also the only 8 countries in the list that are categorized as 'hybrid or authoritarian regimes' in the
Democracy Index by the Economist
. So perhaps that wouldn't be a bad place to draw a line?
To visualize the effect of the addition of these countries to the calendar, I made a graph depicting the average 'Human Rights and Rule of Law'-index score per season, adding the countries in the year they debuted (not based on their index value):
* data for all years taken from 2019 Index
** using country racetrack is physically in except for Monaco due to absence of data (used France instead)
*** actual max index score is not 5 as graph suggests, but 10. However an axis till 10 made the graph too messy.
**** included the 2020 calendar pre-COVID as the sport had originally intended.
***** assuming China stays on 2021 calendar.
I'll admit it's not the best research, but it gives a rough idea about the worsening of the F1 calendar in the aspect of sportswashing. It's arguable that the addition of Sepang in Malaysia back in 1999 was already a form of it. And there's probably other examples going further back. However, I'd argue 2004 marks the beginning of sportswashing taking place in F1 by authoritarian regimes, when Bahrain and China were added to the calendar. And slowly but steadily the average human rights index of F1 countries has doubled since the mid-90's (from around 2.2 / 10 to around 4.5 / 10).
In a way I always connected this form of expansion to Bernie Ecclestone,
who clearly had a thing for dictators
. But the addition of Saudi Arabia shows that it's more engrained in the sport itself than that. This partnership did not start under Ecclestone, but with Liberty Media. They continue the line of participating in sportswashing that he started. In the same year Liberty started their campaigns around equality and #WeRaceAsOne, they now add Saudi Arabia to the calendar.
Ultimately it's all about money, it's a trade. F1 is offered a lot of money that they feel they can't refuse (
especially when revenues are down),
and in turn F1 helps these countries with hiding their appalling human rights records. Saudi Aramco has been
added to the list of F1's Global Partners
earlier this year, and trackside Aramco branding, title rights several Grands Prix, and
Alonso YouTube videos
isn't all they paid for. Nothing will show the world better what a stunning country Saudi Arabia is than hosting a renowned international sporting event. It affects the perception people have about these countries, and that is worth more to them than the money they invest in this. Formula 1 can use all the PR speak they want about positivity and change, but ultimately they'll achieve nothing of the sort, as previous countries prove. All F1 does is enable the sportswashing to continue. And like with previous events in the other mentioned countries in this post, they will struggle to get people to these races. Which is also not really important, because for both them and the hosting country, that's not what the Grand Prix is about.
Sorry for the long post that's all over the place. I just want to share this and see what other people think about it. Maybe there are some people who, like me before, never thought about it a lot, and by reading this they learned something.
Edited by Lights, 06 November 2020 - 13:34.