Welcome to 1989! Another lacuna in the racing calendar (and not only the racing calendar) gives us the opportunity to nostalgize wantonly in Indycars past. Re-erect the Berlin Wall, re-elect Margaret Thatcher and relinquish the last 32 years of affairs animal, vegetable and mineral. Nothing good came of them anyway.

What's coming to CART in the year MCMLXXXIX? As life tends to go, in many ways things are similar to how they were MCMLXXXVIII. The calendar is almost identical, with the traditional 1980s finale at the Miami-Dade county fairgrounds gone and the numbers made up by an extra midsummer race at the ex-F1 circuit in downtown Detroit. Cars are still made of delicious aluminium honeycomb, half the field (the slower half, admittedly) is still powered by the Cosworth DFX, tyres are still radial and pace cars still minimal (on the road courses, at any rate). Are the times a-changing? Gradually. Michael Andretti has joined his Dad at Newman-Haas (the succession plan begins!), with Bobby Rahal dropping his long association with the Truesports team to replace Michael at Kraco Racing. March are getting out of the customer chassis business, focusing efforts for 1989 on bespoke chassis for Euro interlopers Porsche and Alfa Romeo. Meanwhile, Penske is getting into the customer chassis business, supplying a third full-time car for Pat Patrick's last fling at Indycar racing before his planned retirement.

As usual, or at least as was usual in the 1980s, things kick off in April in the state of Arizona at the cacti-strewn, rattlesnake-inhabited Phoenix International Raceway. The track is lightly banked, wide enough to pass and has a big change of direction on the back straight which I'm not sure is significant but looks pretty distinctive. Recently the track has been good for a surprise result, with Kevin Cogan and Roberto Guerrero both scoring debut wins in 1986 and 1987, and Al Unser getting his sole 1985 victory there en route to a championship he hadn't planned on contesting. What I'm trying to say is: it's a good place to start the year.


Anyway, on to 1989's runners and riders. I don't have a spotter's guide so you'll have to make do with names, photos and your imagination. In more or less 1988 championship order:

Team Penske is taking a victory lap after the pairing of a homebuilt chassis (definitely not built in Roger Penske's home) with the new-ish Ilmor-built Chevrolet engine resulted in merry destruction being rained down on the opposition. Ex-Tyrrell driver and 1985 Indy 500 winner Danny Sullivan picked up the series championship in 1988, when after an abysmal start he was barely out of the top 5 post-Indy. Rick Mears isn't as sharp a blade on the road courses, or so the cliché goes, but is still the master at Indy, Milwaukee and many other left-turn-only venues. Al Unser will join them for the 500-milers, as is his way. He might win them.


Rick Galles is back with Al Unser, Jr, Valvoline colours and a Lola-Chevrolet. Al Junior is perhaps the closest Indycar has to an Alain Prost: undramatic, error-light and liable to emerge two-thirds of the way through the race or season in an unexpectedly commanding position. A lot like he is/was/will be in 1995, really. Anyway, he was the guy who ran Sullivan closest in 1988, and with coming into his second year with the Galles team you'd expect him to be a favourite once again.


By winning in 1988's PPG Cup, Danny Sullivan prevented Bobby Rahal from getting three CART championships in a row. Bobby's moved across to drive for Barry Green's Kraco Racing for 1988, where he's still lacking a Chevy engine but does at least have a team that used to win regularly with Michael Andretti. The outfit used to be a March factory team of sorts with Adrian Newey calling the technical shots, but as Mick Jagger used to say, that's all over now. Kraco, if you're interested, manufactures various rubber products and car audio equipment.


What of the team Rahal left behind? Steve Horne's Truesports team continues with the Budweiser sponsorship, Lola chassis and Judd engines that did rather less well in 1988 than the team managed in 1986 and 1987. They've signed Young American Scott Pruett to replace college boy Bobby Rahal. Pruett has a grand total of 3 CART starts from 1988, but is best-known for his great success in US tin-tops, over the past three years winning two IMSA GTO championships and one Trans-Am title. You suspect his results will be limited, or not, by the quality of the motor that John Judd can give them.


There are a lot of one-car teams in 1989. A one-car team no longer is Newman-Haas Racing, who have expanded their line-up to literally double the number of Andrettis on the payroll. In identical K-Mart/Havoline black and white Lola-Chevrolets, Mario Andretti has the red 5 and Michael Andretti has a black 6. You're on your own telling them apart, otherwise. Newman-Haas were good for two wins and five further podiums in 1988, and you'd expect the aggressive and exacting Michael to find something extra. But we'll see!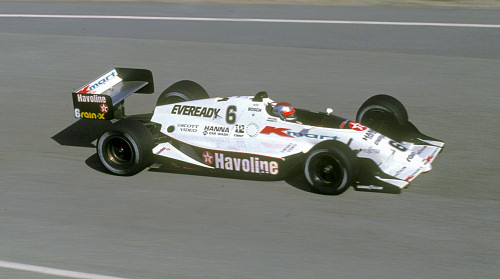 Pat Patrick continues his long association with Emerson Fittipaldi and Marlboro ciggies for one more year. Chip Ganassi has come in as a co-owner and Patrick has wizarded up a deal to run a top-spec Penske chassis in 1989 before Emmo and Marlboro depart to Penske Racing for 1990. A Chevrolet engine lease puts Patrick Racing in direct competition with Sullivan, Mears and the Captain. Promises to be spicy. Fittipaldi needs no introduction, although the last time he won more than two races in a season was during his world championship campaign with McLaren in 1974.


Continuing for another season with the Doug Shierson Racing Domino's Pizza entry is Indycar's other Brazilian, 1987 World Sportscar champion Raul Boesel. You know what you're going to get with Raul Boesel! He'll be fast, he won't crash much and he'll be good with sponsors. Paul Page will mention that before he took up motor racing he was a competitive show jumper. Boesel took these virtues to eighth in points last year with six top-five finishes, which is a very Raul Boesel thing to do.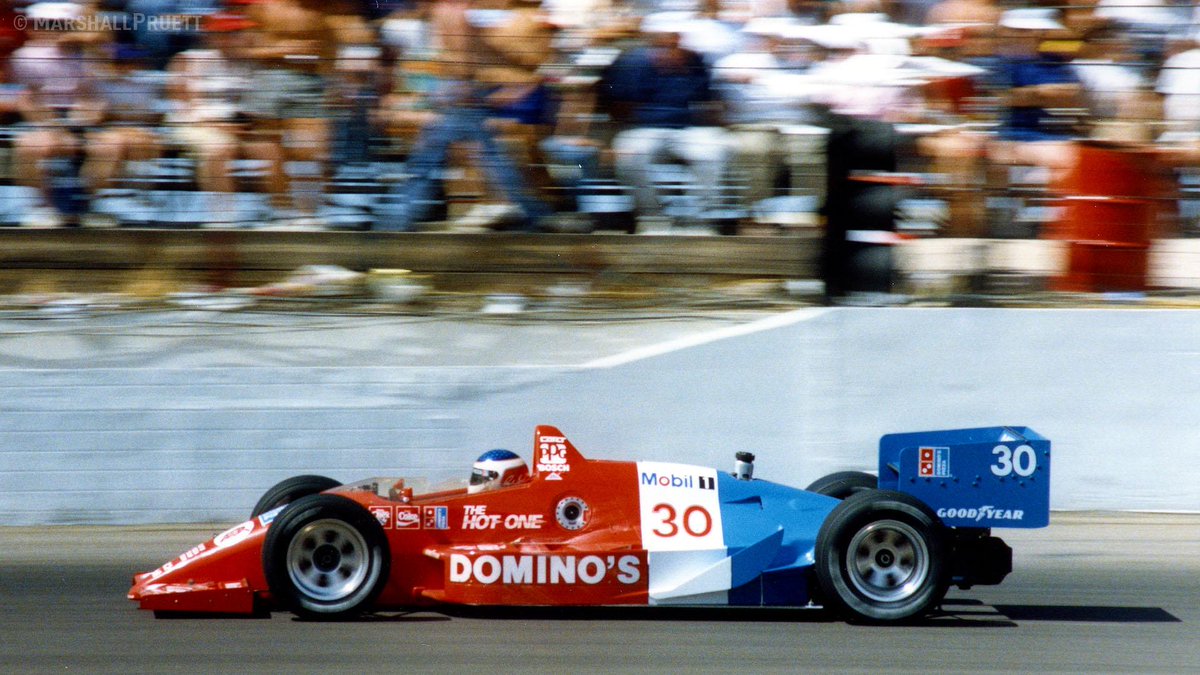 Porsche Motorsports are back for a second season of Indycar racing, once again with Teo Fabi and once again with Quaker State motor oil paying (some of) the bills. What's different? A nice lowline March chassis that's kinda reminiscent of Gordon Murray's F1 Brabhams, and former Penske manager Derrick Walker has been drafted in to tell the Germans how to do Indycars after the tragic death of Porsche's previous team leader Al Holbert. The best they managed last year was a fourth at Nazareth. More ROI needed from Ingolstadt.


Vince Granatelli Racing no longer has Roberto Guerrero (he's off to drive Alfa Romeo's Indycar, when it arrives) and is no longer sponsored by Scientology. The team that pushed Bobby Rahal hard in 1987 before a testing injury derailed Guerrero's season still has STP sponsorship (naturally) and has signed Tom Sneva, like Guerrero a former driver of Dan Cotter's but unlike Guerrero a former Indy 500 winner. They'll be running a Buick stock block and a year-old Lola. Will they be competitive? Probably not.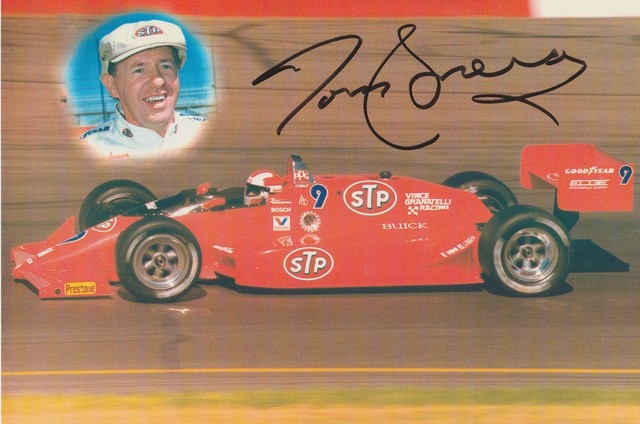 Dick Simon Racing thankfully bucks this awful one-car team trend with a pair of Lola-Cosworths for promising Dutchman Arie Luyendyk and serial Indy 500 track record botherer Scott Brayton, who outside of Indy gets to drive a normal Cosworth engine like Arie does. Randy Lewis, who I know very little about, rocks up in a third '89 Lola in partnership with something called TeamKAR International, and some sweet Toshiba and Oracle sponsorship. Thank you, Mr Simon! See you on Pole Day!


The rest? A.J. Foyt is back for a 33rd season of Indycar racing with his own self-entry, and Derek Daly is racing a Lola-Judd for the Raynor team. The Machinists Union team has a couple of cars for race winners Pancho Carter and Kevin Cogan, and 1988 rookie of the year (and Canadian) John Jones comes back for second season with Labatt's and Protofab Racing. Jones's old team, Arciero Racing, is running a year-old Penske-Cosworth for 1987 ARS champion Didier Theys, and Hemelgarn Racing will start the season with the other Canadian, Ludwig Heimrath, Jr. The Nations Cup is still a gleam in Andrew Craig's eye but 1989's international flavour comes from Euromotorsport, Antonio Ferrari's team running a year-old Lola for Jean-Pierre Frey, whose CV includes 20 straight F3000 DNQs for Equipe Dollop. Mexico's Bernard Jourdain races the #69 Lola-Cosworth for the brilliantly-named Andale Racing. Finally, Dale Coyne has begun his experiment with getting other people to drive his cars full-time, starting as he means to go on with F2/F3000 journeyman Guido Dacco. Unfortunately I can't find a single picture of Dale Coyne's 1989 car so I can't give you any clues on how to identify it. It'll be starting near the back. There.

That's quite enough from me, anyway. We'll get this underway at 6pm GMT on Sunday, 17 January. Be there!