I was just reading through the "Your First Racing Game" thread when a comment by forumite BuddyHolly hit me.
Last F1 racing game I played was F1 2018, I finished a 100% race distance career months ago and was so cheesed off at the end (no ending, no tally of titles/wins/etc, no retirement screen, no congrats.. nothing, just went straight to the main menu once you finished the last race of the 10th season. what an oversight!)
This is the same thing I have in rFactor. When you've raced the race of your life, sweated your way down one size in pants, and worn out your hands on the wheel all you get is a screen showing the result of the game. Kinda takes the fizz out of the bubbly. And if you race with more than 13 AI cars you have to scroll to see the full list. No chance for even a screen shot of the lot. That feels somewhat empty after a stunning drive. I remember from GP3 that you got the cup and place if you finished top three. In GPL it was taken even further. You'd get the "newspaper clipping" with text and your place and time, which was brilliant. As I call it, closure.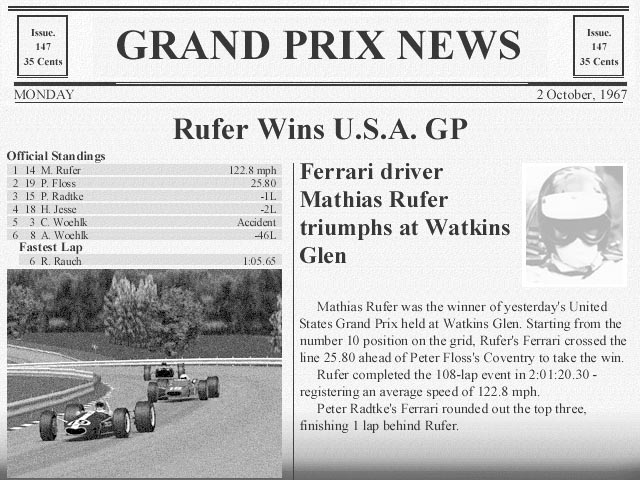 I have searched the net for any kind of mod that might deal with this for rFactor, but haven't found any. So I'll try asking here to see if anyone knows of such a gadget for the sim?
T J