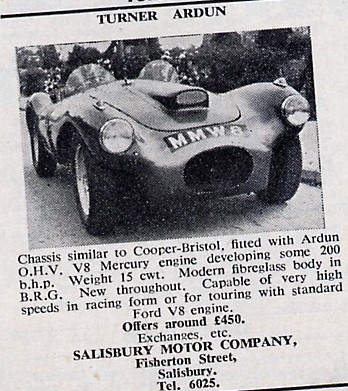 Would any TNF Member please have any information or any photos of the above car? Car details in the advert.
The Turner chassis was purchased by a person, possibly named Mr Wilkins.
We do not know who built the car, but it was First Registered on the 29th, June 1955 by the Salisbury Motor Company.
The car was advertised for sale in Autosport on July 13th 1956.
The car was entered at Goodwood in the Easter Monday Meeting on April 22nd 1957, driven by W.Reg.Croysdill, but we are not sure if the car turned up on the day?
We have no record of the car since. I am interested in the car because it appears to have a Rochdale Type "C" body and the Turner Registrar is interested because it has Turner chassis number #008.
Regards.
Edited by DUFFY, 03 March 2021 - 19:25.