Who will reign in Spain?
Formula E takes on a permanant race track facility to hold its first race in Spain at the Circuit Ricardo Tormo. Coming quick off the back of a Rome double header two weeks ago and ahead of a return to Monaco and the full Grand Prix layout two weeks later, this shouldn't be one to miss. And yes, you heard that right, this is a permanant circuit not a temporary/street circuit. The ongoing pandemic has meant this race replaces the planned Paris ePrix and, in the process, looks like it may help answer a question everyone has been asking... how well does Formula E work at a permanant facility?

Schedule CEST | BST (UK) start
Saturday 24th April
Practice 1
07:20 - 08:05 | 06:20
Practice 2
09:15 - 09:45 | 08:15
Qualifying and SuperPole
11:00 - 12:00 | 10:00
Race: Round 5
15:04 - 16:00 | 14:04

Sunday 25th April
Practice 3
08:00 - 08:45 | 07:00
Qualifying and SuperPole
10:00 - 11:00 | 09:00
Race: Round 6
14:04 - 15:00 | 13:04
A permanant track, you say?
Yes! Technically, this will not actually be the first Formula E race at a permanant racetrack. The very first Formula E races were test events ahead of the very first season in August 2014 at Donington Park. Highlights are still available on YouTube for anyone curious to see how that went - it features some early race heroics from none other than two time Indy 500 champion-to-be Takuma Sato. Formula E has also been visiting the Autódromo Hermanos Rodríguez, itself a permanant racetrack in Mexico City, since the second season on a shorter loop loosely based around the old one mile oval. In general though, both the original FE track in Mexico and the slightly extended version of it used in 2020 had a certain feel of being a typically unique FE track, in part thanks to the close proximity of both temporary and permanent barriers.

Valencia, meanwhile, has hosted pre-season testing since the third season, as well as a number of unseen simulation races to test out the Gen2 cars and updated race procedures. Now this venue will host the Valencia ePrix, using slighly novel version of the Circuit Rocardo Tormo, loosely based around the International layout, to form a 15 turn, 3.376km course: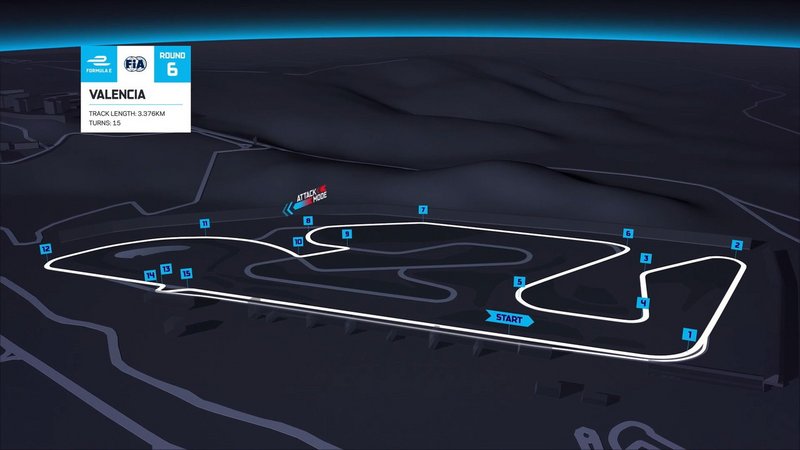 The first of the minor but notable notable modifications are at the regular T6, where the run-off is used to tighten the apex of the corner. Attack Mode is placed around the outside of the regular T8, after which the cars will use part of the School Circuit layout to cut through ina street-circuit-esque sequnce to the sweeping T11/12 sequence. A chicane - mercifully not as insanely tight as the one used in pre-season testing sessions - will be placed just before pit-entry (diagram illustrative, may differ from final chicane):





The season so far…
Well, it's been a little bit of a rollercoaster already. Two night races in Diriyah got us going with victories for the clearly fast but incident prone Mercedes EQ team by 2019 Formula 2 Champion Nick de Vries, his first win in Formula E and for Jaguar Racing by Britain's Sam Bird, who continued his unique streak as the only driver to have won a race in every season so far.




A double header in Rome provided us with rounds 3 and 4 on a tricky and damp circuit. The first race was won in calm and collected style by double Formula E champion Jean-Eric Vergne, a debut win for the newly introduced DS Techeetah powertrain. The second race saw Stoffel Vandoorne bounce back from a disappointing Saturday to take his second career ePrix win for Mercedes EQ.




What does all that mean for the championship standings?
Jaguar Racing currently leads both championships, having scored more points in the opening two events than they did in the entirety of last season. British driver Sam Bird currently leads the driver's championship with his Kiwi teammate Mitch Evans right behind him in second. Robin Frijns has stealthy put himself third place in the standings for Envision Virgin, ahead of the two Mercedes EQ drivers of Vandoorne and De Vries.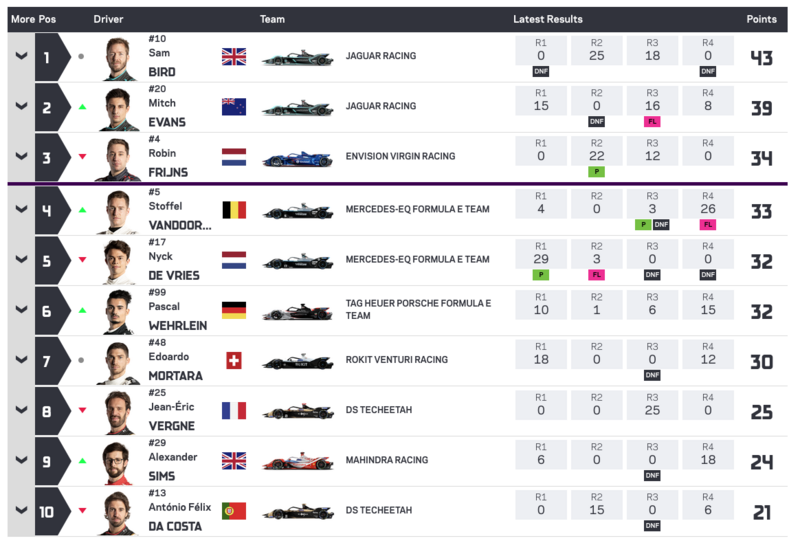 Ok, I'm in, what can I expect to see in Valencia?
A good question indeed! On the championship front, expect to see the early leaders in Jaguar Racing, Mecedes EQ and DE Techeetah trying to make the most of their good start to the season. Porsche and Mercedes customer Venturi have been showing front-running promise from both of their drivers which they will surely want to try and turn into their first on-track victory sooner rather than later. Evision Virgin are looking like strong contenders (as ever) with the custumer Audi powertrain, with it surely only being a matter of time before Super Formula and Super GT ace Nick Cassidy finds his feet and scores a good result. Mahindra, Dragon and NIO333 have also made gains coming into this season and will be looking to continue their improving form. Meanwhile, the automotive giants Audi, BMW and Nissan will be looking to get back on track after dissapointing starts to theor season.
Ricardo Tormo also poses some unique challenges. Word has it that teams were practicing slipstreaming here in pre-season testing, something which it is believed made DS Techeetah so strong in last year's 9 Days in Berlin season finale. It could be a feature in the racing as drivers attempt to make the most of their energy allocations on this wider circuit with sweeping turns.

Something which FE hasn't had to deal with too much in previous years is gravel. There's lots of it in Valencia should drivers stray too far off track to either get stuck in or drag back onto the circuit. Gravel should help police track limits at some turns, though FE's solution for some of the flat-kerbed, tarmac run-off sections remains to be seen.

Another unknown is how much track evolution will come into play through the qualifying sessions. FE's usual street tracks are usually very dusty and dirty roads which exhibit anything from significant to severe track evolution through qualifying, leading to the championship leaders out in qualifying group 1 to be at something of a disadvantage. That usually puts them further back in the pack and leaves them having to fight their way back to maintain position as champinship leaders. A permanent facility such as Ricardo Tormo may mean going out in group 1 isn't as much of a disadvantage as it might usually be.
Lots of quesitons, lots of drivers and teams hungry for results. It is all to play for in the quest to become Formula E's first official World Champion.
Valencia Awaits...