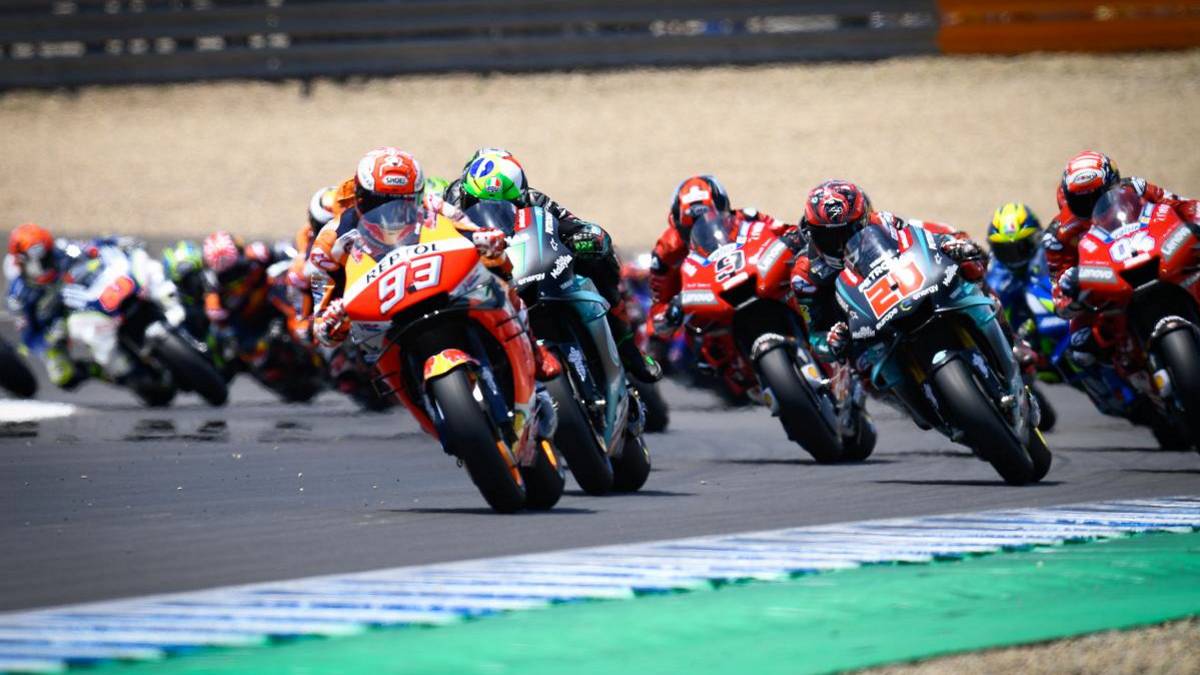 Spring is upon us, above us, all around us! The fourth round of the MotoGP season has us back into the familiar rhythm: Jerez at the start of May, Mugello at the end, Le Mans in between. The MotoGP convoy crawls along the Atlantic coast from the Algarve into Andalusia to set up at the traditional Jerez circuit, with its twisty corners, short straights and very tempting but inadvisable final hairpin. We had two of these last year in the height of summer, which may or may not be relevant, but it presumably is relevant that they were both total Yamaha benefits, with a Quartararo-Vinales 1-2 in round 1, and a Fabio-Maverick-Valentino 1-2-3 in round 2. Things went downhill from there for the Hamamatsu team. Debut wins are normally the most memorable thing that can happen at a Grand Prix but in this particular case Fabio was upstaged(?) by an injury to the only guy who could live with the pace of the Yamahas, 2018 and 2019 Grand Prix winner Marc Marquez. Marc is back, albeit some way short of full fitness, and came away from a gruelling weekend with 9 points from 7th place, and the distinction of being Honda's highest finisher. Maybe it's unrealistic to expect Marquez to battle the Yamahas this weekend, but...

What else happened last week? Fabio Quartararo made it two wins from three and has the makings of a solid championship lead. Heard that before. He led home Pecco Bagnaia, who is establishing himself as top Ducati guy, and Joan Mir. The very much improved Franco Morbidelli and Brad Binder rounded out the top 5. That's four makes of bike in the top five! Six in the top seven, when you consider Aleix Espargaro's sixth-place for Aprilia and Marquez's seventh for Honda. A lot of riders of riders crashed, most consequentially Jorge Martin in FP3, medium consequentially Oliveira, Zarco, Rins and Miller, and least consequentially an unhappy Valentino Rossi. Martin, who started his career in the senior class very promisingly in Qatar, broke several bones after falling and bouncing across the gravel at Portimao's Turn 7. He'll miss at least this race and the French Grand Prix while he recovers from surgery. Tito Rabat, until now without a ride in 2021, is lined up to replace him at Pramac Ducati. Switching to pain of a psychic variety, Maverick Vinales qualified 12th, and despite all that carnage and opera bouffe in front of him, wobbled round to finish 11th and hopefully didn't think too much about his teammate's 5-second lead at the front.
Raul Fernandez won in Moto2 to set up what's tentatively looking like a three-way championship battle between himself, his teammate at Marc VDS Sam Lowes, and Ajo's Remy Gardner. 16-year-old phenom Pedro Acosta won again for Ajo KTM in Moto3 and while inner critics everywhere are discreetly sharpening their knives waiting for signs of weakness, Acosta is yet to give them an opening. They'll all be on track again this weekend, as will the MotoE Cup, in which a strange mix of riders, plus Jordi Torres, ride round on roadworthy, but heavy and not very powerful electric bikes. Imagine Formula E but minus two wheels and all the gimmicks.
Anyway, here's your weekend schedule. Local Jerez time, so take away an hour to get the UK session times.
Friday, 30 April
9am: Moto3 FP1
9.55: MotoGP FP1
10.55: Moto2 FP1
11.50: MotoE FP1
1.15pm: Moto3 FP2
2.10: MotoGP FP2
3.10: Moto2 FP2
4.50: MotoE FP2
Saturday, 1 May
9am: Moto3 FP3
9.55: MotoGP FP3
10.55: Moto2 FP3
11.50: MotoE FP3
12.35pm: Moto3 qualifying
1.30: MotoGP FP4
2.10: MotoGP qualifying
3.10: Moto2 qualifying
4.05: MotoE qualifying
Sunday, 2 May
8.20: Moto3 warm-up
8.50: Moto2 warm-up
9.20: MotoGP warm-up
10.05: MotoE race
11: Moto3 race
12.20pm: Moto2 race
2pm: MotoGP race
There we go. Enjoy!