After a very brief period of downtime -- though long enough for Alex Rins to break his arm -- Grand Prix motorcycles will be fired up again Friday to take opening practice at the technical and challenging Circuit de Catalunya. Last Sunday's races in Italy proceeded under a cloud, following as they did the announcement of the young KTM rider Jason Dupasquier's death after an accident in Moto3 qualifying. We all had a half-hearted argument about track limits, Oliveira and Mir, and the minor podium placings, but the main story was that Bagnaia fell off from the lead and so-hot-right-now Fabio Quartararo got victory number three after Johann Zarco dropped back. In the absence of any major discoveries, the championship is shaping up to be Fabio vs the Ducati riders and it's a battle that Fabio looks equipped to win.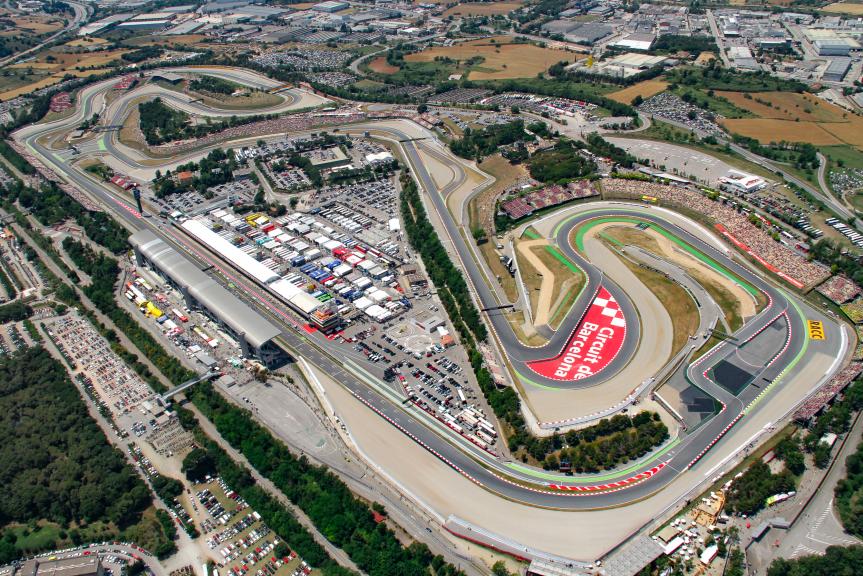 Any news? As I mentioned above, the headline is that Suzuki tweedledum Alex Rins won't be taking part in the weekend after he broke his arm falling off a pushbike while riding the track on Thursday morning. Coming off the back of four crashing-related retirements in 2021, that really is an extraordinary continuation, not to say escalation, of form. So, Suzuki tweedledee Joan Mir will be the sole Hamamatsu representative this weekend. Jorge Martin is back having recovered from crashing-related surgery, and Maverick Vinales has a new crew chief after his old one, Esteban Garcia, was subjected to a slowness-related firing. Garcia turned spanners for Vinales in the halcyon days of 2013, when Maverick headed three other Spaniards -- Rins, the late Luis Salom and Alex Marquez -- at the top of the championship table. He rejoined Yamaha factory rider in 2019 but has been unable to cure him of Maverick Vinales syndrome. Next up is someone who used to work with a doctor, as Valentino Rossi's old chief mechanic Silvano Galbusera takes over responsibilities. At the end of 2013 (that year again) Galbusera replaced the legendary Jeremy Burgess on Team Rossi and is credited with Valentino's Yamaha resurgence after the difficult years at Ducati. Do this again, please.
Oh! And Ducati have decided that they've seen enough and have re-hired Pramac riders Johann Zarco and Jorge Martin for 2022, to go with the re-hired Jack Miller and Pecco Bagnaia in big team. With that degree of confidence anyone would think they were leading the championship. Perhaps this is all mind games with Andrea Dovizioso. KTM have also announced that Moto2 scion Remy Gardner will be promoted to the top class for 2022: with Binder and Oliveira also under contract and the possibility of Raul Fernandez joining Gardner on the way up, it looks like Tech 3's Danilo Petrucci and Iker Lecuona will be the proverbial bald men fighting over a comb.
The schedule is worth paying attention to as this is an F1 weekend so the order of things on Sunday has been monkeyed with. All times local, so subtract an hour if you're in the UK. That means the MotoGP starts one hour before the F1 gets underway in Baku.
Friday, 4 June
9am: Moto3 practice 1
9.55: MotoGP practice 1
10.55: Moto2 practice 1
11.50: MotoE practice 1
1.15pm: Moto3 practice 2
2.10: MotoGP practice 2
3.10: Moto2 practice 2
4.05: MotoE practice 2
Saturday, 5 June
9am: Moto3 practice 3
9.55: MotoGP practice 3
10.55: Moto2 practice 3
11.50: MotoE practice 1
12.35pm: Moto3 qualifying
1.30: MotoGP practice 4
2.10: MotoGP qualifying
3.10: Moto 2 qualifying
4.10: MotoE qualifying e-pole
Sunday, 6 June
9am: Moto3 warm-up
9.30: MotoGP warm-up
10: Moto2 warm-up
11.20: Moto3 race
1pm: MotoGP race
2.30: Moto2 race
4: MotoE race
Cool. Let's go!