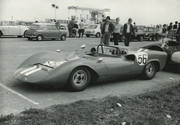 Ken Wilson was quite prominent in Welsh motorsport during the 1960's and 1970's. A builder from Bridgend he had the means to equip himself with some serious machinery - the ex E.N.B. Lister Jag that ran at Le Mans in 1958, a BRM P48 and, ultimately, the ex John Woolfe McLaren M1C. He also owned the unique V8 powered Gilbern GT - Ken was also a powerboat racer and the V8 was allegedly swapped from the Gilbern on "wet" weekends to power his racing boat (until it sank).
Now the mystery. Prior to the Woolfe McLaren Ken raced a red Lotus 30. I saw this run at Llandow several times and I'm sure it had conventional 30 bodywork. Now I've unearthed the above photo on the net (I hope the link works), allegedly in the paddock at Llandow in 1969. On Wiki the photo is captioned as a Lotus 30, on another site it is referred to as a McLaren Elva. It features an elongated nose section with twin oval driving lights behind perspex in the centre of the nose section. The rear bodywork is definitely not that of a Lotus 30 but the side vents aren't typical of an early McLaren either. The windscreen arrangement looks unusual whilst those knock-off wheels don't look typical of either car.
Maybe I'm missing an obvious answer ??
** For the eagle-eyed yes that is Charlie Sgonina's ex Border Reivers DBR-1 (FSH 360) in the background - Llandow invented the word "diversity".
Edited by moffspeed, 08 August 2021 - 14:28.