A longtime family friend of my spouse who hails from Kent recently sent us a print of this image, which she believes she shot at Brands in 1965 – or possibly '66. She's not a gearhead, and doesn't recall the details of her visit to the track, other than she and her boyfriend at the time arrived late in the day, and spent their time walking the paddock looking at cars. Nonetheless, she's particularly fond of this image, even though she relied on us to identify the driver for her.
We'd hoped to provide more of a backstory for her, but we're stumped as to which race this might have been. Here are the facts we know (or think we know):
It's very likely from 1965 or '66; Stewart began wearing his sideburns a bit longer beginning in 1967, based on photos we've found online.
Our friend is certain the photo was taken at Brands, which makes sense for a Kent native.
The car in the photo is definitely a BRM, based on the style of the car number and the color scheme.
Stewart drove for BRM from 1965 through 1967. We haven't found any instance where he drove car #6 at any race in England during those years, however, or even a two-digit number ending in 6. To the best of our knowledge, the same is true for his BRM teammate, Graham Hill. Stewart also never won a race in a BRM carrying the number 6, in any country.
Brands Hatch hosted the British GP in 1966, taking turns annually with Silverstone as the venue. Stewart dropped out of the 1966 event after 17 laps due to a mechanical failure.
In 1965 and '66, there were several non-championship F1 races run in Britain, including:
Race of Champions, 13 March 1965, Brands Hatch (Stewart finished 2nd, car #4)
Sunday Mirror Trophy, 19 April 1965, Goodwood (Stewart classified 10th, not running, car #4)
BRDC International Trophy, 15 May 1965, Silverstone (Stewart won, car #4)
BRDC International Trophy, 14 May 1966, Silverstone (Stewart wasn't entered)
International Gold Cup, 17 September 1966, Oulton Park (Stewart DNF'd)
We did come across a Geoff Goddard photo from 1966 of Stewart wearing a light blue driving suit similar to the one in this photo. In that other photo, his suit displayed a Shell Oil patch, which is consistent with the Shell sticker on the BRM. In our friend's photo, the Shell patch would've been obscured by the laurel wreath and red sash.
So, can anyone shed some light on what race this was, or why there's a #6 BRM behind him? Alternately, does someone recognize the trophy that JYS is holding?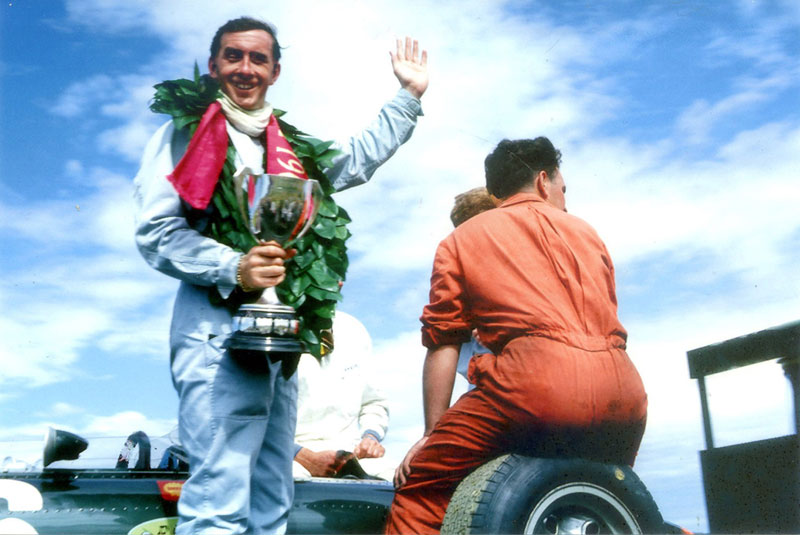 Edited by wildman, 06 December 2021 - 05:36.