It's May, again! This can mean nothing other than one too many races at the Indianapolis Motor Speedway of Indianapolis, Indiana. This very thread, in fact, is for the race that is too many. Still! This time last year we got a thrilling battle between two drivers with zero wins, who by the end of the day became one driver with zero wins and one driver with one win. The competitors in question were Romain Grosjean, then in the Dale Coyne ambition car, and Dutch teenager and Arie Luyendyk protege Rinus Veekay. Veekay won on the day, which ranked as a surprise, though presumably not for him. Scenes with delirious Veekay father were had and Alex Palou, sneaking into third position, continued to assemble his championship challenge.

Palou is somehow still flying under the radar this year despite being the reigning champion and current 2022 points leader, the limelight instead illuminating the moony eyes that Colton Herta and Pato O'Ward are making towards … F1? Motorsport.com's headline writer? Destiny? Still, he has the points. Scott McLaughlin was back up in the respectable points places last time out at Barber, swapping places with his teammate Josef Newgarden who followed up consecutive victories at Texas and Long Beach with a pretty anonymous 14th place in Alabama.


Schedule time! This is one of those two-day schedules so everything is done by Saturday evening. Good thing? What's not a good thing is that qualifying and practice will happen on Friday the Thirteenth. Expect… bad fortune?? Anyway, here are dates and times. Add on five hours if you're in the UK. This is going to clash with the Eurovision Song Contest but unless you're Prommer (?) this probably won't be much of a hardship. I could be wrong!

Friday, 13 May
9.30am: Indycar practice 1
11.45: USF2000 race 1
12.45pm: Indycar practice 2
2: Indy Lights qualifying
2.45: Indy Pro 2000 race 1
4: Indycar qualifying
5.30: Indy Lights race 1

Saturday, 14 May
8.05am: USF2000 race 2
9.10: Indy Pro 2000 race 2
10.30: Indycar warm-up
11.15: USF2000 race 3
12.10pm: Indy Pro 2000 race 3
1.15: Indy Lights race 2
3.45: Indycar green flag!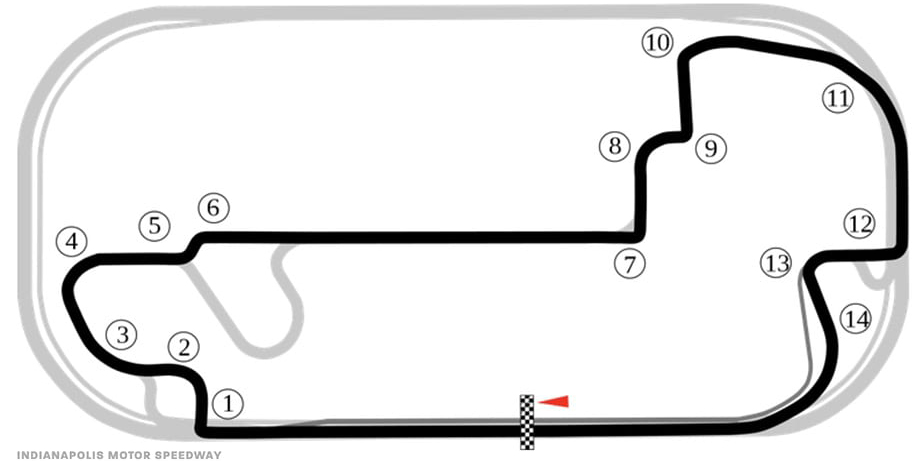 What's worth looking out for at Indy this weekend? Veteran Indycar driver (I think we can safely call him that now) Juan Pablo Montoya is entering in a third McLaren at the circuit where his F1 career came to an ignominious end. Romain Grosjean, Colton Herta and Alex Rossi (ha!) will continue the very hot battle to be best Andretti driver, with a nonexistent seat at a nonexistent F1 team up for grabs. Rahal's Christian Lundgaard is back at the track where last summer he debuted with a second-row start. Scott Dixon is in need of some better finishes, having done no better than fifth so far this year. Rain – rain – is in the forecast for Saturday.

And then on Sunday, they'll make like the Chicago River and reverse the direction of the track, and we'll be ready for big time Indy 500 practice. You won't want to miss that either! But one thing at a time. Comments and observations below, please!