Are you done watching Monaco? Did it rain? Whatever it felt like, get ready to go through all those emotions and then ones you didn't even know you had, because next up in Racing's Busiest Weekend is the event which appropriately bills itself as The Greatest Spectacle in Racing: The Indianapolis 500 Mile Race.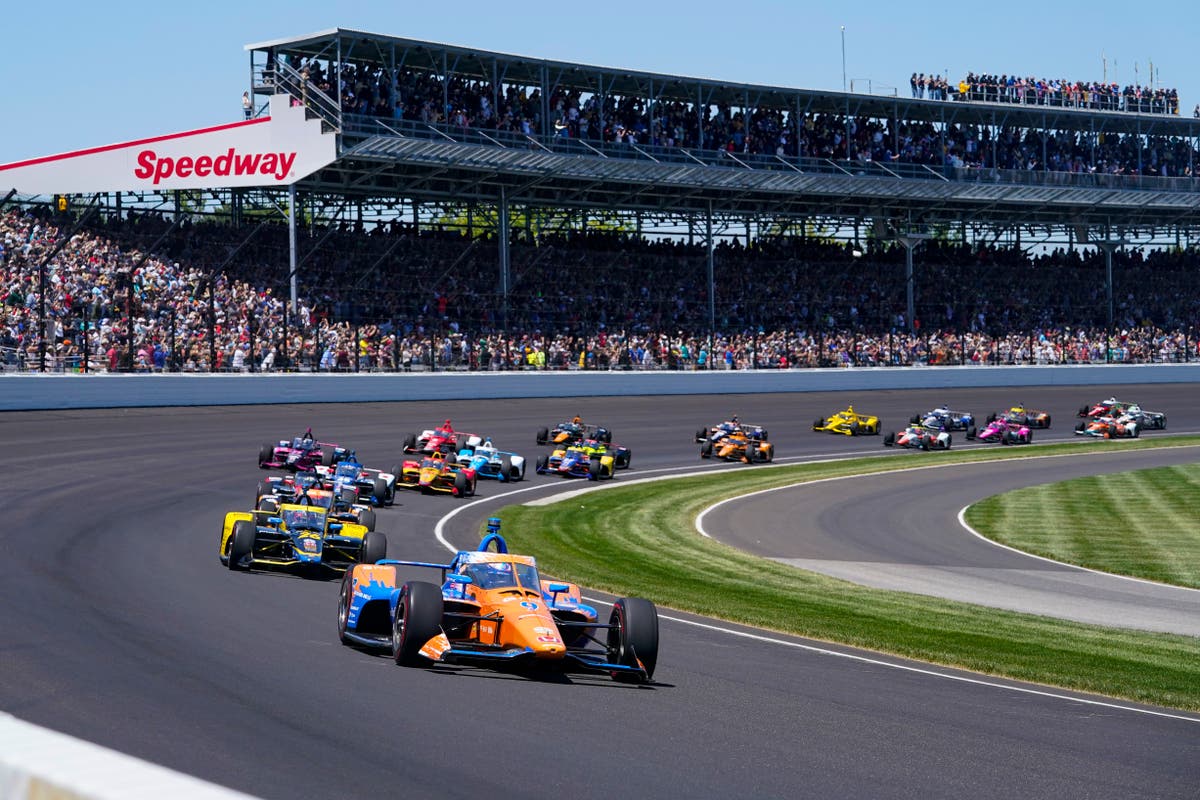 The 106th Running of the Indianapolis 500 Mile Race, Presented by Gainbridge

The Schedule

All times local, US Eastern Daylight.

09:00 - Cars to Pit Lane, Borg Warner Trophy March to the Bricks
10:30 - Cars to Grid on Frontstretch
11:47 - Driver Introductions
12:18 - Invocation and National Anthem (sung by Jordan Fisher)
12:35 - Back Home Again in Indiana (sung by Jim Cornelison)
12:45 - Green Flag

Viewing options can be found here.

The Cast



Row 1
We start with row one, also known as the front row, also known as Where Pole Position Is. Anonymous Indycar Guy Scott Dixon has come out of the witness protection programme to score another Indy 500 pole position, which makes five overall, with a four-lap average speed of 234.046 mph. Fast! Despite five Indy pole positions, he's only converted one of them into victory, all the way back in 2008. Wikipedia accurately lists his 2022 finish as "TBD". Middle of the front row is Dixon's teammate at Ganassi, Alleged Scott Dixon Replicant Alex Palou. Palou finished second last year and has an excellent chance of finishing second or better this year. On the outside is Parental American Racing Tour-Guide Rinus Veekay of Hoofdorp, not only the Netherlands' second greatest active racing driver, but also the Netherlands' greatest bearded active racing driver and indeed the Netherlands' greatest active racing driver who was born in the Netherlands. He's good, his team boss Ed Carpenter builds good cars for Indy, and 100% of his one win came at Indianapolis. Can he make it 100% of two? Yeah, he could.



Row 2
The Slow Part of the Fast Six Boys (apologies to Steve Winwood) with two Indy-only entries flanking the middle occupant. On the inside we have Left-Turn Superstar Everett "Ed" Carpenter, who is more "driver" than "owner" this weekend, qualifying just behind his younger employee. Alongside him in the middle of the row is Professional Limelight Evader Marcus Ericsson (or the "Sneaky Swede" if you're the nickname type, of which we have a few here), lining up beside the next 20% of the Ganassi juggernaut, Ageless South American Demigod Tony Kanaan. It seems like an eon since Kanaan won the Indy 500 in 2013, but for Ganassi it's been a year longer than that–with an abundance of speed and experience available for both, does the wait end today?



Row 3
Two McLaren drivers occupy row 3, with General Indycar Darling Patricio O'Ward heading it up on the inside and his teammate, Camouflaged McLaren Swedebot Felix Rosenqvist, sitting in the middle. O'Ward won at Barber in April and had an outside shot at the Indy road course Grand Prix earlier this month before the weather and some very inopportune strategy moves dumped him out of contention. Rosenqvist can't claim to have had any similar highs but this definitely beats qualifying in the tenth row every week, which it felt like he was doing last season. Outside of row 3 is French-Swiss Trouble Magnet Jean-Jacques Rousseau Romain Grosjean. He's Andretti's highest qualifier, which is not necessarily what could've been predicted from his Indy debut. Rookie of the year material? He's got to finish first.

https://i.postimg.cc/BbgHSN0p/row4.pngRow 4
On the inside of Row 4 we have Improbable Indy 500 Late-Bloomer Takuma Sato, winner in 2017 and 2020, who has been completely anonymous this year until Not Actually Bump Day, when he did more than bump the outside wall of Turn 2 while keeping his foot in it to secure a spot in the Fast Twelve. Love him or hate him, there's no denying Taku is usually box office and will be one of the cars to watch today. In the middle of Row 4 is Well-Respected Motherf#$ker Will Power, who is all at once 2018's Indy 500 champion, Team Penske's torchbearer, the current championship leader, and the driver most likely to get taken out by clean air. On Power's right is Peacock Pitbox Retiree Jimmie Johnson, the last of the Ganassi cars and distinct Rookie of the Year contender. The El Cajon native showed an abundance of El Cajones with an almighty save while gunning for the Fast Six–while he didn't make it, he kept his car in one piece, which may prove critical in the race. (yes I know that's not how you spell cojones just let me pretend it's clever)



Row 5
Young Americans ahoy! Row 5 is real old mix of United Statesian under-35s, from Verbose Chicagoan Rookie David Malukas, driving for Dale Coyne with HMD(?) Motorsports on the inside, to Established Penske Top-Guy Josef Newgarden in the middle, to Could-do-With-a-Breakthrough-Result-but-Probably-Won't-Get-One Connecticutter Santino Ferrucci, racing for Indy specialists Dreyer & Reinbold. Malukas has the best name, Ferrucci has the best hair, Newgarden has the best chance of winning the championship. Will he win at Indy? I'm not so sure.



Row 6
Getting into "may not survive Turn 1 territory," we have a trio of drivers desperately in need of a good result. On the inside is Jean Girard Doppelgänger Simon Pagenaud, winner of the 2019 Indy 500 and the higher placed of Copper Penny mainstay Mike Shank's two drivers. In the middle is Golden State JR JR Hildebrand, who at this point would probably love to be remembered for anything other than failing to complete the final turn of the 2011 Indy 500. On the outside is Ginger Mulleted Fan Darling Conor Daly, a crowd favorite who looked very good in last year's edition of the race and will likely do so again today behind the wheel of another Ed Carpenter Racing car.



Row 7
Some big names down here outside the top 20. Or rather, two big names, and delightful rookie and Old F2 Guy Callum Ilott, who got his Juncos entry into 19th position and established the very minor distinction of being the top-qualifying Brit. More on that anon, as Ilott's fellow Brit William Shakespeare might have said. Middle of the seventh row is Newly-Minted IndyCar Vagabond Alexander Rossi, in what will almost certainly be his last Indy 500 with the team that brought him a rookie win back in 2016 and two very good cars during his professional peak (so far) of 2018-2019. On the outside is Reliably Discontented Midfielder Graham Rahal, driving for dad Bobby's Rahal-Letterman-Lanigan Racing, and hoping to move forward with the minimum of drama. Rahal rarely brings minimum drama, but at least he's starting far away from Grosjean.



Row 8
On the outside of Row the Eighth is Pennsylvanian Numerological Anomaly Sage Karam, who, is making his 25th start driving Car 24 with a teammate in Car 23 in '22 after last having raced IndyCar in '21 and recording a best championship position of 20th. He's moved forward from where he's started every time he's run this race–maybe 19th this year? In the middle is Not-Exactly Owner-Driver Marco Andretti, whose team is formally listed as "Andretti Herta Autosport with Marco and Curb"; much has been written about Marco over the years and I'm not sure I can write more. On the outside is Marco's teammate, North American Latifi-alike Devlin DeFrancesco, who is still learning how to make friends on ovals.



Row 9
Row 9 is the absolute pick of the "what the hell are these guys doing here?" bunch. This row features two championship contenders doing their championship chances no good at all and a defending champion starting from his second-lowliest ever Indy 500 starting position. Best(?) of all on this row is Andretti's Californian Hangtime Enthusiast Colton Herta, who has endured engine trouble in qualifying and a big crash on Carb Day. In the middle is Penske's New Australian Scott McLaughlin, who's surprisingly only won one Indycar race and is unlikely to make it two on Sunday, and of course on the outside is Energy Drink Incarnate Helio Castroneves, winner in 2001, 2002, 2009, and when he brought Michael Shank an Indy 500 victory last year and could probably bask in that glory for the rest of his lifespan if he were so inclined. Evidently, he isn't. But it's a tough job starting from back there.



Row 10
In the tail-end of the 20's, we have an unfortunate continuance of AJ Foyt Racing's seemingly Gabaldonian ability to reunite with the back of the field, come what may. On the inside is Current Young American Kyle Kirkwood, who is probably thankful he's likely Andretti-bound to replace the departing Alexander Rossi. In the middle is Wealthy Canadian Engineer Dalton Kellett, who would likely be thankful to end his race somewhere other than parked on the inside of Turn 1. On the outside we have Colombian Racing Dad Juan Pablo Montoya, winner in 2000 and 2015, piloting the last of the McLaren cars. Montoya was fire on water during the Indy GP on the Speedway's road course, form he'd be more than happy to carry into this weekend.



Row 11
Finally – the last row. Two of these drivers were struggling for speed and the other one is helpfully listed on the qualifying sheet as NO SPEED, which is accurate enough but feels quite crushing when you see it written down. 31st and 32nd are Bobby Rahal's other two drivers, Danish F2 Transplant Christian Lundgaard (whose season hasn't really started yet) and Mike Shank Racing Transplant Jack Harvey (same). Something's not working at Rahal and for the sake of these two hopefully Bobby won't conclude it's running three cars that's the problem. Last of all is the third and final Brit in Gasoline Alley this weekend, Extremely Tenacious Yorkshireman, Stefan Wilson. He'll be racing the Dragonspeed car that I imagine is wheeled out of a shed halfway through May, has the ivy pulled out of its sidepods, a few squirts of WD-40 applied, and is then sent out on track. Or in this case, not. Finishing on the lead lap won't happen. Making it to lap 198 will be an achievement.

The 500

Race fans, are you ready? All the effort and preparation of the last two weeks and the months prior come to this. No matter what happens today, the last 105 runnings of this race have something in common: history will be made, and a driver as good as they are lucky will achieve racing immortality. There can only be one–and we'll find out who in a matter of hours.

Start your engines.