Formula E in India | The 2023 Hyderabad ePrix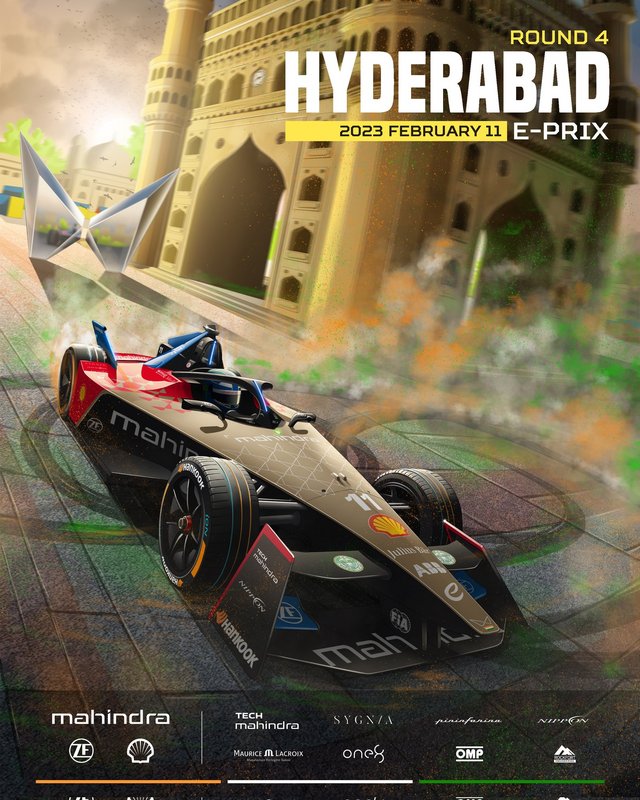 Welcome to the city of Hyderabad. We start with this poster from Mahindra, the Indian team who have been a part of Formula E from the very start. This is a special race for them as in all that time it is Formula E's first race in India, and the first motorsport event at this international level since the 2013 Indian Grand Prix (or so it keeps being said). Mahindra manufacturer cars under their own brand, as well as owning legendary Italian design house Pininfarina - and they are using both as a platform to bring electric vehicles to market.

OK. Onto the Racing.


What's the story of the season so far?


If you're just joining us in this new era of Formula E, then a very warm welcome to you. If you want to catch up on the season so far without spoilers I suggest watching some highlights ASAP - there's only three races down so won't take you long. I've even provided a link for you (aren't I nice?). On the other hand, if you're happy to jump in or simply want a recap then by all means read on.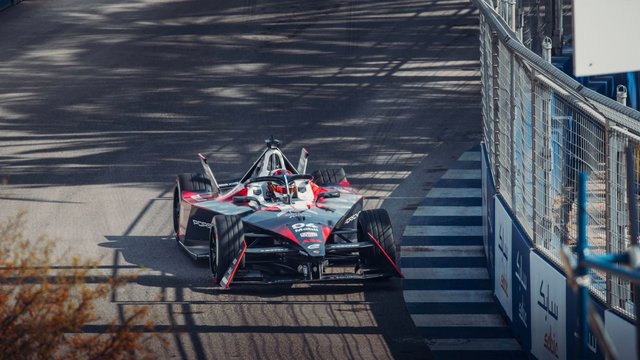 Big story so far is that Porsche Motorsport have bounced back from a fairly mediocre Gen2 campaign and hit the ground running in Gen3. The 99X Electric powertrain has some big race pace which has looked almost unbeatable over the first three races. Two drivers have staked their claim as early favourites, Pascal Wehrlein for the factory Porsche team and Jake Dennis for Porsche customer team Andretti. Between them they have soaked up all the wins, most of the podium places and the a lions share of the headlines. They seem on good terms for now… but will that last?

Best of the rest places seem to be occupied by the Jaguar powered teams (Jaguar and Envision) mixed in with the McLaren team (double champions under their former Mercedes EQ identify). McLaren are currently outperforming their powertrain provider Nissan, with Birmingham lad Jake Hughes making a splash in qualifying for a pole during his rookie season and Rene Rast scoring a podium last time out.

Despite topping timesheets in testing, former championship front runners DS Penske (formerly Techeetah) and Maserati (formerly Venturi) have struggled to make the DS package work well. FE championship winning drivers Jean-Eric Vergne and Stoffel Vandoorne look like they have their work cut out this year.


What should we look out for this weekend?


I think we have the following Stories of the Race to follow: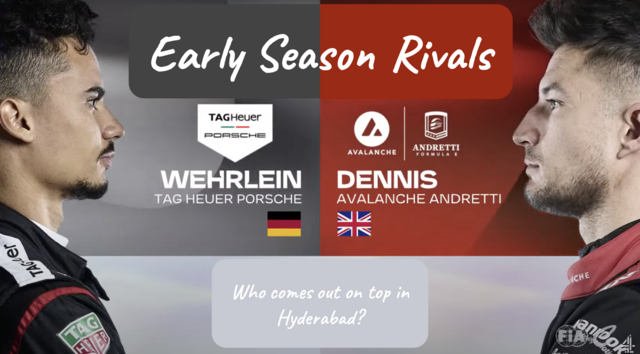 Wehrlein vs Dennis - these two have the early momentum to build a title campaign around. Will this continue? Will they have to go wheel to wheel? Who comes out on top this weekend?

The Teammates - Porsche have Season 6 Champion Antonio Felix da Costa in their second car, meanwhile Andretti have racing veteran Andre Lotterer. No shortage of talent, but their seasons have not got off to as positive a start as their teammates. Will they be able to come back fighting or eventually be forced to adopt supporting roles?

Porsche Pace - On the surface Porsche look dominant in the races. Even with mid-field qualifying performances they have been able to scythe forward with ease. Can the closest chasing teams start to close that gap or have Porsche found something fundamental which rivals will struggle to replicate?

A New Venue - This weekend is the debut year of the Hyderabad street circuit, a partially purpose built street course completed late last year. The first of three new venues in a row, how will it compare to FE's classic venues?


Where are they racing?


More on that new circuit then. Built on the edge of the Hussain Sagar lake in Hyderabad, it is a heavily revised version of original plans for a Formula Regional Indian Championship venue, slightly to the south and overlapping the hairpin section. The new version includes atwisty, purpose built section threaded through NTR Gardens. The pit and paddock structure had been constructed to the north of a multiplex cinema, and the rest of the course of joined up with public roads, most of which border the lake to the north and north east of the venue.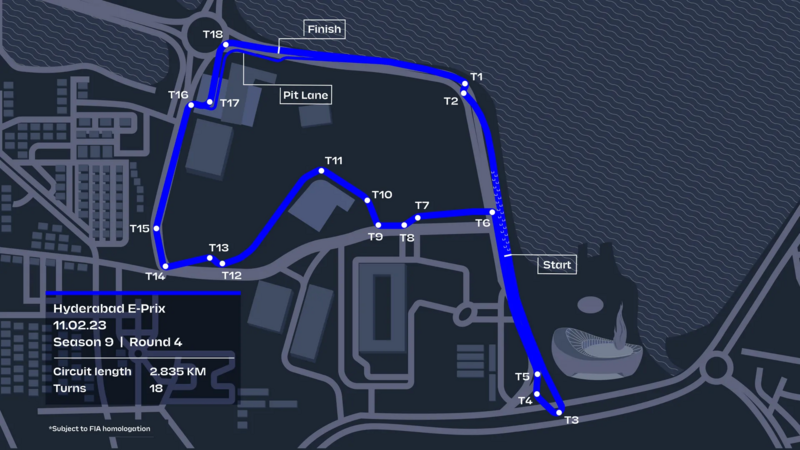 The circuit had been used already for the Indian Racing League (the IRL but not that IRL) and some Indian F4 for two events in November and December last year. Formula E has added an extra chicane at T1, though the exact reasons are somewhat unclear. Sam Smith of The-Race simply says it is an extra regen opportunity but doesn't elaborate on why it is there. Is it to manage energy consumption? Is it to limit speeds at the end of what would be a 1,100m stretch given the emergency braking concerns ahead of the season (thankfully now mitigated with a fast-tracked emergency brake)? Is it something to do with turn itself? No one seems sure. We'll see what that modification looks like this weekend, but if they can remove it in future it could surely be an iconic section of track on the FE calendar.

Event Timetable


Friday 10th February
Free Practice 1 - 11:00 UTC
Saturday 11th February
Free Practice 2 - 02:40 UTC
Qualifying - 05:10 UTC
Race - 09:30 UTC
Food and Flavours


(in response to thegamer23's prompt)
Indian cuisine has an enormous variety to offer, with regional variations based on a complex web of historical influences such as religion, trade and geography. The region of Telangana features a broader Telengu cuisine as well as a more specific Hyderabadi cuisine. Hyderabadi cuisine in particular is influenced by Mughal, Turkish and Arabic elements (among others). This weekend, why not try a Hyderabadi Biryani? A rice dish originating in the kitchens of the Nizam of Hyderabad combining elements of Hyderabadi and Mughlai cuisines, it's typically a meat dish, but food is and always has been creative and fluid so there's plenty of vegetable versions one can try as well.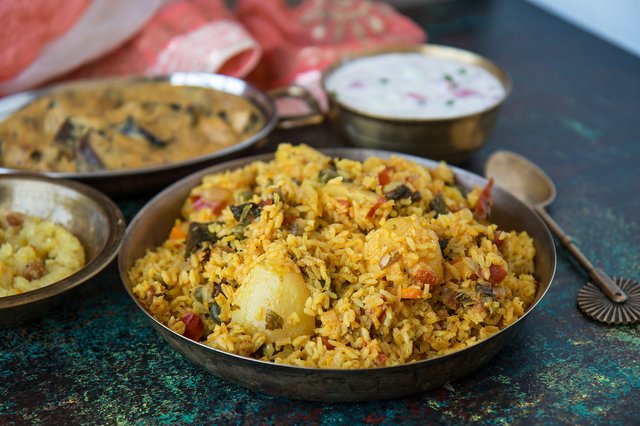 Cool. Hopefully that's everyone up to speed and ready for some racing.

It's time for the Hyderabad ePrix.
Edited by Ben1445, 08 February 2023 - 08:12.