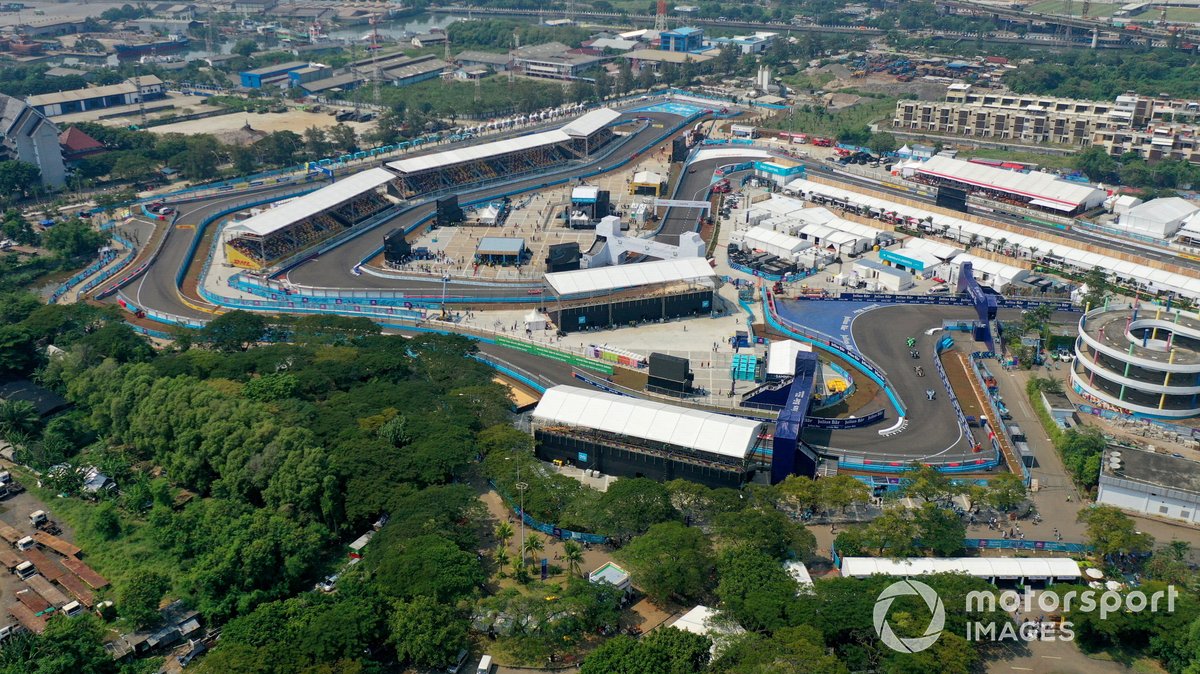 WELCOME.
We are now firmly into the second half of the Formula E season, with rounds 10 and 11 taking place this weekend in Jakarta, Indonesia, a city of 10,000,000 inhabitants lying on the north-west coast of Java, the world's most populous island. We head to the Ancol Beach region of the city, where the Jakarta International ePrix Circuit is located. It's a purpose built facility, though looks a lot like a typical street circuit. Yes, that is a little bit strange, but it was praised by the drivers last time out for nicely blending he challenge and aesthetic of Formula E's usual rough and ready venue with the feel and flow of a clean sheet race track design.
(And if you do really want to see them racing on a 'proper' permanent road course, they're racing at Portland International Raceway at the end of the month... yes, that Portland.... )
A Formula E Success Story
The inaugural Jakarta ePrix made a bit of a splash last year, with even some series officials being caught out by the response and the level of interest throughout the city. The race was a talking point for months ahead of the event, and the construction of the semi-permanent, purpose built venue was followed in near-daily updates with drone shots from a popular local YouTube channel.

FE's chief media officer, Aarti Dabas, knew from relatives in the country that the event was a making waves. "We realised that with the government backing, everybody in the streets, it felt like a massive sport had arrived. There were team buses going past and people were waving on the streets, it was completely different, it felt like a football World Cup."

The race itself was broadcast on Indonesia's largest free-to-air TV network, and pulled in 13.4 million viewers on TV, with 60,000 in attendance on the ground watching Mitch Evans outfox Jean Eric Vergne for the win. Discussions about a follow up event got underway fairly swiftly, and the city asked to be a double header event. Which leads us right here, in this weekend…

Story of the Season (….so far)
Far from the seemingly random nature of seasons past, this first year has had a clear championship narrative and title favourites emerge, and it comes in the form of Porsche vs Jaguar. These two are thought to have the best powertrains on the grid, and both teams have seen success from both their works and customer entires.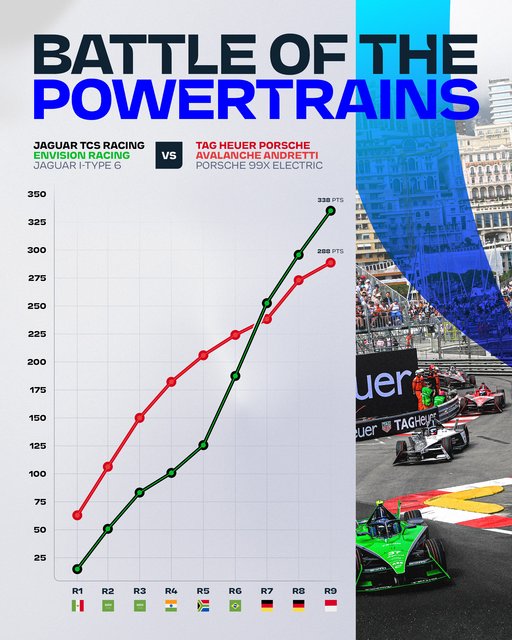 The season started well for Porsche, with dominant performances in Mexico and Diriyah, plus a stunning overtake by Da Costa on Vergne for the win in Cape Town. It took Jaguar powertrains until Round 6 in São Paulo to find their feet, and have been barely looked back since, with either Mitch Evans (Jaguar) or Nick Cassidy (Envision) coming away victorious. Porsche's early form seems to have slipped out of their grasp in recent races, sometimes through mistakes such as when both Pascal Wehrlein and Da Costa getting their braking zones all wrong and missed out on stronger results in Cape Town and São Paulo, but other times though no fault of their own like when Porsche-customer Andretti driver Jake Dennis lost control in Berlin and wiped out Da Costa in the process.
Momentum very much appears to be with Nick Cassidy at the moment. He's been by far the most consistent through the season so far, and has been more than happy to lead races when everyone else around him says 'no one wants to lead'. He pushes to the front, defends track position and waits until it is too late for the chasing pack to easily pass him. It's netted him the championship lead… can he keep it up?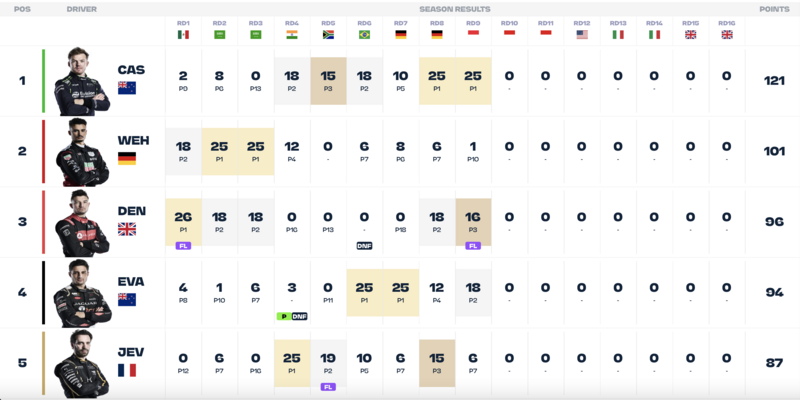 The Circuit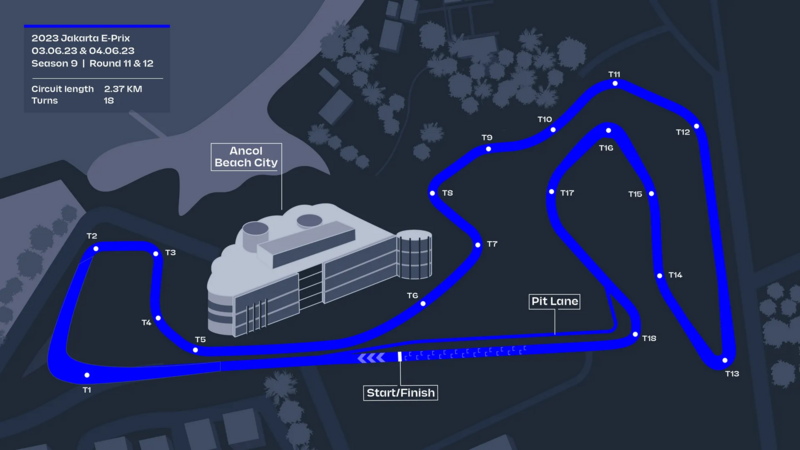 The Races
Something a little different happening for this double header. Race 1 on Saturday will be 36 laps (85.3 km) whilst Race 2 on Sunday will be 38 laps (90.0 km).

Attack Mode total time is also increased from 4 minutes to 8, and must be used twice. Drivers may select for an activation to last 2, 4 or 6 minutes, so long as which ever they choose at app to the 8 minutes.

Also looks like we're seeing another reduction in energy allocation, with the net energy allowance of 36 kWh being enforced for both races in this event, thought to be related to the extreme heat and humidity expected. This means 1 kWh per lap in Race 1 and 0.95 kW per lap in Race 2.
Some Driver and Commentary Changes
André Lotterer is standing aside for Jakarta, something to do with preparations for some big race in France apparently, and in his place we will see the debut of Porsche test and development driver David Beckmann taking seat for Andretti.
Oliver Rowland is also stepping out of the Mahindra seat, completing the slow but stead drain of Olivers from the grid from an all time high of three last season, and will be replaced by Roberto Mehri, the first Spaniard on the FE grid since Jaime Alguersuari and Antonia Garcia started the 2015 Moscow ePrix ... how times change...
Starting this weekend and for the rest of the season, veteran commentator Bed Edwards is stepping up as lead commentator for reasons you should visit a different thread for. He should be joined in the commentary booth this weekend by Karun Chandhok.

The Timetable
Friday 2nd June
Free Practice 1 .... 15:30 (09:30 BST)
Saturday 3rd June
Free Practice 2 …. 08:10 (02:10 BST)
Qualifying: ………… 10:40 (04:40 BST)
Race 1 (36 laps) .. 15:00 (09:00 BST)
Sunday 4th June
Free Practice 3 …. 08:10 (02:10 BST)
Qualifying: ………… 10:40 (04:40 BST)
Race 1 (38 laps) .. 15:00 (09:00 BST)
Edited by Ben1445, 01 June 2023 - 16:47.