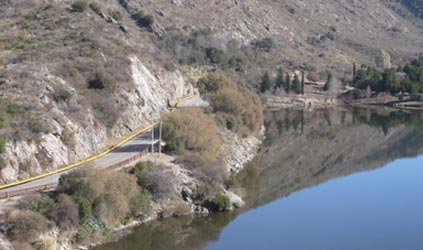 21/08/2007 Stephane Ratel visits Potrero de los Funes in Argentina
The 2008 FIA GT Championship is likely to include San Luis in the Republic of Argentina, further to a recent visit to the province by SRO Motorsport Group chairman Stephane Ratel last week.
The future Potrero de los Funes circuit, in an amazing setting circumnavigating a lake, will be 6.2 km long. "My first impressions on seeing the location is that it is a unique location which, once the impressive development planned will be completed, would result in one of the most impressive circuits in the world" Ratel commented.
A press conference was held at the Hotel del Potrero de los Funes, including Mr Angel Ruiz, representing the Governor, the president of the AAV, Mr Juan María Traverso, Mr Carlos Bassis of the Provincial Roads Authority and the representative of the Argentine Automobile Federation, Mr Carlos García Raimoldi.
Construction will start on the new semi-permanent circuit at the end of the month, and will take approximately nine months. Work will concentrate on the corners and on the barriers. As well as international competition, the new circuit should host rounds of the national TC 2000 and Super TC championships.
Subject to contractual details, the principle of an agreement to hold a round of the FIA GT Championship in the province of San Luis has been finalised. Should the site of Potrero de los Funes not be ready or homologated on time, another circuit, recently built next to San Luis, is available and should be FIA homologated in the next few months.
Look:
http://www.fiagt.com...em.php?key=1354