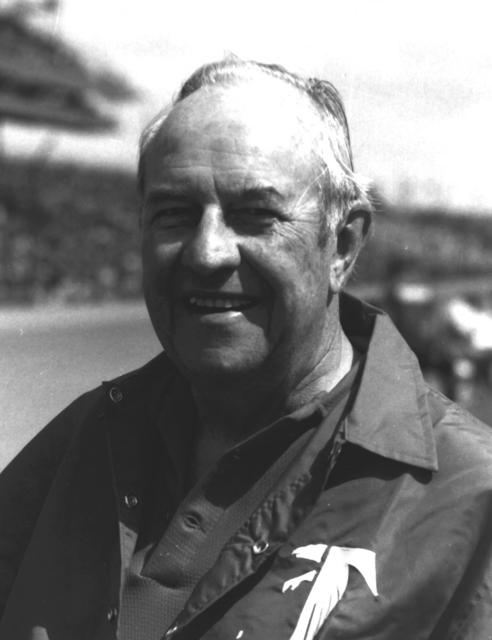 For my first Post of the new year 2019, I am going to tell the story of Lindsey Hopkins Jr
The title description has to go to Lindsey Hopkins Jr, the quintessential sportsman car owner, who tried so hard to win the Indianapolis 500.
His first entry at the brickyard came in 1951, with the Blue Crown Special [a Moore/Offy] raced by Henry Banks. His last was in 1982, with the Kraco Car Stereo Special [a Lightning/Cosworth] raced by Gary Bettenhausen.
In Lindsey's 29 Indy appearances in 31 years [he did not make the race in 1953 and 1954] he saw it all: the coming of the roadsters, the lay-down engine development, the rear-engine revolution and the turbo charge era.
Starting with single entries, he progressed to two [1961 and 1963], three [1971] and even four entries [1973]. By 1978 Hopkins went back to single entries.
If he could not find sponsorship for his cars sometimes, he would enter them under Hopkins Special.
Over the years Lindsey's Indy 500 entries used every chassis imaginable: Moore, Lesovsky, Kurtis, Epperly, Watson, Lotus, Lola, Eagle, Coyote, Kuzma,Riley, Antares and Lightning, yet victory always eluded him.
The owner came closest with 2nd overalls in 1957 [Jim Rathmann's Chiropractic Spl , an Epperly/Offy] and in 1959 [Rathmann again, in the Simoniz Spl, a Watson/Offy], plus a third overall in 1973 [Roger McCluskey's Hopkins Buick Spl, a McLaren/turbo Offy]. Over the years his drivers won 13 AAA/USAC Championship races, including various National Championships.
Tragedy struck the team a number of times. In 1955 Bill Vukovich led the 500 in the Hopkins Kurtis/Offy, only to lose his life after a number of crashed cars blocked his way. In 1964 Bobby Marshman led the race in the Pure Oil Firebird Spl, a Lotus/Ford entered by Hopkins. Marshman dropped out and lost his life in the same car during tire testing a Phoenix in November 1964. Tony Bettenhausen never made it to the 500 in 1961, scheduled to race Lindsey's Autolite Spl, an Epperly/Offy. The driver fatally crashed while sorting out Paul Russo's ill-handling Watson in practice. Lloyd Ruby got the ride from Hopkins and finished 8th overall.
Hopkins was born in Greensboro, North Carolina, in 1909. He built a career in commercial and industrial banking, owning homes in Miami and Atlanta, where he had close ties to Coca-Cola. He also owned a chain of hotels in the Bahamas.
Auto racing was not Lindsey's only interest. In 1967 he and fellow car owner John Mecom Jr bought the new franchise of the New Orleans Saints football team. He was also part owner of the Atlanta Falcons.
In addition, Hopkins was an accomplished amateur magician. As a result, his cars featured a decal with a white rabbit in front of a top hat.
Although rather late, Lindsey Hopkins Jr was finally inducted in the Indy 500 Hall of Fame in 2004. He died in Atlanta in 1986 at the age of 77, the result of heart failure. But what a contribution he made to motorsports.
All research: Willem Oosthoek
photo; IMS Collection
Edited by Jerry Entin, 07 January 2019 - 22:45.