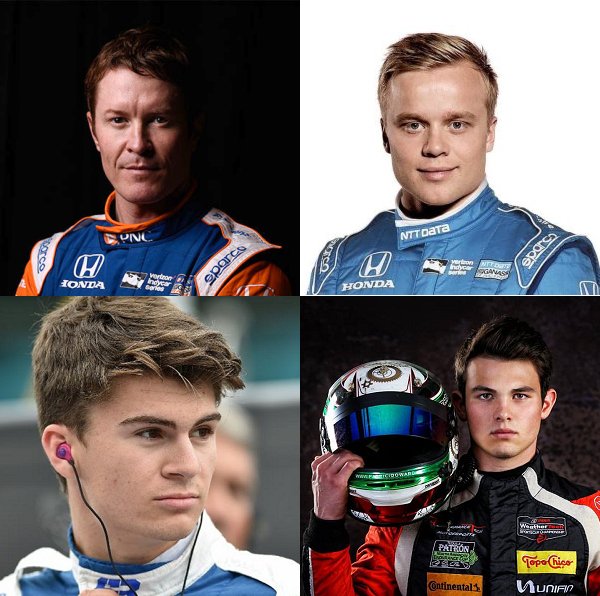 By immensely popular demand, and finally possible with Pato's official arrival, here is the thread to keep track of two of the most fascinating "team mate battles" (or actually one team-mate battle that never was!) in this year's NTT IndyCar Series!
Usually Scott Dixon has little to fear from his team mate, ever since Dario's departure from racing... but this year, he faces a formidable fresh face that might just be able to put the fight to him in Sweet Swede Felix Rosenqvist!
Likewise, two of the brightest young talents who are in their first full season (more or less) in IndyCar this year ... and who were SUPPOSED to be team mates, until the surprising turn of events that left Patricio O'Ward without a ride at Harding-Stoneburner, who are now solely running second-generation rising star Colton Herta - these two will make for a highly interesting duel, as well! Even though they aren't technically team mates. Anymore. But shush!

While these four drivers are the headliners, and probably the most fascinating face-offs this season, there is of course much more in the offering:
Andretti Autosport's Alexander Rossi vs. Butterball Turkey's Ryan Hunter-Reay (deliberately omitting "Don't forget the HEAT" pun here. Or am I?)
Andretti Autosport's youngster Zach Veach vs. Uber Autotaxi's Marco Andretti for the honor of not being last of the 4 Andretti cars!
Penske's Dynamic Duo Will Power vs. Josef Newgarden... aaaaaaand will Simon Pagenaud be able to re-join the heights of those 2, or is he off to an IMSA Acura in the near future?
Rahal's Graham Rahal vs. Valhalla's Takuma Sato! Mortals should never do battle with immortals, but anything is nonetheless possible in IndyCar!
and of course, the Basement Brawl, Foyt's Tony Kanaan vs. Matheus Leist, for the honor of NOT coming LAST of all the full-season entrants!
Make your predictions, take your sides, keep score. Have at it. It's already turning into another hell of a season!


Edited by maximilian, 23 March 2019 - 16:28.