OK lads, I've been keeping this under my hat for a good few months now. Just this morning I have uploaded the first four interviews I have recorded with former Formula 1 mechanics, they are Bob Dance, Cedric Selzer, Beaky Sims and the late Pete Kerr. Over time, there will be more to come.
Go here to take a listen/download; https://mechanicsgallon.blogspot.com/
If you enjoy them, please feel free to share the hell out of the link! They will be available on iTunes sometime tomorrow afternoon, too.
There's no money involved whatsoever, they are all free. I do hope you enjoy them.
Here's me recording Beaky Sims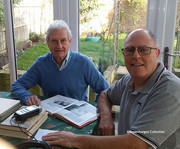 Edited by Gary C, 23 January 2020 - 20:30.