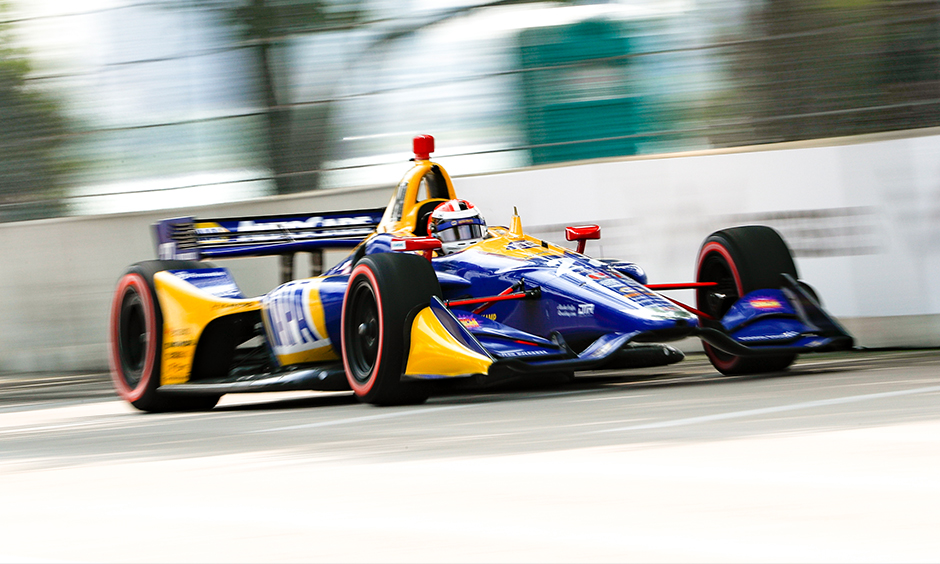 Hello, Indycar fans, well-wishers, ill-wishers and apathetic people who don't have F1 to watch this weekend! Have I got a treat(???) for you! A mere fourteen nights after Helio Castroneves done his fourth Indy 500 win and then ran around the frontstretch like a lunatic before his superego regained control, the championship will have reached its halfway point after a couple of bumpy, twisty, difficult, maybe entertaining, possibly worthwhile Grands Prix around the racetrack at Belle Isle Park, a mere bridgespan away (alternatively: half a river) from the Michiganic city of motors, Detroit. You may recall earlier in the year that we watched an absolute shower of a race from 1989 at F1's old Detroit circuit near the GM headquarters. Well, this is nothing like that. The layout is more sinuous, the track is slightly less prone to breaking up (except in 2012) and it has a wider variety of road surfaces. All this adds up to: fun? At any rate you can watch the cars count down the laps in tribute to the relentless passage of time, nor all thy piety and wit shall lure it back to cancel half a line.
Anyway! The Indy 500 double points fiasco in the rear view mirror, I feel brave enough to look at the championship table. What do I see? I see the empenaltied Alex Palou (six grid places in race 1, for an unlicensed engine change at Indy) leading his Ganassi teammate Scott Dixon by almost a whole victory's heap of points. Pato O'Ward sits a point behind Dixon and Simon Pagenaud a ways back, top Penske though he is, in fourth.
1. Alex Palou (Ganassi) - 248 points
2. Scott Dixon (Ganassi) - 212 points
3. Pato O'Ward (McSchmidt) - 211 points
4. Simon Pagenaud (Penske) - 201 points
5. Rinus Veekay (Carpenter) - 191 points
6. Josef Newgarden (Penske) - 184 points
Behind those six are your Hertas, Rahals, McLaughlins; or worse still your Powers, Rossis and Rosenqvists who are far enough back that the championship pressure is off. There are upwards of 100 points to be won in Detroit this weekend, but the bird of time has but a little way to fly -- and lo! the bird is on the wing. Well enough of this maudlin Victoriana. I have a schedule below but what I'd really like is to hear your favourite 19th century verse what you think about everyone's chances at Belle Isle this weekend. In the meantime, schedule:
Friday, 11 June
8-9.30am: IMSA practice 1
12 noon-1.40pm: IMSA practice 2
2.30-3: Indy Lights qualifying for race 1
3.30-4.35: IMSA qualifying
5: Indycar practice
Saturday, 12 June
9.30-9.50am: Indy Lights qualifying for race 2
10.10-10.30: IMSA warm-up
11-11.45: Indycar qualifying for race 1
12.10pm: Indy Lights race 1
2.05: Indycar race 1
5.10: IMSA race
Sunday, 13 June
9.15-10am: Indycar qualifying for race 2
10.35: Indy Lights race 2
12.50: Indycar race 2
Detroit is on eastern time so presumably you have to add 5 hours to get the UK times, or 6 hours if you're in western Europe. Anyway. The caravan starts for the dawn of nothing. Let's go!