(Advanced apologies for the delay in starting this thread - general life business got in the way!)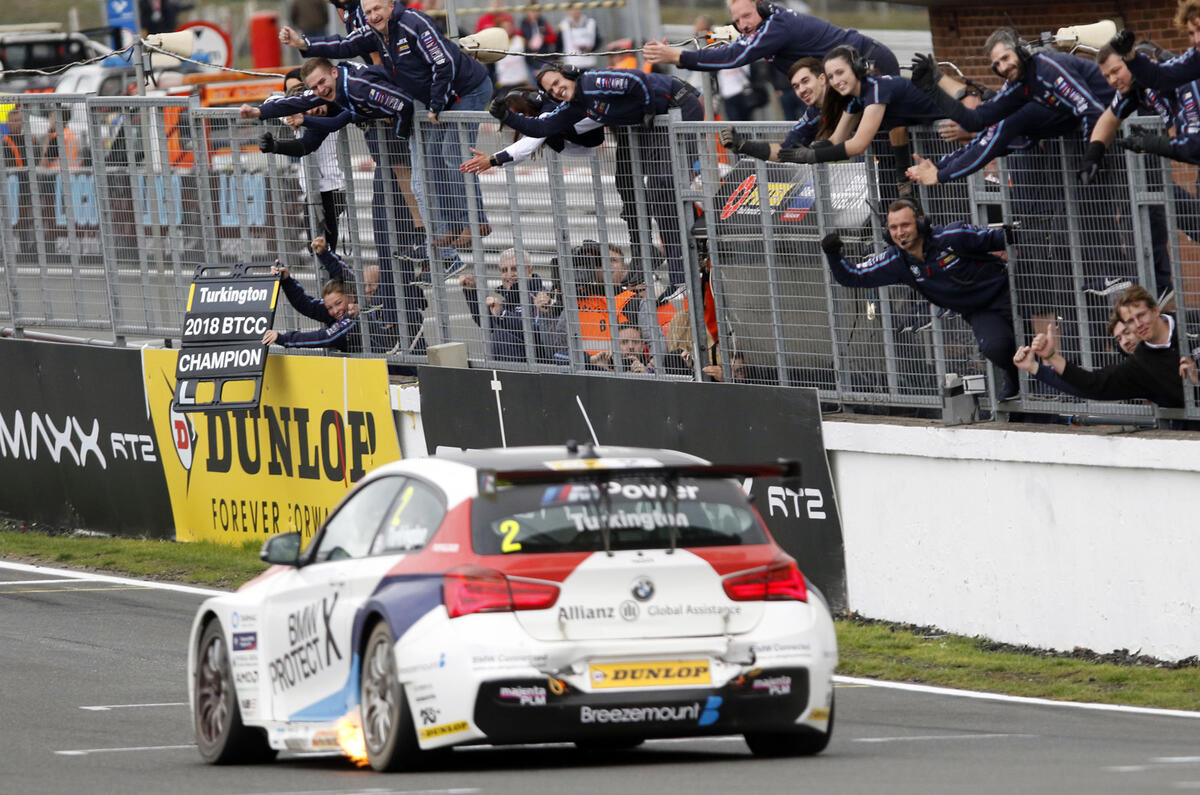 2018 was a remarkable year for the series. For the second year in succession, the leading trio were Colin Tukington, Tom Ingram and Ash Sutton, with a closely fought championship eventually finishing in that order. Despite only taking one win all year, Turkington cemented his reputation as one of the BTCC's all time greats with a third title, to go alongside those he won in 2009 and 2014. All three titles have been won in BMWs.
Along the way, the series broke new records - 17 different winners in a single season, and the continued emergence of young stars like Josh Cook, Dan Cammish and Jack Goff alongside the more established names. Matt Neal continued to defy Father Time with two victories, including the special double-distance race at Snetterton. Jason Plato, meanwhile, continued to being MIA - suffering another dismal season and finishing 27th in the standings. Yet, Plato being Plato, there will always be interest in what he does next.
So what's different for 2019? Well, quite a lot, but not all for good reasons:
Arguably the biggest news is that Toyota returns to the championship as a manufacturer, joining up with Speedworks to run a single car for 2018 runner up, Tom Ingram. He will drive a new Corolla rather than the Avensis he's been using for the past few seasons:
Following several ultra-close years, success ballast has been reduced slightly. The maximum ballast a car can carry is down from 75kgs to 54kgs, with the rest being as follows: 2nd: 48kgs, 3rd: 42kgs, 4th: 36kgs, 5th: 30kgs, 6th: 24kgs, 7th: 18kgs, 8th: 12kgs, 9th: 6kgs, 10th: 6kgs.
Following its closure as a racing venue, Rockingham has been replaced on the calendar. The series continues to have 10 rounds, with a second visit to the fastest circuit in the country, Thruxton, being penciled in as the replacement. Full calendar is as follows:
1,2,3 Sat 6/Sun 7 April Brands Hatch (Indy), Kent
4,5,6 Sat 27/Sun 28 April Donington Park, Leics
7,8,9 Sat 18/Sun 19 May Thruxton, Hampshire
10,11,12 Sat 15/Sun 16 June Croft, North Yorkshire
13,14,15 Sat 29/Sun 30 June Oulton Park, Cheshire
16,17,18 Sat 3/Sun 4 August Snetterton, Norfolk
19,20,21 Sat 17/Sun 18 August Thruxton, Hampshire
22,23,24 Sat 14/Sun 15 September Knockhill, Fife
25,26,27 Sat 28/Sun 29 September Silverstone, Northants
28,29,30 Sat 12/Sun 13 October Brands Hatch (Grand Prix), Kent
Long time WSR veteran and multiple race winner, Rob Collard, has lost his drive. It's not clear whether he'll remain in the BTCC, or move to British GT. He has been replaced in the team by second year returnee Tom Oliphant, who recorded a best finish of seventh in 2018.
HMS Racing, which ran Rob Austin in a new Alfa Romeo Giulietta this year, will take a year out from the series after failing to secure a budget. They have stated their desire to return for 2020. It's not clear at this stage whether Austin will return with another team.
Similarly, Eurotech, which enjoyed its most competitive season since change of ownership, has sold its TBLs and will not return in 2019. Double race winner in 2018, Jack Goff, has not yet confirmed his plans for the new season.
After making his return to the series this year, Sam Tordoff switches to AmD - which has purchased Eurotech's Hondas. His team mate will be Rory Butcher, who had some strong races in the uncompetitive MG this year.
Jake Hill makes a welcome return to the series, driving one of Trade Price Cars Racing's Audi S3s.
Phew! I think that just about covers it up to now. All that's left is to relive some of the highlights from this year. A few of my personal favourites:
A typically crazy BTCC race - with a result that comes from out of nowhere.
Worth it for the last lap battle, and incredibly close finish.
The last race of the year - you'll struggle to find a finer battle between two leaders in any other series.
So, what was your highlight from this season, and what are you looking forward to in 2019? Anyone brave enough to make a prediction for the championship?

Edited by JHSingo, 22 December 2018 - 01:34.