Wednesday session:
Tuesday Afternoon session:
Tuesday Morning session:
Welcome one and all to the official pre-season test for Indycar's 2020 formula, live on stream from Circuit of the Americas, Tuesday and Wednesday, February 11 and 12.
Where Indykittens grow up to become Indycats. ™
Here are the livestream times in Eastern standard time. Do your own math for your locality -- even Austin itself is on Central time, but whatevs:
Tuesday: 11 a.m.-1 p.m., 2:30-6:30 p.m. (EST)
Wednesday: 10 a.m.-noon, 1-5 p.m. (EST)
If somebody would be kind to post in here the live link once it's live, that would be appreciated. But, it will be available on Indycar.com and assumedly Indycar's channel on Youtube.
What to expect:
RAIN. Hoo boy, Texas. No guarantees that they won't cancel or postpone either of the sessions, so stay tuned. But, since they're running the new Aeroscreen, this sort of weather might be very helpful data for what it's going to be like in the future. Expect tearoffs, tears, and complaints.
courtesy (@Indycar_Wxman)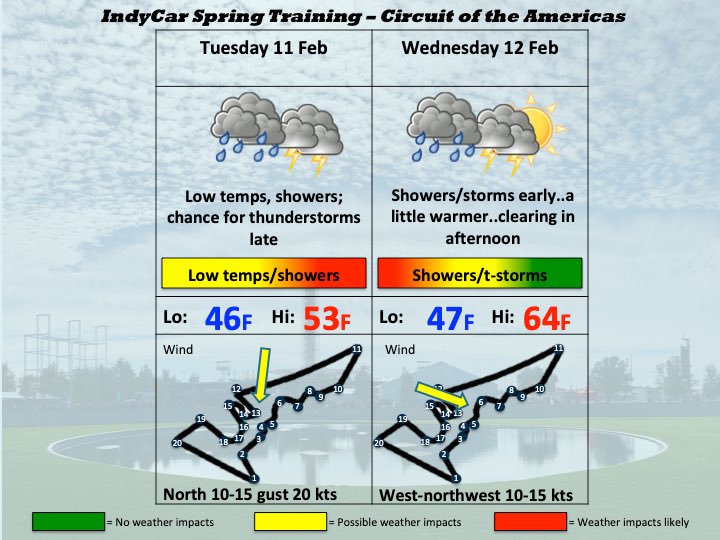 Who to expect:
Andretti (Honda of America hahahaha jk)
Alexander Rossi
Ryan Hunter Reay
Zach VEACH
Marco Andretti
Colton Herta
Penske (Chevy)
Josef Newgarden ©
Will Power
Simon Pagenaud (Indy 500 reigning champion)
Scott McLaughlin (Supercars champion)
Ganassi Team Sweden bork bork (Honda)
Felix Rosenqvist
Marcus Ericsson
Scott Dixon (not Swedish, but still Icy)
Arrow McLaren Schmidt Peterson lovely SPAM, wonderful SPAM (Chevy)
Oliver Askew ®
Pato O'Ward
Rahal Letterman Lanigan (Honda)
Graham Rahal rave
Takuma Sato
Dale Coyne (Honda)
Santino Ferrucci, team veteran
Alex Palou (w/TeamGoh) ®
Sadly, long-time Coyne test driver "TBA" has lost his seat for this year's pre season test.

AJ Foyt (Chevy)
Dalton Kellett ® -and-
Sebastian Bourdais
-will be ride-sharing an UberX
(Tony Kanaan will be in the broadcast booth)
(Charlie Kimball, status currently uncertain)
Carlin (Chevy)
M A X Chilton
Felipe Nasr ® -and-
Sergio Sette Camara ®
-will be ride-sharing a Lyft Shared
Ed Carpenter (Chevy)
Rinus VeeKay ®
Conor Daly
Meyer Shank Racing with Andretti (Honda)
Jack Harvey
Unclear status as of the moment: Dreyer & Reinbold, DragonSpeed, Juncos, James Hinchcliffe, Dr. Jack Miller, Barney Oldfield, etc.
CARD SUBJECT TO CHANGE
Edited by prommer, 12 February 2020 - 16:04.