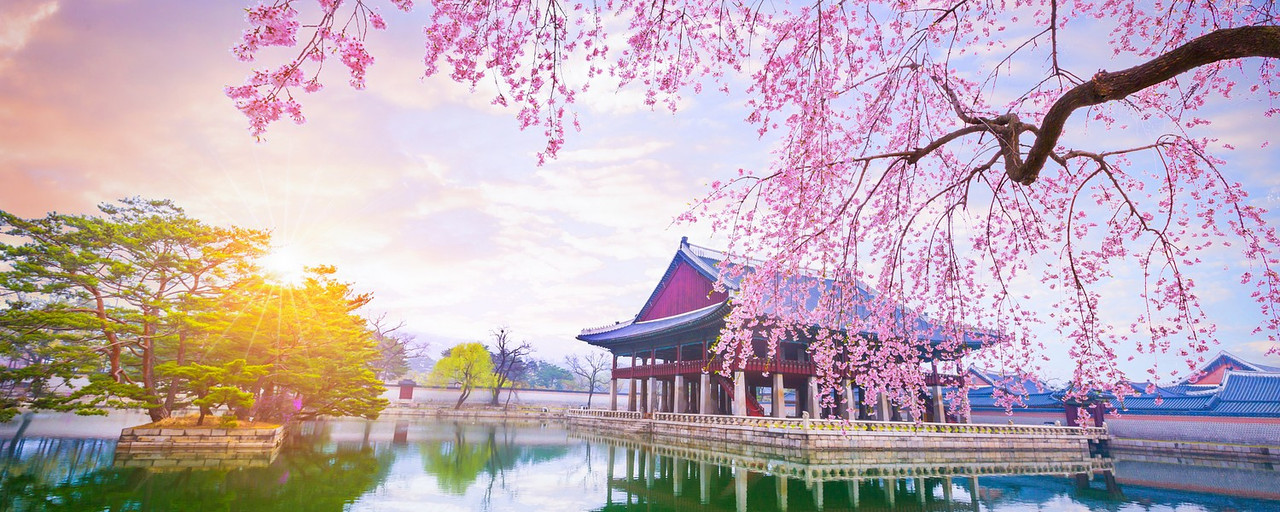 서울
WHEN: Saturday & Sunday, Double Header!
WHERE: Seoul, South Korea
WHY: Title Showdown, Gen 2 Last Race, new exciting track
100TH FORMULA E RACE: HISTORY MADE IN SEOUL!

It all started in October 2014, in the Streets of Bejing.
Who would have thought, back than, that the electric championship would race 100 races, with such big teams, drivers, high profile professionals & some incredible locations around the world?

Sunday's race is going to be Formula E's 100th race in History.
Winning in FE is always special, but winning the 100th...come on! Everyone will be on fire trying to get that win!
This weekend will be a celebration of the Championship's History: we can expect something special before Sunday's race start.
THE END OF THE BEGINNING

It all ends in Seoul!

But, it's also a set-up for a brand new, exciting start.
The last dance of Gen 2 cars: a car that made its debut back in 2018, in the streets of Riyadh.
A futuristic design, controversial if you want, but a car that delivered years of close competition, drama & excitement in the streets of the most iconic cities in the world.
Gen 2 goes into retirement (i still hope of a Formula E support serie for the future, using the old cars), but wants to go out with a bang!

In the Streets of Seoul, Capital of South Korea, a Championship will be decided.
Two EPIC rounds, Saturday & Sunday morning, to assign the World Title and enter the new era of Formula E, the Gen 3 Era.
STOFFEL VANDOORNE, MITCH EVANS, EDO MORTARA.
Three destinies coming together in Seoul; three men for one Crown.
Who's going to take it and write his name in History?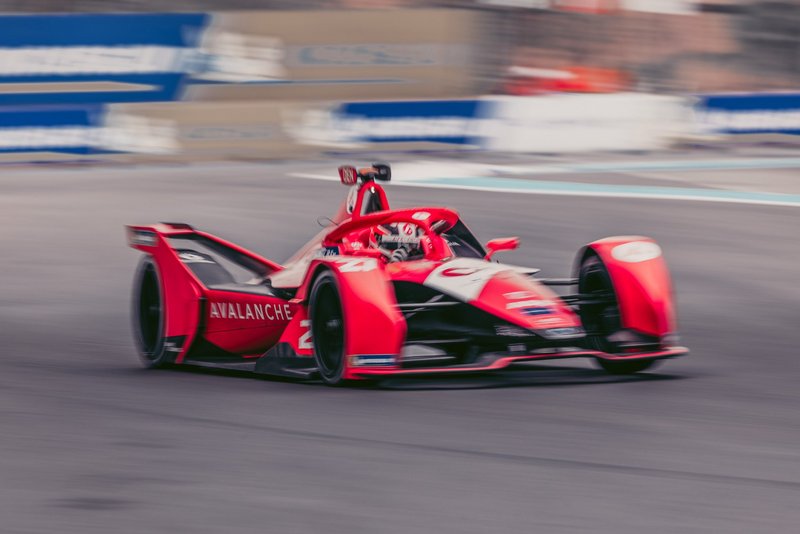 TITLE CONTENDERS
3 MEN FOR ONE CROWN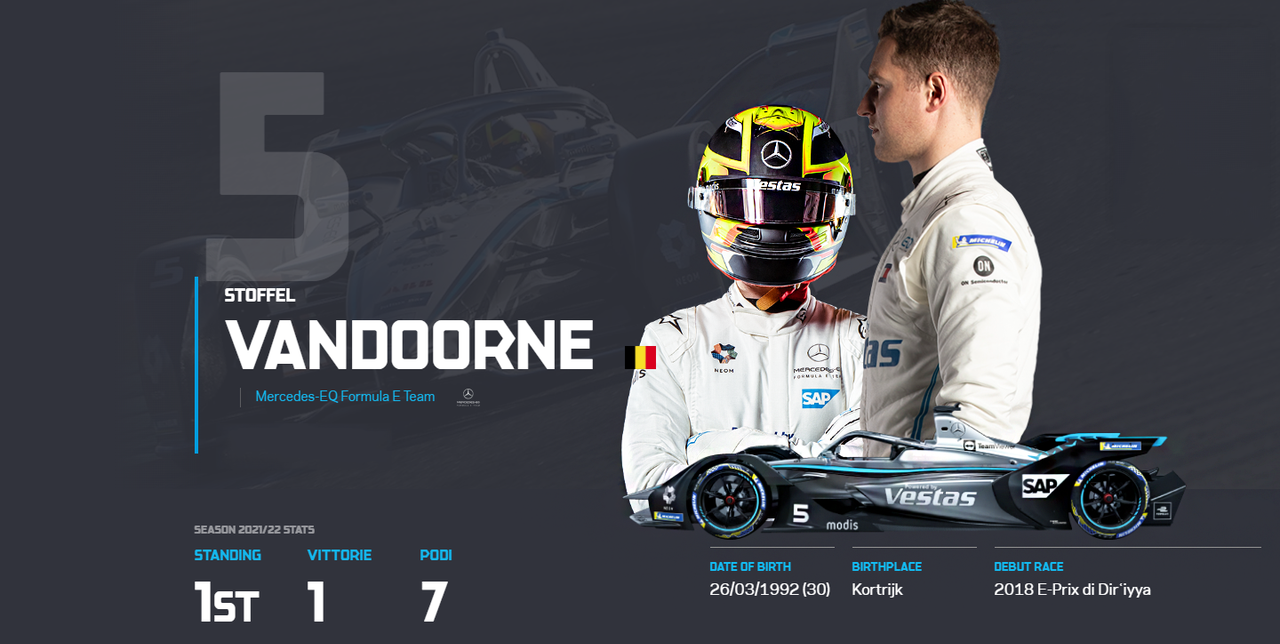 THE BELGIAN PRODIGY

Stoffel Vandoorne: the Rise & Fall of the Belgian Prodigy.
Stoff was an only child that grew up outside the Belgian city of Kortrijk.
His journey in motorsport began when he was six years old at an indoor karting track his father, an architect, was designing a restaurant for.
It took Stoffel and his family until he was fourteen to collect enough sponsorship to get Stoffel out of indoor karts and into a regional karting championship. On his first try, Vandoorne won the Belgian karting championship at sixteen.
The following year, in his first international season, he finished second in the World Karting Championship.
At seventeen, the Belgian entered a competition hosted by the RACB, the Belgian national racing program which helps fund and support young talents. He was selected to join the program which allowed Stoffel to continue racing and transition from go-karts to single seater cars. After an impressive debut in single seaters, Vandoorne was crowned F4 Eurocup 1.6 champion and progressed into Formula Renault 2.0 Eurocup.
At the age of 20, after winning the Formula Renault 2.0 Eurocup championship, Vandoorne was picked up by the McLaren young driver program. McLaren had him compete in Formula Renault 3.5 championship where he finished runner up.
This is when the Belgian catapulted into the record books. In his two years competing in F2 he broke the records for the most number of victories, pole positions and fastest laps. He finished a close runner up his first season and then won his second attempt at the championship four races before the end of the season.
After GP2, he competed in Japanese Super Formula for a year alongside being McLaren F1 reserve driver.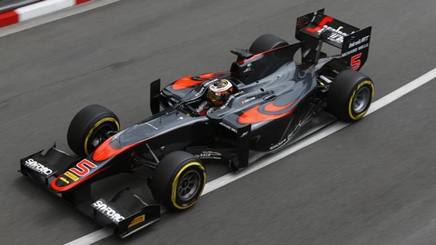 On 31 March 2016, it was announced Vandoorne would be replacing regular McLaren Honda driver Fernando Alonso at the Bahrain Grand Prix after the Spaniard was ruled unfit to drive following a major accident in the previous round.
After qualifying 12th, ahead of McLaren teammate Jenson Button, Stoffel finished an impressive 10th and became the first reserve driver to score points on debut since Sebastian Vettel at the 2007 United States Grand Prix.
His successful debut in 2016 earned him an official seat at McLaren next to Fernando Alonso in the following 2017 season. In his first full Formula 1 season, Stoffel scored 13 points and scored his top finishes in Singapore and Malaysia in 7th place.
Stoffel continued with McLaren in 2018 and as McLaren's performance issues continued, he scored 12 points with his best finishes in 8th place in Bahrain and Mexico.
After a couple difficult seasons at McLaren, Stoffel left Formula 1 and joined new entrant and Mercedes-Benz affiliate HWA Racelab in Formula E ahead of Season 5. Despite an array of technical failures on his car, Stoffel achieved a podium and five top ten finishes in his debut season
In 2021, Stoffel took part with Mercedes-Benz EQ Formula E team for season 7 of the FIA Formula E Championship and after a very brilliant start of the season, he scored 82 points and the 9th overall position.
2022 it's been a glorious season so far for Vandoorne: just one win so far, but he's average race position has been 4th, with multiple podiums and barely any slip ups through the season.
This means he has now a promising 36 points lead over Mitch Evans & more than 50 points over Mortara.

Vandoorne is now under pressure: can the Belgian Prodigy hold off his rivals in Seoul, keep it cool & become a Formula E World Champion?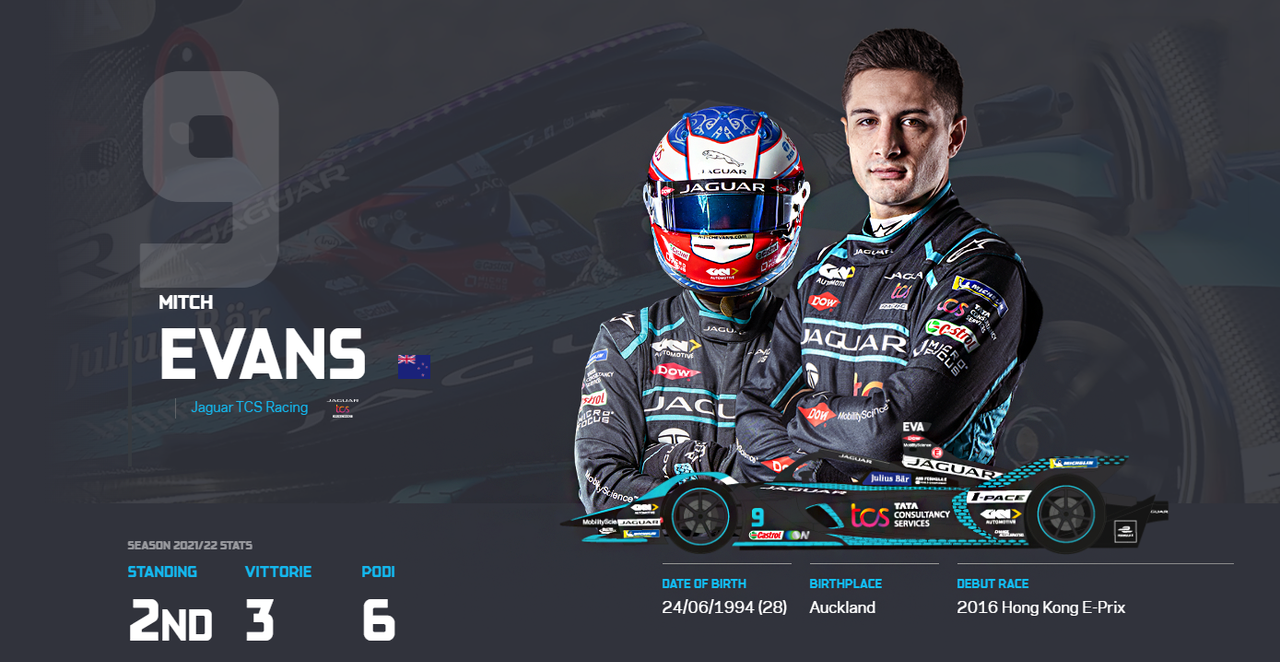 THE FLYING KIWI

Sheer New Zelander talent.

Mitch started karting at the age of six and won the NZ Grand Prix at 16.
Mentored by former F1 racer Mark Webber, the young driver went on to take the 2012 GP3 title in glorious fashion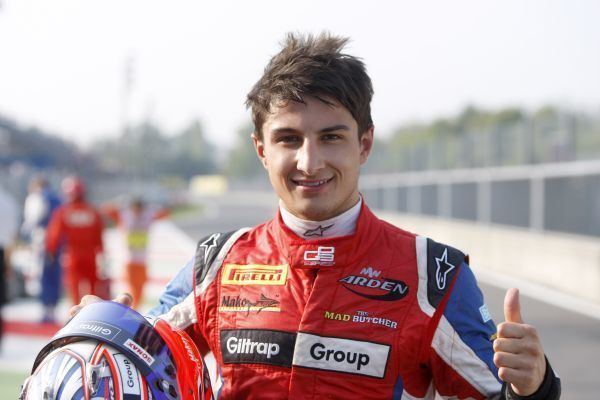 Moving to GP2 in 2013 and at just 18 years of age, while still a rookie, Mitch became the youngest driver in GP2 history to stand on the podium after finishing third in Sepang, Malaysia.
Evans was a title contender in 2014's GP2, taking multiple wins & podiums: he finished the season 4th overall: in 2015 he took two more wins, 7 podiums, to finish 5th overall.
Evans quickly became one of GP2's fastest & more consistent drivers: his manager Mark Webber worked hard to try get him in one of F1's teams spotlight.
More success followed that year when Mitch finished second at the 24 hours in Sepang Malaysia.
New Zealander Mitch Evans made his ABB FIA Formula E Championship debut with Jaguar TCS Racing in 2016 when the British team returned to racing. Mitch was swiftly seen as one of the quickest drivers on the grid and in season five Mitch translated this into his first win for Jaguar TCS Racing at the Rome E-Prix in April 2019. In season six Evans continued his success securing a pole position and podium in Santiago, a dominant victory in Mexico City and created 'desert storm' in Marrakesh with a history-making, 18-overtake drive through the field
Evans, who is based in Monaco, finished fourth in season seven of the ABB FIA Formula E World Championship with five podiums, five Super Pole appearances and was fighting for the title up to the final day of the season, when he stalled on the grid due to a technical problem.

Evans won three races this year: he's been mighty in Rome, and super consistent in most of this year's circuits.
Unfortunately, a technical problem in London led to a costly DNF: he's now 36 points away from Vandoorne in the standings.
But with more than 50 points up for the grabs, the title fight is still on for the Kiwi!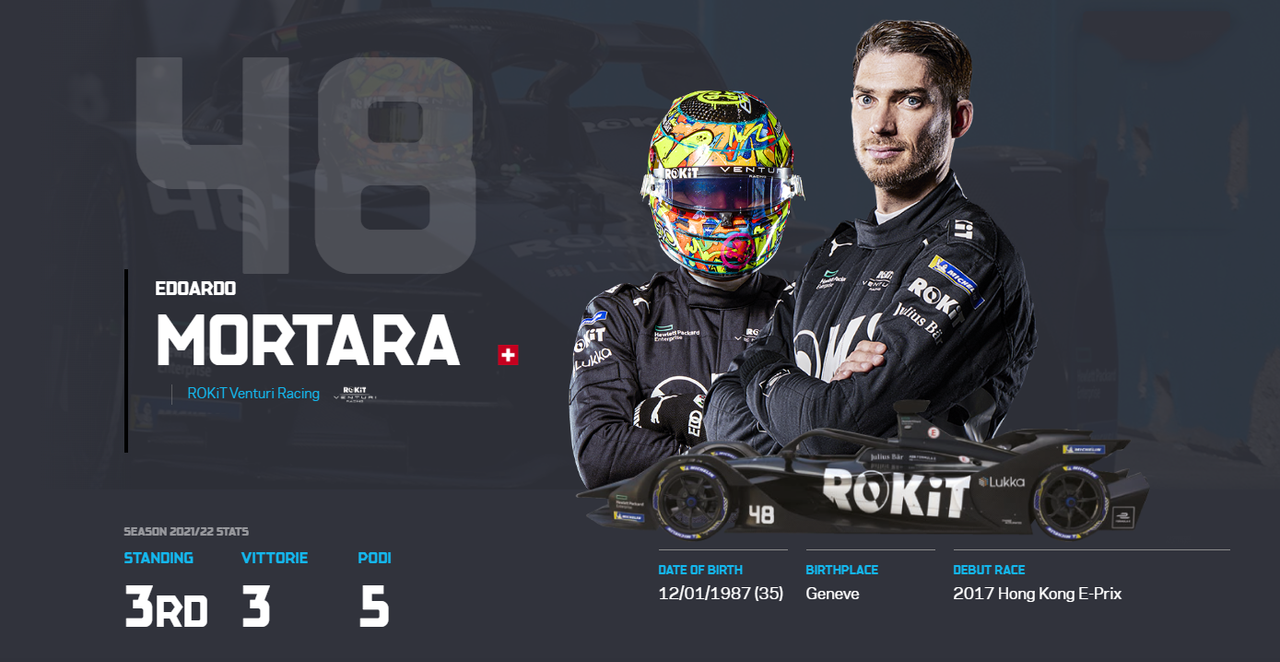 THE KING OF MACAU
The Swiss Clock: Edoardo Mortara's palmares speaks for himself.
After fighting for the win in the Karting Italian Opens Masters, Edoardo Mortara delivered right away in the Open Wheels.
In his first year of F3, 2008, Mortara finished 2nd in the Macau Grand Prix & 2nd in the Championship, with a win & multiple podiums.
The following year he dominated the Macau F3 Grand Prix, showing incredible skills: in 2010 he won the F3 Championship and the 6 hours of Zhuai with a GTC car.
Mortara proceeded to destroy the opposition in Macau GP, winning it four times in GT.
In 2016, Mortara shined in DTM as well, finishing P2 at the end of the season with multiple wins & podiums.
Mortara joined Formula E in 2017, fighting for the win right away at his race debut: he was leading the Hong Kong e-Prix at debut, before spinning out in the closing stages.
Always with Venturi, Mortara raised up his level in FE season after season, just missing out on the World Title last year, due to a start crash incident in Berlin.
He's now mounting a new challenge for the title in 2022: having scored two wins & multiple podiums.
Unfortunately two bad weekends in New York & London means Mortara is now 41 points away from Vandoorne in the standings.
But with 58 points up for the grabs, anything can still happen!

Can Mortara dominate the streets of Seoul like he did in Macau & clinch an incredible Title?
That's how it looks in the standings!
It's those three guys who are going to fight it out for the champ!

Obviously, Vergne too could still mathematically win the title but let's face it: it's almost impossible, let's be real!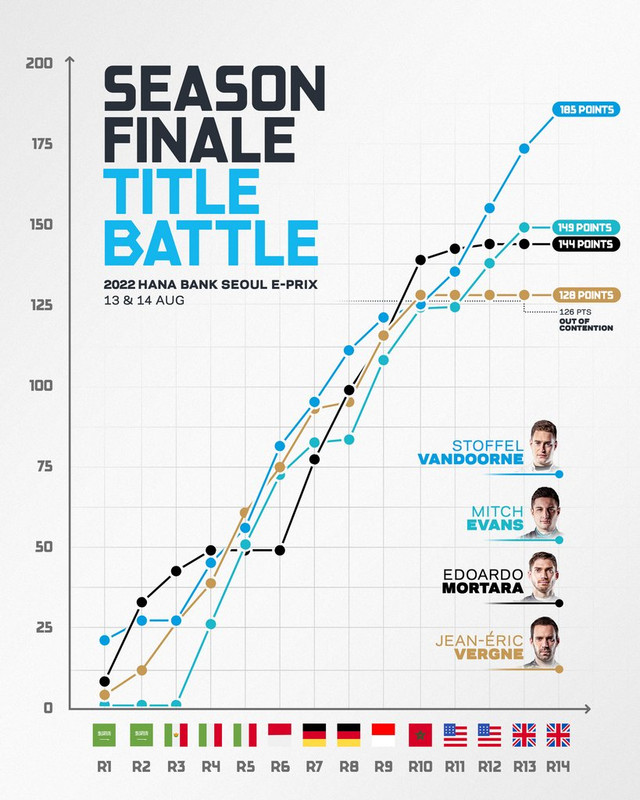 THE SEOUL E-PRIX CIRCUIT
THE MOST SPECTACULAR FE TRACK OF ALL TIME?
Seoul is going to be insane!

Racing in & out of a Packed Olympic Stadium, than into the streets, between the Skyscrapers with a very fast & flowing sector, than back into the more tight, technical section before the Stadium.
Roads should be very wide out of the stadium, than quite tighter inside of the complex.
It's going to be a unique challenge for the drivers and a unique race to watch for the spectators.
Track should have a lot of personality, and the atmosphere should be bonkers!
Such an exotic & cool location to celebrate the 100th Race of Formula E, wich is going to be held on Sunday.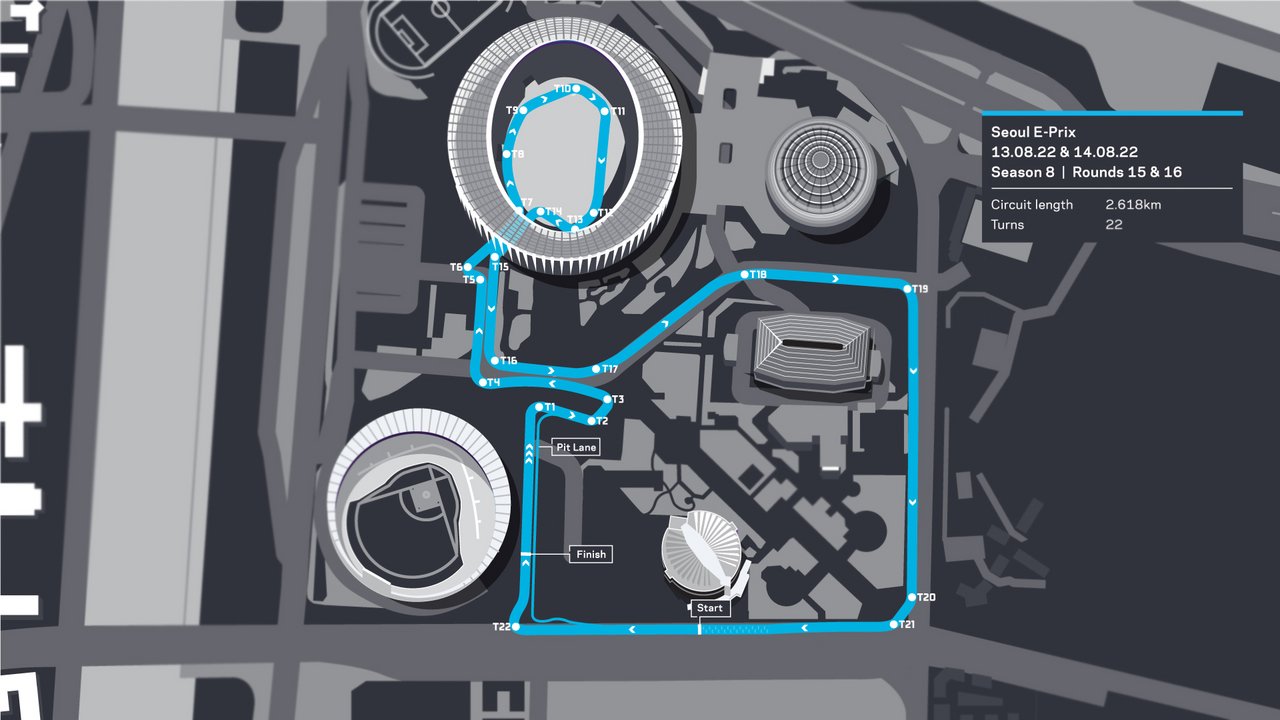 WEEKEND'S TIMETABLE

Morning start time for the races in Europe. Grab a coffee & join the show!

SATURDAY
FP1: 00:00
FP2: 01:45
QUALI 03:40
RACE 1 08:00
SUNDAY
FP3 01:30 – 03:00
Q2 03:40 – 06:15
RACE 2 (100th FE RACE) 08.00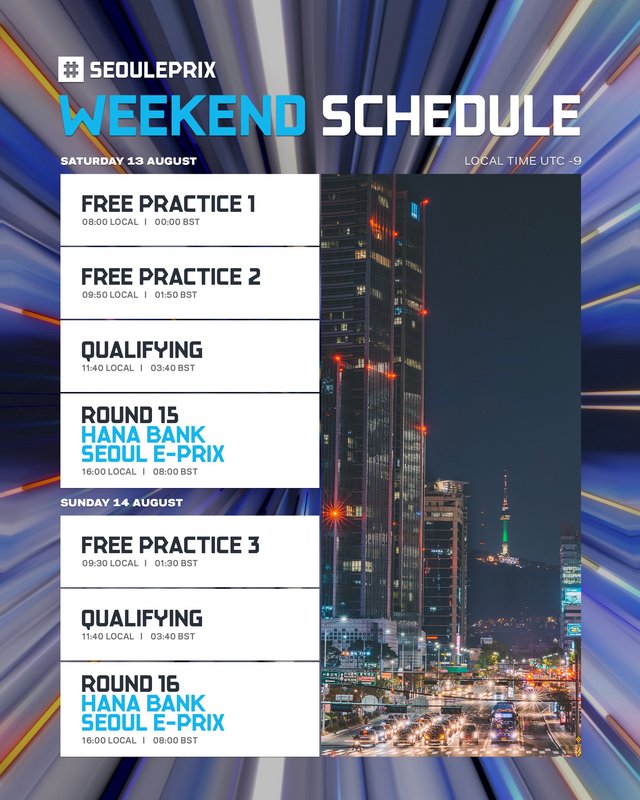 uk times
https://www.fiaformu...90da8e7c1fdd399
LOCAL EVENT TIMETABLE
If you're in Seoul, than you can't miss this!

https://www.fiaformu.../seoul/schedule
Concerts, events, PIKACKHU PARADES, this e-Prix is going to be a big Party!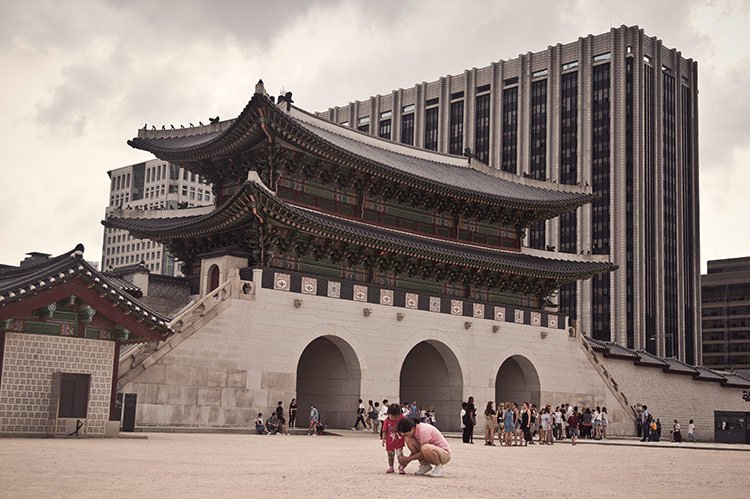 Edited by thegamer23, 11 August 2022 - 14:52.