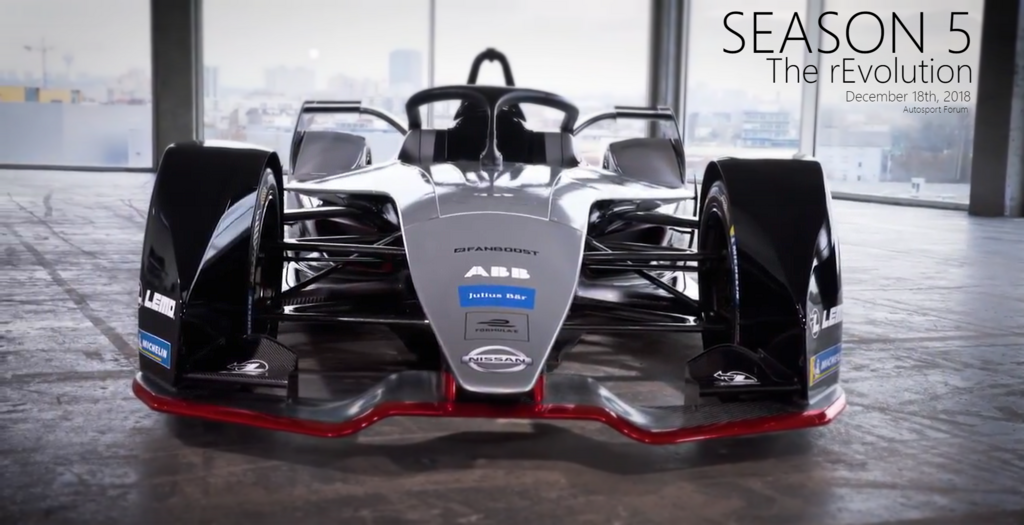 *december 15 actually. But ignore it


Season 4 Official Thread
https://forums.autos...fficial-thread/

Season 5 Silly Season Official Thread
https://forums.autos...e-silly-season/
-----------------------------------------------------------------------------------------------------------------
A NEW ERA BEGINS
This season, Formula E is taking a step further into the Motorsport legacy. As the Generation 1 cars recently completed their very last race in the streets of New York, with the Title clinched by Jean Eric Vergne, a new Era is about to begin.
The all-electric serie is ready to write history with the debut of the Generation 2 car: a more powerful, more aggressive, longer lasting electric car that will change the way of watching Formula E.

New cars, new circuits, new rules, new constructors, new faces: the Season 5 of Formula E will feel like a brand new start.

Let's dive into it!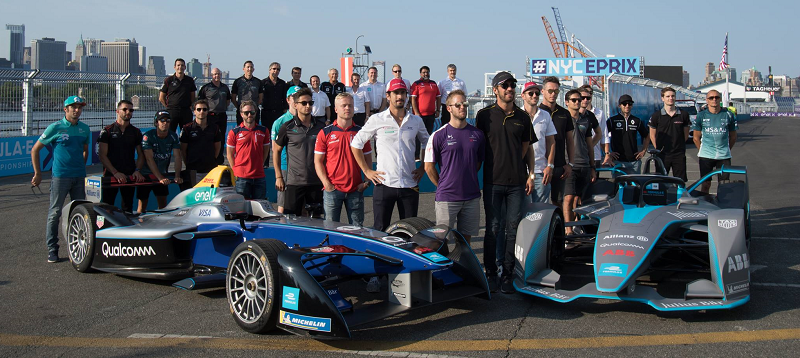 INTRODUCING THE GEN 2
The SRT05e was designed by Spark Technologies under FIA's instructions, utilizing a Dallara chassis.

This is a low drag, electric beast: every angle of it is designed for the maximum aero efficency: covered front wheels, no rear wing (except for two, adjustable flaps).
Along with the more powerful battery (+50 kW), this leads to an increase of more than 50 km/h in Top Speed (from 220 to 280 km/h).

Combined with a F1-esque 0-100 km/h acceleration (2.8 sec), those cars are set to improve lap Gen 1 lap times dramatically.


Even with a minimal aero design, those cars will handle quite better than the Gen 1: all the downforce is generated by the car's floor to the rear diffuser (wich is BIG).
That's a optimal kind of downforce, that doesn't affect racing at all.
Be ready for super close racing again!

Power is not everything tho: the increased battery capacity of the SRT05e will lead to 45 minutes races without car swap.

A game changer
--
MORE CARS, MORE FUN!

With the arrival of the HWA AG (German racing team with great DTM records), Season 5's FE grid will feature 22 cars!
The number will rise up even further in Season 6, with the arrival of Porsche & Mercedes factory teams.
Renault salutes Formula E after a successful 4 year campaign, replaced by Nissan.
Also, BMW will take control of Andretti's operation & debut in FE with a brand new driver line-up.

With a number of available seats, we can expect a HOT silly season.




SEASON 5 REGULATION CHANGES

- No More quali lottery. (apart from the first race)
There will be 6 cars (max) groups, determined by championship position with the best placed driver in the first one.
- With no more car swaps, in order to mantain a strategic element in the racing, the "Boost mode" will make its debut.
These boosts are set to be confined to a specific area of the track which will act as a 'boost zone' whereby a high-power mode can be activated from the cockpit by the drivers.
The boost is set to be 25 kW, upping the available power from 200kW to 225kW for the driver. The number of activations and the duration of the use of the higher power mode will be determined at each race by the FIA, according to the individual features of the circuit.
- Race lenght will be no longer determined by a certain amount of laps.
The e-Prix will be timed in 45 minutes + 1 lap after the timer reaches zero.

THE LINEUP
DS Techeetah:

Jean-Eric Vergne - André Lotterer

Audi Sport Abt Schaeffler:

Lucas di Grassi

-

Daniel Abt
Virgin-Audi:

Sam Bird

-

Nico Muller - Joel Eriksson - Antonio Giovinazzi
Mahindra:
Nick Heidfeld - Felix Rosenqvist - Daniel Juncadella
Jaguar:
Mitch Evans – Nelson Piquet jr
Nissan:
Sébastien Buemi
- Jan Mardenborough
Venturi:
Felipe Massa

-
Maro Engel - Edoardo Mortara - Tom Dillmann
NIO: Oliver Turvey - Luca Filippi - Henry Thicknell
Dragon: Josè Maria Lopez - Maximilian Gunther - Jerome D'Ambrosio
BMW Andretti: Bruno Spengler - Antonio Felix Da Costa - Tom Blomqvist - Robin Frijns
HWA-AG:
Gary Paffet -
Pascal Wehrlein - Edoardo Mortara - Maro Engel



Silly Season thread
Formula E's Season 5 calendar will feature 13 rounds & at least 2 brand new locations.
After October's group test in Valencia, S5 will kick off this December in Ryadh, Saudi Arabia's capital for an historical yet controverse round.

Than we're going back in Marrakesh for the third time, before jumping into the unknown for Round 3. According to the latest rumors, Santiago of Chile is going to comeback in a brand new street circuit.
Than another classic, Mexico City crowd will go crazy again in the Stadium, before flying to the opposite part of the world for a Chinese double: first Hong Kong, than Sanya, a green pearl in the pollution of China.

Back to Europe in Round 7, back to Rome after the success of Season 4. Than Paris & the return of Monaco in the (not confirmed yet) GP circuit configuration. A classic in the making!
As the season gets hotter we're back in Berlin, than Zurich & the Grand Finale along the streets of New York.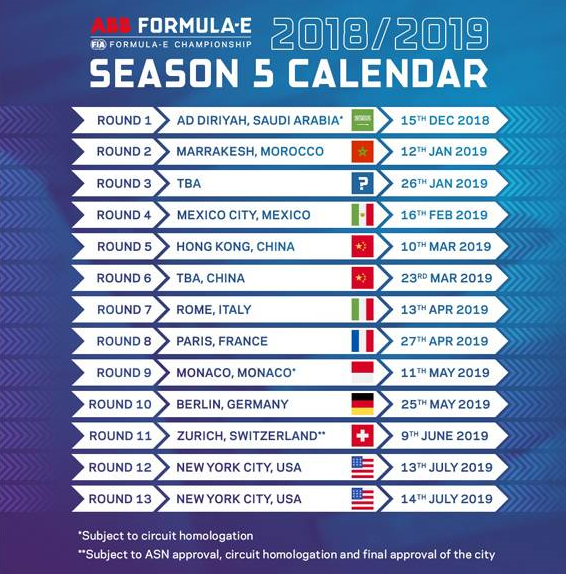 *Round 6 is Sanya, China.
Updating
Edited by thegamer23, 30 July 2018 - 12:07.