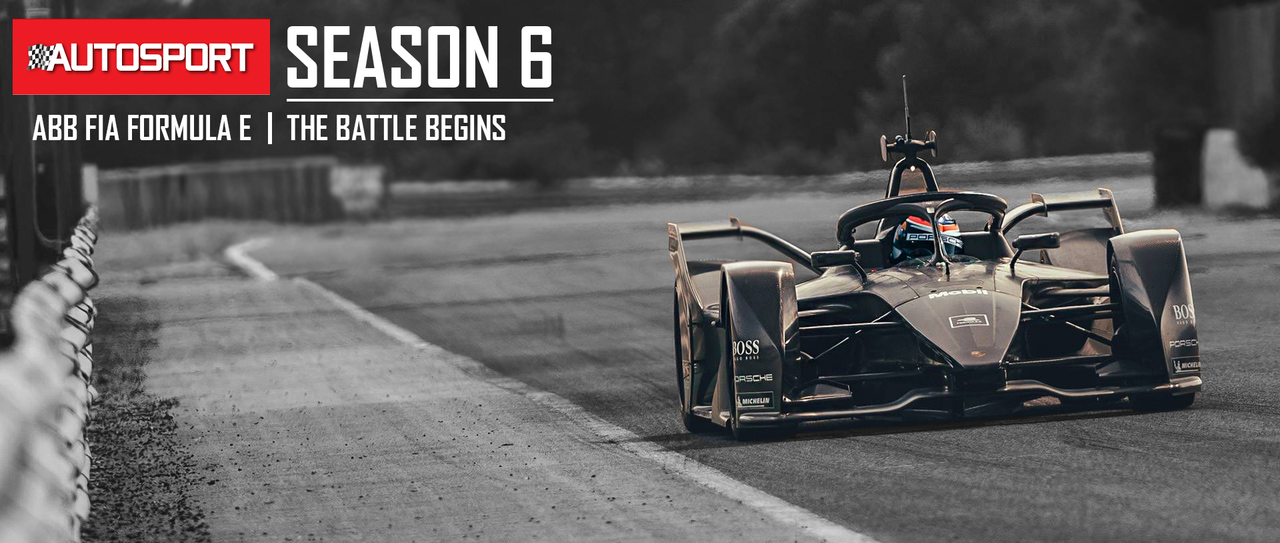 SEASON 5 THREAD ----> https://forums.autos...fficial-thread/
OFFICIAL SILLY SEASON THREAD ----> https://forums.autos...e-silly-season/

CLASH OF THE TITANS AS PORSCHE & MERCEDES JOINS THE GAME


Stoffel Vandoorne testing the new Mercedes EQ Formula E in Varano, Italy.
Season 6 of Formula E is set to be an Historical One.
The Big Germans joins the electric party: Mercedes & Porsche are ready to battle on the Street Circuits, pushing the manufacturer number involved to a record-breaking 11.

Official 2019/2020 Manufacturers list
- Audi Sport
- BMW AG
- DS Automobiles
- Jaguar Land Rover
- Mahindra Racing
- Mercedes-Benz
- NextEV NIO
- Nissan
- Penske Autosport
- Porsche AG
- Venturi Automobiles
Remember that constructors can build their own Electric Powertrain, they can work on the Electronics (wich is HUGE in FE), parts of the rear suspension & on the general setup of the car.
Who's going to produce the best package in Season 6?


HISTORY IN THE MAKING 5 SEASONS DOWN, 4 DIFFERENT CHAMPIONS

Formula E is reaching its 6th season. EARLY TIMES!!
Yet, the serie is touching new heights of interests. New cities, an ever-growing level of quality drivers, all the big manufacturers coming in!

Just look at our little garden: Season 5 Autosport threads destroyed every past record, and the interest is going to keep building up on towards this new Season.

5 Seasons down, 4 different champions. Jean Eric Vergne made history in S5, becoming the first DOUBLE CHAMPION in Formula E.
Can he make three in a row?


THE CALENDAR FEATURING LONDON &...A NIGHT RACE?

Riyadh is rumored to be hosting the first ever night Formula E race this season. Will it happen?
Formula E Season 6 Calendar draft has been released a few weeks ago, and it features 14 races, 2 double header and a possible Night Race.

Season Starts on November 22-23 with the Riyadh's Double Header.
Heavy rumors about the first of the two races being a Night Race. Combined with the Formula E glowing Halo that could lead to an amazing visual spectacle for the season's debut.
Than we have a TBC Location set for December 14th. Rumors about Rio de Janeiro.

Santiago, Mexico, Hong Kong (with a layout revamp), Rome, Paris, Berlin & New York are confirmed. YAY for calendar stability!
Seoul & London are going to be the big news of this season's calendar, with two very interesting circuits featuring a stadium section & a indoor sector respectivly.
Currently some dates are to be discussed with the FIA to avoid clashing with WEC.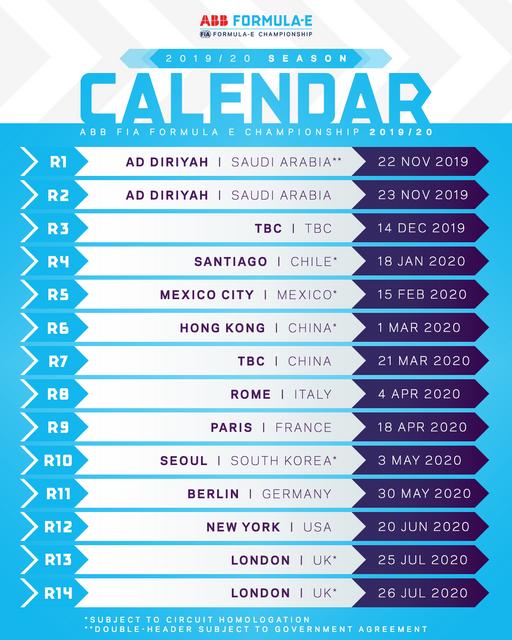 SILLY SEASON ABOUT TO GET SILLIER

Andrè Lotterer changes team, from Techeetah to Porsche. Will he be able to challenge for the title there?

The Silly Season is already started. Only a few seats are confirmed officially.


DS Techeetah: Jean-Eric Vergne – Antonio Felix da Costa - James Rossiter
Audi Sport Abt Schaeffler: Lucas di Grassi – Daniel Abt
Virgin-Audi: Robin Frijns – Sam Bird
Nissan e.dams: Sébastien Buemi – Oliver Rowland - Fernando Alonso - Brendon Hartley
BMW-Andretti: Alexander Sims – Maximilian Günther - Bruno Spengler
Mahindra: Pascal Wehrlein – Jérôme D'Ambrosio
Jaguar: Mitch Evans – Alex Lynn - Nico Hulkenberg
Venturi: Edoardo Mortara – Felipe Massa - Daniel Juncadella - Raffaele Marciello
Mercedes: Stoffel Vandoorne – Esteban Gutiérrez - Daniel Juncadella - Raffaele Marciello - Gary Paffet - Nico Hulkenberg - Valtteri Bottas
Dragon: Josè Maria Lopez - Jordan King - Max Gunther
NexTev NIO: Oliver Turvey – Tom Dillmann - Henry Thicknell
Porsche: André Lotterer – Neel Jani
Silly Season Thread --> https://forums.autos...e-silly-season/

S6 RULES, LONGER RACES?
AND ATTACK MODE TO BE MORE POWERFUL

Season 5 races has been often discussed by the drivers for being too much of a "Sprint Race", with minimal energy saving.
For this reason, Alberto Longo (new FE CEO) has proposed to add at least 5 minutes to the current race time (45 minutes).
A 50 minutes timed race is on cards, pushing the teams to look for the maximum efficiency. If confirmed, races will likely be slightly more tactical, with plenty of action towards the end as drivers gets into energy managment trobules.
The Nissan-esque Twin Motor solution is going to get banned. Only one motor will be allowed for Season 6.

Also, Attack Mode will be more powerful. +10 kW, from 225 to 235 kW.
Cars Power output is set to remain the same for Season 6, it seems. So 250 kW quali, 200 kW races.
(updating if new info comes)