Hi There,
This is my first post to this forum, I'm an Englishman now living in Pleasanton California and a total F1 fanatic.
A few weeks ago I bought a McLaren M10A from a local fellow who has had it stored in his garage since 1976 and less than 5 miles from my home. The owner, Jim Jensen, an ex Peterbuilt designer and engineer had raced Can Am cars in the 70's at club level, he'd bought the M10 with the intention of stripping the suspension parts and using them a racer of his own design.
I met Jim when I bought his old Porsche from him and got onto the inevitable subject of Motor Racing, telling him that I was trying to buy a Surtees TS5 he smiled and jockingly said "I'll sell you a McLaren" then pointing under his bench to the discarded Monocoque, truth be told he had been offered a big sum of money a few years ago, over 50k and knew that the prices had since softened.
He'd part with it but was in no rush and didn't know how to price it, it had no chassis number and therefore no history.
Looking around the garage I spotted various boxes containing suspension and other bolt on parts, the gearbox lying under a blanket in the corner and a suitable motor under cardboard coverings complete with 48 Webers on a McKay manifold, the last residents being either ##### large mice or Rats. It seemed that Jim had bought two cars from "Cal Formula" in 1976, an M10A and a B and was planning on using the McLaren uprights for a special and hadn't got much further than putting together his own space-frame style tub.
It took me quite a while with many visits and phone calls to try to persuade him to sell the car, when we talked price I told him he could get a value, I'd do the same and we'd meet somewhere in between the two.One sunny morning I received a call telling me that he'd put the old pile together and to come round with a check book.
As you can see from the pics that's exactly what I did, I am now the owner of an M10a McLaren, circa 1969 and the mortal remains of the B. I have more than 8 corners, 3 steering racks, 10 wheels, a BRAND NEW set of tires from 1972 and boxes and boxes of different gear sets for the Hewland LG500
Sadly though the A is missing many pieces, not the least, the top half of the monocoque, the wings and nose. Apparently, someone wanted to build a center seat Can Am car and took a saw to the fuselage chopping away everything above the waistline forward of the main engine/seat bulkhead.
Luckily the original rivets and outer edges of the top section are still there, no damage has occured to this vital stress point.
My intention is to chronicle the resto and I'll post updates here if anyone would like to follow the progress.
I 'm very interested in any pics or info regarding McLarens M10A's and B's especially those that lived in the locality of Mountain View, California. I believe this to be the George Eaton/Ludwig Heimrath car.
The car has been both Red and Black in its life.
Anyone with pictures of cars racing in the day, I would be most grateful to hear from you.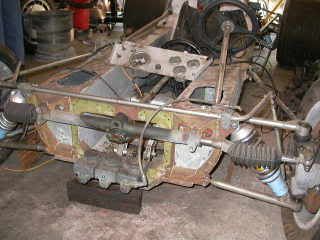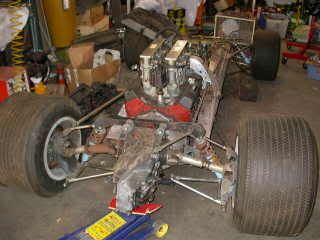 "Camel Hump" angle plug heads.....Valve Covers proclaim "De Long"
Rodents made their homes here,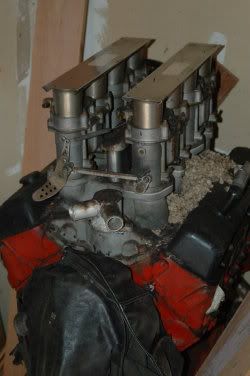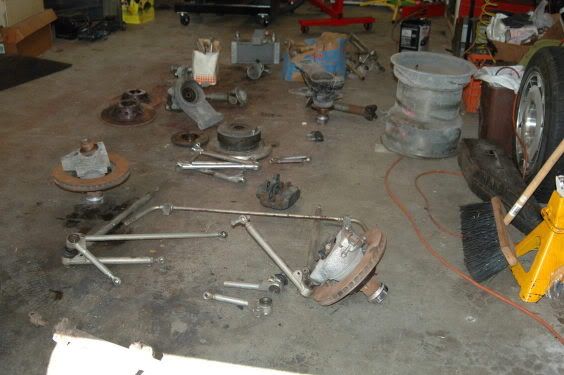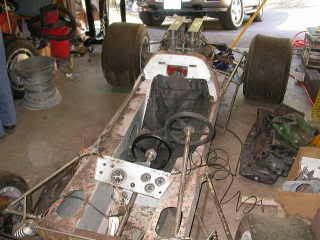 A pic of the previous owner Jim Jensen, just the kind of bloke you'd want as your Father-in-Law, a former club racer who owned and raced Lola's, a Surtees T160 and built the "Jensen Special."
Jim's stories of racing are fantastic, I'll try to get him to post to the site