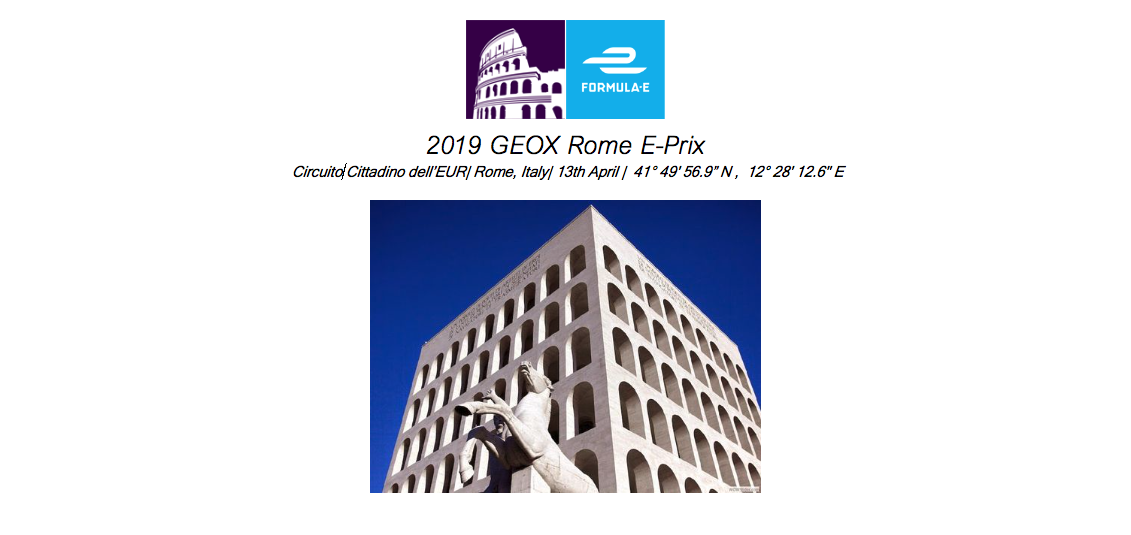 Formula E arrives in Rome for the second time. An iconic city at the heart of European history in a country with a deep passion for motorsport. A circuit set within the EUR district plays host to the 2019 Rome ePrix. Join us for the spectacle that awaits...

The circuit is the same, though this time the action on track will be the Gen2 FE car and the I-Pace Jaguars
Race Day is Saturday 13th April
Catch up with the discussion!
FE Season 5 Thread: https://forums.autos...-thread/page-24
Sanya Race Thread: https://forums.autos...round-06-sanya/

Where is the race?
A circuit in the EUR district of Rome, Italy. It's the same as last year with some minor modifications to open up turns 15, 16 and 17 a little. It was a sold out crowd in 2018 and it should be the same again this year. It features both long sweeping corners with elevation changes and a tight technical section towards the end of the lap. Attack Mode activation zone will be at Turn 6.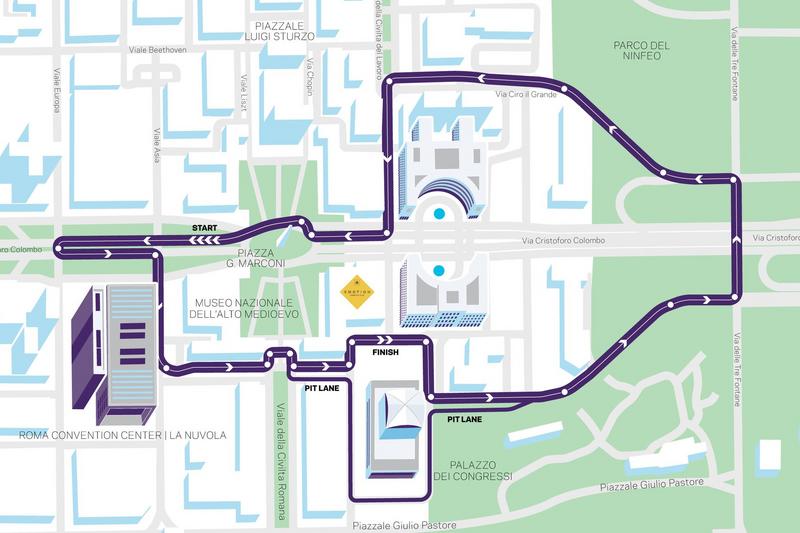 Last years track guide still gives a good impression of what to expect.


And here's the race highlights from last year.


What's happened so far?
We've had 6 different winners from 6 different races. Antonio Felix da Costa took the honors in round 1, followed by Jèrôme d'Ambrosio, Sam Bird, Lucas di Grassi, Edoardo Mortara and reigning champion Jean-Eric Vergne. As a result, The points standings are close as ever with only a few points separating the top of both the drivers and teams championships:

Drivers top 8


Teams Top 5


Full standings available here: https://www.fiaformu...tandings/driver

Sanya (Round 6) highlights
Missed the last race? Here's where you can get up to speed. All races of the season, both highlights and full races should be on YouTube if you want to join us mid season, which you are so very welcome to do...


Anything new this weekend?
Maxi Günther is back in for Dragon, subbing in for Nasr whilst he's away at Long Beach doing some IMSA thing. Alex Lynn is also back to take on his demons of Rome last year taking over from Nelson Piquet Jr, who has been dramatically dropped by Jaguar after Sanya!
One or two forumers and forumer's friends should be on the ground at the track, so we might have some first hand experiences of Gen2 racing to look forward to.

The championship within a championship, the Voestalpine European Races gets underway as well, with this stunning trophy:


How can I watch?
Individual viewing options are available on the How to Watch section on the Formula E website (https://www.fiaformu...797303e40cb7ad6) though UK viewers can expect to be treated to the race on Saturday 13th April at 15:00 UK time on BBC Sport, Red Button, Quest, BT Sport or Eurosport.

Schedule is as follows | Local Time (UK time -1 hour)
Formula E Free Practice 1 - 07:30
Jaguar I-Pace eTrophy Qualifying - 08:35
Formula E Free Practice 2 - 10:00
Formula E Qualifying - 11:45
Formula E Super Pole - 12:30
Jaguar I-Pace eTrophy Race (25' + 1 Lap) - 14:00
2019 Rome E-Prix (45' + 1 Lap) - 16:00

Updates to the OP may come through the week. Any questions feel free to ask, we're all more than happy to share our Formula E passion!
Edited by Vielleicht, 09 April 2019 - 16:34.